Connor Hellebuyck has been destined to take over as the starting netminder for the Winnipeg Jets for a while now. His takeover began this season as long-time goaltender dating back to the days of the Atlanta Thrashers, Ondrej Pavelec, was placed on waivers. Pavelec cleared and was assigned to the Manitoba Moose, where the dressing rooms were located close to each other. On the ice, though, they have never been further apart. Hellebuyck owns this crease now.
Rocky Start
The transition from Pavelec to Hellebuyck was not as smooth as the Jets' brass imagined it would be. Hellebuyck's raw skill is evident but to begin the season there were a lot of inconsistencies in his game and the results showed that. His play prompted a recall of Pavelec mid-January and it appears it worked as motivation for the 23-year-old. Since the recall, Hellebuyck has started 12 games for the Jets and owns a record of 6-2-2. It was just announced that Pavelec will likely miss the remainder of the season after knee surgery, making it apparent that he has played his last game in a Jets uniform.
Hellebuyck is showing more confidence in his game and it is easy to tell. He is at his best when his game is simple, boring, and frankly, pretty still. He is a monster at 6-foot-4 and covers a lot of the net. Hellebuyck's style doesn't move him around a lot; instead, it has him in the proper place positionally and square to the puck. When he is on his game, you aren't going to see him on the hightlight reels. Essentially, if he is in position, the puck should just hit him. I know it isn't very entertaining, but it gets the job done effectively.
With report Ondrej Pavelec out for the season, you can expect Hellebuyck will play close to or all of the games from here on for #NHLJets

— Ted Wyman (@Ted_Wyman) March 6, 2017
Is Hellebuyck Legit?
Despite early hiccups, Hellebuyck is still tracking to become a very solid number-one goaltender for years to come in the Jets organization. If one were to look around the league and compare the Michigan native to other goalies around his age from throughout the league, he is about average if not better. If we're looking at a 22-year-old, Stanley Cup champion like Matt Murray, the comparison obviously falls flat. Hellebuyck can be compared however, to goalies like Andrei Vasilevskiy or Petr Mrazek, who have recently taken the throne as starting ace for their clubs. Hellebuyck bosts better or similar numbers to both Vasilevskiy and Mrazek, despite an increased sample size.
The next step in Hellebuyck's game is to keep gaining confidence, stay busy and get as many important starts in as possible. John Gibson in Anaheim is a great comparable for Hellebuyck's development curve. The two goaltenders were given a great opportunity to succeed in their AHL system before earning a spot in the NHL crease. Gibson took big steps in his last two NHL campaigns, including a William M. Jennings Trophy and all-star game appearance. Expect Hellebuyck to put together a steady season next year much like Gibson has the past two, and if he does, the Jets will make the playoffs.
Looking Ahead
Hellebuyck will be one of the two goalies on the Jets' roster next season, but some people aren't ready to award him the starting position just yet. With Ben Bishop available in free agency and Marc-Andre Fleury on the trading block, these may seem like more attractive options for the Jets, but they will be extremely costly.
Hellebuyck is really coming into his own as the season wraps up and the Jets find themselves in the hunt for the final wild-card spot in the Western Conference. Hellebuyck has such a high ceiling that it makes no sense to be spending the money on Bishop or assets via trade for Fleury. It would really make sense for the Jets to acquire an experienced backup goalie, perhaps a former starter looking to rebound his career on a one or two-year contract at a reasonable cap hit.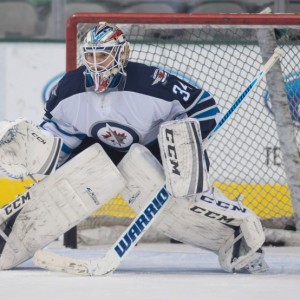 The goalie market of unrestricted free agents (UFAs) is plentiful this year. The Philadelphia Flyers announced last week that they would be bringing back pending UFA goaltender Michal Neuvirth on a two-year deal, and all signs point to their other goaltender Steve Mason hitting the market. Mason is a veteran of 450 games with a winning record in those games to boot. He has spent the majority of his career as a starter, but if he could be a solid and consistent start in about 30-35 games while Hellebuyck plays around 50, I believe the Jets will be in a good place. The same could be said with goaltenders Jonathan Bernier, Brian Elliott, or Scott Darling coming from Anaheim, Calgary, and Chicago respectively. This would of course mean the Jets would have to either trade or waive Michael Hutchinson.
Let's be honest; a more balanced blue line would really help but that is out of Hellebuyck's control. Ultimately, the answers to a steady and sound Jets crease are Pavelec's overdue departure, Hellebuyck emerging as a legitimate number-one next season and a solid veteran back-up capable of 30 or more games.