On Friday, March 11th, 2016, Pittsburgh Penguins goaltender Marc-Andre Fleury accomplished a feat which only 19 net-minders in NHL history had done before him, winning his 350th career contest in a 3-2 victory over the Columbus Blue Jackets.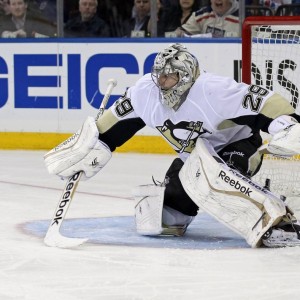 What is perhaps most impressive is that in doing so, Fleury became the fourth fastest to reach the mark in League history, reaching the number in just 645 games played. The slim number of those who reached the milestone faster than Fleury are NHL greats, namely Martin Brodeur, Henrik Lundqvist and Chris Osgood, placing Fleury in incredibly elite company.
To further put the accomplishment in perspective, Fleury achieved the feat faster than Hall of Famers Patrick Roy, Ed Belfour, Tony Esposito and Dominik Hasek, to name a select few.
So, this raises the question of whether Fleury himself will enter the Hockey Hall of Fame following the conclusion of his career.
Considering his individual statistics already rank amongst the greatest in League history at the young age of 31, Fleury will only continue to pass NHL greats as his career progresses – progress which will likely come to define him as one of the most successful goaltenders to have played the game.
However, attempting to determine whether Fleury will in fact become a Hall of Fame goaltender is a massive question, and one that cannot truly be answered without first analyzing his impressive resume.
Hall of Fame Caliber?
The first round pick of the Penguins, first overall in the 2003 NHL Entry Draft, Fleury has spent his entire career in Pittsburgh, where has been the team's number-one goaltender since capturing the crease full-time in the 2005-06 season.
Since grasping the starting role, Fleury has been the Penguins' go-to netminder, regularly playing in 60+ games per season while consistently providing the Penguins with confidence in goal.
While he led the NHL in shut-outs with 10 in 2014-15, an impressive display in itself, Fleury's most sensational play arguably came in the 2008-09 playoffs, where he was an essential component in Pittsburgh's Stanley Cup Championship. Most memorable from the Penguins cup-run was the save Fleury made on Nicklas Lidstrom with mere seconds remaining, one which secured Pittsburgh's victory.
One distinguishing mark of elite goaltenders is their ability to remain composed under pressure, and that is exactly what Fleury did in this moment.
Statistically Speaking
We already know that Fleury has long been an imposing figure in the Pittsburgh crease, and in doing so has won his fair share of games, but are his individual numbers among the greatest ever?
Well, with his 350th win, Fleury officially ranked 20th all-time in goaltender wins.
To put this number in perspective, of the 19 netminders ahead of Fleury all-time in wins, 8 of which currently reside in the Hall of Fame, while an additional three (Brodeur, Luongo, Joseph) could all find themselves enshrined in the near future. Further, of those with less wins than Fleury, and there are a ton, an additional 19 goaltenders reside in the Hall.
And, at 31, Fleury's win total will undoubtedly continue to rise.
So, if induction were based on wins alone, surely Fleury would be there, however, the argument that 'Flower' played his career on a relatively dominant team would likely carry credible weight.
Marc-Andre Fleury earned his 350th win (350-205-61), a milestone reached by only 19 other goalies in NHL history. pic.twitter.com/7saBeuw7M6

— NHL Public Relations (@PR_NHL) March 12, 2016
Looking elsewhere, in particular his individual performance, Fleury's numbers once again prove solid.
His career Save Percentage has typically hovered around the .915% mark, good for 27th all-time. To put this in context, Fleury's total is superior to those of Belfour, Roy and Fuhr. For those who argue these greats played in a different time period, they are right, but Fleury's SVP is in fact identical to that of Brodeur, a goaltender who played alongside Fleury in the NHL for a considerable period of time.
Further, his typical career Goals Against Average of 2.50 is also impressive, coming in at 50th overall. Yet, while this may seem to be a low ranking relative to the best of all-time, it is in reality a decent ranking, as the majority of those ahead of Fleury are younger goaltenders with considerably lesser games played, the vast majority of which coming in recent history where scoring has been scarce.
The Trophy Case
As we have seen, Fleury is amongst the best goaltenders of all-time in a number of key statistical categories – with plenty of hockey ahead of himself to improve his place amongst the greatest.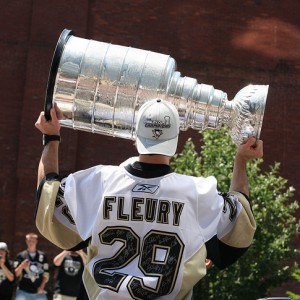 However, one important factor which could impair Fleury's potential road to the Hall is his lack of major trophies and personal accomplishments. When considering players for the Hall of Fame, one major factor considered is the trophy case of a respective player, and whether or not he has captured numerous distinguishing awards.
As we are aware, Fleury captured the Cup in 2009, but other than this victory he has yet to win any major award.
While he has finished in the top-10 in voting for the Vezina Trophy twice, placing eighth in 2010-11 and seventh in 2011-12 respectively, he has thus far been unable to secure the prize, with his only major individual NHL accomplishment being named to two All-Star games, in 2011 and 2015.
On the other hand, he does hold a Gold Medal from the 2010 Olympic Games, as well as two Silver Medals from both the 2003 and 2004 World Junior Hockey Championships, an important factor as international competition, and success, are certainly taken into consideration.
Candidate, or Inductee?
So, here we are, looking to make a final deduction on whether or not Fleury will reside in the Hall of Fame come the conclusion of his career.
Based on his stats alone, it appears as though Fleury could in fact be inducted. As one of the most successful goaltenders in League history, piling up win after win in Pittsburgh, Fleury has been a dominant and consistent performer throughout his career, a fact which is backed by his equally strong career SVP and GAA.
While some may argue Fleury's numbers are inflated as the result of playing for a perennially strong team in the Penguins, at the end of the day, this claim is simply impossible to argue, as there are no clear facts to support this belief.
On the other hand, Fleury's trophy case is slim, having failed to win any of the Calder Memorial, Vezina, Conn Smythe or Hart Memorial Trophies in his career to date, a fact which could detract from his resume with select Hall of Fame voters.
However, at such a young age and with plenty of hockey ahead of himself, Fleury undoubtedly retains plenty of opportunity to strengthen his Hall of Fame case, with the potential to not only add one the aforementioned and elusive Trophies to his display case, but to also add to his impressive Win, SVP and GAA totals, which are already amongst the best in NHL history.
---
What do you think? Will Marc-Andre Fleury reach the Hockey Hall of Fame?
***
Can't get enough hockey? Want to talk about it with our writers, and fellow fans? Join The Hockey Writers Group on Facebook today!