NHL 13 is the latest entry of the continual evolution of the EA Sports hockey series, with each edition getting more realistic than the last.
While simply playing the game as is helps ease the dismay and apathy felt by NHL hockey fans during the NHL lockout, I have embarked on a quest to unveil features that would go even further to help ease or even potentially cure NHL Withdrawal Syndrome.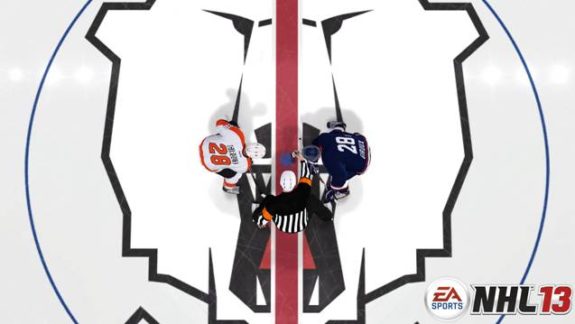 Features Wishlist For NHL 13
Gary Bettman – Donald Fehr Fight Mode: featuring a variety of slapstick maneuver options (visualize Alexander Semin fisticuffs skills).
 Play the part of NHL CBA mediator with ability to choose a celebrity mediator from the following:

JR (Jeremy Roenick): in which case no one else gets a chance to talk.
BizNasty: use your imagination.
Chuck Norris: just cause.
Jonathon Toews: "Captain Serious" stare-down; first to blink gives up most concessions.
Clint Eastwood: #Eastwooding
Down Goes Brown: Bettman and Fehr make it too easy for one-liners from the most hilarious hockey personality on the planet
Jack Nicholson: "You can't handle the truth."
David Letterman: I'm sure Dave can come up with a Top 10 highlighting how dim-witted it is that there is no agreement to thispoint.
Charlie Sheen: A Sheen-esque party might loosen up all parties involved. #Winning

Play the part of an Insurance Agent during NHL Lockout laughing all the way to the bank, especially when Sidney Crosby signs across the pond. Cha-ching on a hefty $400,000-per-month premium.
Play the part of filthy rich Russian oil tycoon KHL franchise owner, control his actions during his monumental post-Sid signing party bash.
Play the part of the commissioner starting up an alternate rival pro league and enticing players to join – the Planet Hockey League (PHL).
 Instead of clicking "Quit" to exit game, you select "Gary Bettman Mode" and your PS3 shuts down and refuses to come back on for random periods of time.
 Be a Pro – Roman Hamrlik Mode:  where you have to keep dodging hits from your own teammates
Enhanced "Be A Player" Mode: create yourself in the game and watch as your virtual player sits on his couch playing NHL 13 until the lockout is over.
When you start the game Ricky DiPietro is already on the injured reserve list and you have to play a full season before he is eligible to be used.
Enhanced GM Mode: sign your star player to a 9-10 million dollar a year deal in July and try to get 10-20% back in September.
When you launch the game it does not actually start; rather, a screen appears with Morgan Freeman stating you have to pay 15% more, but Visa is gladly accepted. Then and only then, the game will start.
Every five seasons in Be A GM Mode, a season gets cancelled.
Ryan Kesler dive mode
Mini-game where you play as Shea Weber and you slam different players' heads into the boards.
David Booth hunting mini game, with extra points for biggest buck you bag.
Be a Pro Goalie Mode: start out as a rookie goalie; when you become too good, the games changes the rules to offset your skills – for instance,  equipment shrinks during the game and nets get bigger and bigger.
Phoenix Coyotes Owner Mode: additional owner features include getting to attend city council meetings and discuss/threaten relocating to Seattle, Kansas City or Quebec City. You also get to hear pitches from the cities involved on why you should move the team there and start a bidding/bribery war if possibly. Also known as Grand Theft Franchise Mode.
CHL Franchise Beat The System Mode: see Portland Winterhawks and Windsor Spitfires for more details.
What additional feature on NHL 13 would you like to see to ease the pain of NWS (NHL Withdrawal Syndrome)?
***
The actual NHL 13 game itself is actually brilliant. Here's some information from EA Sports.
"It's in the game."
From EA Sports, their launch trailer:
Some of the great feature EA Sports has granted us in NHL 13:
NHL Players Make the Move to Europe in EA SPORTS NHL 13 – Online Roster Updated 
"An online roster update was released today for NHL 13. The update adds a duplicate version of NHL® players who are playing in the following European leagues to their current team:

This means that a player like Claude Giroux will remain on the Philadelphia Flyers roster, but will also be available on the Eisbaren Berlin (DEL) roster for online play.

Hockey is a global game and within NHL 13 there are five European leagues, 66 European teams and over 2100 players representing 26 countries across Europe. By adding NHL players who have joined those leagues to their respective team rosters, we are able to create an authentic experience for fans of those leagues and the NHL, worldwide. For fans of a specific NHL team, those players will still be available on their NHL rosters, which could make for some interesting matchups online.

For a complete list of player transactions, click here."
Relive history as you score Steven Stamkos' 60th goal of the 2011-2012 season
E. A. Sports. It's in the game.
Chris is THW's senior draft/prospect analyst and a Managing Editor. Watch for "The Next Ones" Prospect Profile series, exclusive rankings, mock drafts, as well as the annual THW NHL Entry Draft Guide. Follow @ChrisRalphYQ on Twitter as he infiltrates, dissects and analyzes all happenings of hockey prospects and the NHL entry draft. Email: cralph[at]thehockeywriters[dot]com