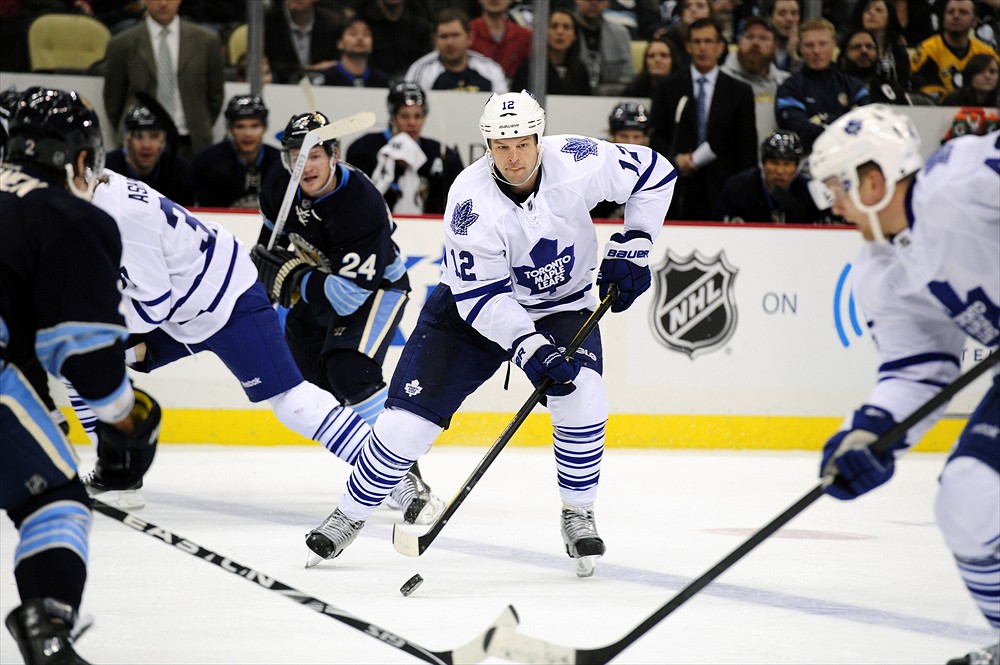 It was announced on Thursday that the Toronto Maple Leafs were set to waive center Tim Connolly after a disappointing single season with the storied franchise. After a solid but unspectacular career with the Buffalo Sabres, Connolly signed a substantial contract to join the Leafs, scoring 36 points on 13 goals and 23 assists in 70 games during his lone season.
One of new Toronto General Manager Dave Nonis' first moves (he also traded Matthew Lombardi to Phoenix) was to waive the 6-foot-1 Connolly. Recognized as someone with premier talent (he was the fifth overall choice by the New York Islanders in 1999), Connolly hasn't quite been able to live up to the expectations placed upon him.
Although the 31-year-old hasn't established himself as a top notch offensive producer, Connolly's numbers would be impressive for someone playing in the middle of the second line – a position the Blackhawks have been seeking to fill for years.
It appears as though Dave Bolland will be centering Patrick Sharp and Patrick Kane on the second line to begin the season on Saturday. The experiment is something that has been attempted in the past but never really given the chance to succeed. Most agree that Bolland is best suited as a checking-line center, but his scoring output during his time with the London Knights in the Ontario Hockey League has many believing he's capable of more offensively.
Andrew Shaw, who played wing during his rookie season, instead will center the third line. Although he is a natural center, it remains to be seen whether or not Shaw will be successful in his new role.
Marcus Kruger will retain his role as the fourth line center, where he'll be given time to develop before he's expected to move up in the coming years.
There have been mixed reviews on Connolly during his time in the NHL, as many say that he's a player who hasn't lived up to his contract, is oft injured, and plays with no heart.
Others say that he's been a solid special teams player who, although he hasn't produced as one would hope a #5 overall pick would, still is a very functional NHL player.
If he could be had for a relatively cheap price – certainly lower than $4.75 million cap hit he would have contributed in Toronto – Connolly looks like he could be the perfect fit in Chicago, at least until one of their young centers (Mark McNeill, Phillip Danault, or Marcus Kruger) is ready to contribute full time.
Signing the Syracuse, New York native would allow Bolland to move back to his checking-line role, where he's proven to be extremely effective, and Shaw to move back to the wing where he was successful during his rookie campaign.
From 2007-10, Connolly averaged nearly a point per game with the Buffalo Sabres. His best year came in 2009-10, when he scored 65 points in 73 games and had a plus-10 rating. He also had 27 points on the power play, an area where the Blackhawks could use some help.
He followed that season up with a disappointing 2010-11, as he was a minus-10 in 68 games and scored only 42 points. Still, former Toronto GM Brian Burke saw the potential in Connolly and signed him to a big deal to man one of Toronto's top lines. Things didn't work out, and Connolly is now being passed through waivers.
It would certainly be risky for the 'Hawks to take a chance on Connolly, but it may be a wise gamble when you consider what he could bring to a team that is hoping to contend for the Stanley Cup during the shortened season.