Tomas Jurco agreed to allow the Red Wings to send him down to the AHL on November 17th for a six-game conditioning stint. He has enjoyed his time back with the Griffins. But is he hungry to return to the NHL or comfortable with a familiar setting of success?
"I hadn't played in a while, so I enjoyed every minute of my ice time tonight and it was fun to play," Jurco told Peter Wallner of MLive.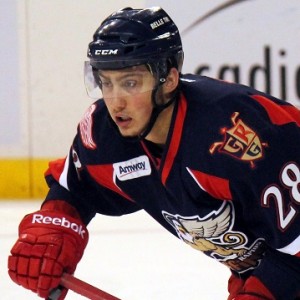 Jurco has only played four games with Detroit this season, posting just one assist to go along with an even plus/minus, all while averaging 10:03 of ice time.
The 22-year-old, Slovakian winger had a promising rookie year during the 2013-14 season that saw him score 15 points (8 G, 7 A) in 36 games. He struggled to follow it up in 2014-15, where he only posted 18 points (3 G, 15 A) in an additional 27 games.
Back With the Griffins
Prior to making his NHL debut, Jurco played for Jeff Blashill in Grand Rapids and tallied 32 points (13 G, 19 A) in 32 games with the Griffins before adding another 7 points (5 G, 2 A) in 8 playoff games.
The once-YouTube-sensation was named AHL Player of the Week for posting 7 points (3 G, 4 A) in a three game winning streak for the Griffins, who were 2-8-0-1 prior to Jurco's presence.
"I watched the first period of Wednesday's game and I thought he did some good stuff," Blashill told Helene St. James of the Detroit Free Press. "He did a good job on the forecheck, he was physical. The goals that I saw him score on the highlights were goals that are elite — two of them, in particular, were snipes, and that is something I hope continues to build his confidence. I know he can do that. So, so far, it has been a good three games. Now he has to continue that."
Almost Back in Detroit
Per Jurco's conditioning stint, he still counts against Detroit's 23-man roster and salary cap. He will play three more games in GR before returning to the Red Wings; it will be helpful if he duplicates the success of his first three games in his next three and his confidence will grow upon his return.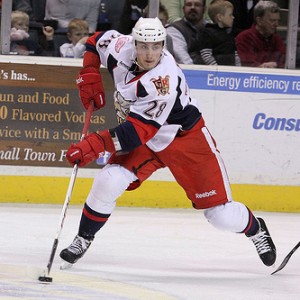 Blashill has said before that he had a long-term plan for Jurco, who under Mike Babcock last season was used as a fourth line grinder with his speed and 6-foot-1, 203-pound frame.
"I think Jurcs is somebody who has done some real good stuff for me in the past. I believe lots in Jurcs," Blashill told Ansar Khan of MLive. "I think there's still another level with Jurcs, but what we're trying to do is give him some stuff, get him to where he's skating at the level I think he needs to skate at in order to be effective out there."
With newfound confidence and scoring, Jurco could be a big asset when he inevitably returns to Detroit's lineup, even as a bottom-six forward.
Statistics compiled from Hockey-Reference and ESPN.
I offer opinions and insight on the Detroit Red Wings organization and its prospects.