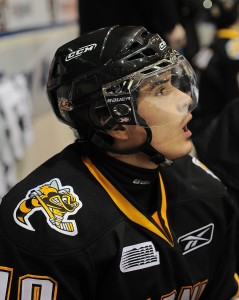 Over the past few days, Nail Yakupov has been making headlines after receiving word that he was suspended from playing in any more Kontinental Hockey League games until further notice. The Edmonton Oilers first overall pick headed home a few weeks ago to prepare himself to suit up for his hometown KHL squad of Neftekhimik Nizhnekamsk, the same team that drafted him 19th overall in the 2010 KHL draft.
After scoring his way to the first overall selection last year playing for the Sarnia Sting in the Ontario Hockey League, Yakupov appeared ready to take the next jump into professional hockey. He suited up in two games for his hometown KHL club posting zero points before receiving the bad news.  Unfortunately for this passionate and charismatic hockey player, Yakupov recently found out that he was ineligible to compete in the KHL during the NHL lockout until a resolution was determined between the IIHF and Hockey Canada.
Yakupov is in a tough place as his potential destination teams attempt to figure out a solution. For a young almost-19-year old who is already disappointed at the delay of his National Hockey League debut, waiting in the wings to find a place to play is even more gut wrenching especially given his intense desire to compete.
In an ideal world, the Sarnia Sting and Hockey Canada would grant Yakupov his release from his CHL contract and allow him to compete for his hometown squad in the country he loves, all while earning some professional dollars. On the other hand, Hockey Canada and the Sarnia Sting have an  interest in not allowing any player to get out of his agreement as it could potentially open a whole new set of problems with future import players.
Sarnia Sting coach and General Manager Jacques Beaulieu entered the 2012-13 OHL Season fully expecting his team to play without the services of superstar forward Nail Yakupov but he still protected the former second overall import pick's rights because of the potential NHL lockout. Canadian Hockey League teams are permitted to carry only two import players on their roster in a normal season but in the case of an NHL lockout, the teams are allowed to carry three imports and dress two. With former import Ludvig Rensfeldt leaving Sarnia for Europe in the offseason, Beaulieu and the Sting organization had no problem protecting Yakupov despite knowing he might not be back.
In the past week this situation has increasingly become more complicated. Each invested camp is now seeking a little "something else" from the outcome of this situation. Let's break down each of the parties' interests below.
Canadian Hockey League
The CHL ideally wants to protect the legislation laid out for its member teams and it states that an import player who signs a CHL contract is required to fulfill all three years unless that player is specifically released by its member club, in this case we are speaking of the Sarnia Sting. Hockey Canada did not receive notice from Sarnia that they were indeed releasing Nail Yakupov and as a result, the International Transfer Card was not signed by Hockey Canada. Until Sarnia notifies Hockey Canada to release Yakupov or a separate agreement is reached, Hockey Canada will continue to enforce their legislation.
Edmonton Oilers
There shouldn't be too much to report from the Oilers' camp, as they were fully prepared to allow Nail Yakupov to return home to make his professional debut with Reaktor Nizhnekamsk. The Oilers' franchise wants the best for their newest Russian star and as long as Yakupov is happy playing in Russia then the team supports their first overall pick. There have been some media outlets that have reported that Nail Yakupov may love playing in Russia so much that there is a small risk that he remains in the KHL after the end of the NHL lockout. Those reports are from people trying to force a story. Anyone who has been around Yakupov or spoke to him would understand that his biggest dream is to not only play in the NHL, but exceed there too. He was excited to be selected first overall and was thrilled to begin his NHL career in Edmonton. Yakupov will be back in Edmonton as soon as this NHL lockout is resolved.
KHL/ Neftekhimik Nizhnekamsk
From every party examined here, the Kontinental Hockey League and its Nizhnekamsk club stands to benefit the most from Yakupov suiting up. From the onset of the NHL lockout, KHL teams have started to flood with NHL star players looking for a place to play. With the influx of NHL star talent follows loads of financial rewards in the form of ticket sales, merchandise sales and other marketing strategies. Having the first overall selection, who just happens to be Russian and playing in his hometown, suit up is immeasurable for the KHL franchise. The Russian federation will fight hard to obtain Yakupov's rights even if his stay might be short-lived.
Sarnia Sting
The franchise that holds most of the (current) power is Yakupov's junior club in the Sarnia Sting. The uncertainty of the length of the NHL lockout remains the Sting's biggest nemesis. Sarnia could stand to benefit greatly if Yakupov is forced to return to the Sting and the lockout lasts the entire season. However, the harder the franchise pushes to return their star player in Sarnia, the more they are risking in terms of how it will influence their ability to recruit future star import players. It's been rumoured (true or not), that Yakupov was adamant about not returning to play in Sarnia, for whatever reasons, and if he is "forced" to play for his former club there could (key word) be backlash.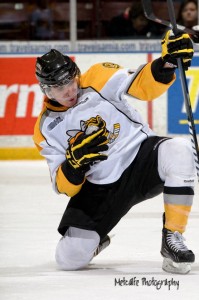 Of course, there also could be no problems either. At this point it's too tough to determine but is it worth the risk of negatively influencing future players from coming to Sarnia? Moreover, Yakupov's agent, Igor Larionov, has helped the Sting organization out by recruiting some top notch talent in recent years and no one knows how a long drawn-out process with Yakupov would affect his future relationship with Sarnia.
In the end, if Yakupov returns to Sarnia then the team becomes an instant contender with several options (depending on the length of the lockout) as they could utilize Yakupov's services in the Sting lineup or trade him to restock the assets the team lost in their attempts to contend last season. His return would force Sarnia's hand to move one of the 1995 born import picks, David Nemecek or Nikolay Goldobin (both players too good to scratch), or trade Yakupov himself. Right now, there isn't a whole lot to report out of Sarnia but that could change quickly, for better or worse.
Nail Yakupov
The most important piece of this debate is the player himself – Nail Yakupov. What is in Yakupov's best interest? Depending on whom you ask that answer will vary. Has Yakupov outplayed the OHL competition? For me, no but he also stands little benefit to remain in this league as he can certainly compete at a higher level. Because of the lockout, Nail Yakupov would join several other professional-ready players, who have returned to compete in the OHL including Dougie Hamilton (Bruins), Mark Scheifele (Jets), Ryan Murphy (Hurricanes), Ryan Strome (Islanders), and JT Miller (Rangers). Yakupov has made it clear that he does not want to return to the OHL and that he feels he would be better served competing against men in the KHL.  Is it worth Hockey Canada and the Sarnia Sting to hold him here in North America against his wishes?
In the end, the entire uncertainty of the NHL lockout duration continues to complicate matters. To satisfy all parties quickly, the Sarnia Sting would most likely sign Yakupov's release papers if they knew the lockout would last only a few months. However, in the event of the losing an entire NHL season, Sarnia would be wise to attempt to retain Yakupov's services either to make them a true contender or by trading him for quality assets to fast-track an inevitable rebuild.
One thing is for certain, this situation is more complicated than originally thought. Yakupov's star status is coveted all over the globe and the sooner this situation is rectified the sooner the hockey world gets to see this passionate talent on display.
Follow @RossyYoungblood for Sarnia Sting news, OHL and prospect news
My passion for the game has led me to writing about hockey, specifically dealing with the future of hockey and it's prospects.
You can find more of my work at DobberProspects.com, TheHockeyGuys.net and OHLWriters.com
Outside of the rink, I enjoy spending time with my friends, golfing, kayaking and fishing as well as competing in several of my own hockey leagues.
If you so do choose, please feel free to follow my thoughts and work on twitter @RossyYoungblood