The New York Islanders still have yet to sign restricted free agents Mat Barzal and Ryan Pulock. However, general manager Lou Lamoriello has made it clear that he is not worried about the contract negotiations and fully intends for the key RFAs to be in Isles jerseys for the start of the 2020-21 season.
There were many questions about what the Islanders lineup would look like at the conclusion of the 2020 offseason. Lamoriello has already reluctantly traded defenseman, Devon Toews, to the Colorado Avalanche in exchange for two second-round picks due to cap restrictions. As for the Isles unrestricted free agents, it's been said a number of them are in negotiations to return, but nothing official has been announced, including an unofficial new addition in goaltender Cory Schneider. Lamoriello has even all but confirmed some of the rumors, something he doesn't normally do.
With the small amount of information Lamoriello has made public, The Hockey Writers Islanders coverage team of Jonathan Amatulli, Mike Fink, Jon Zella, and James Nichols predict what the Isles lineup might look like on opening night, including a few bold predictions.
Jonathan Amatulli: Bottom Six In Flux
The roster as it stands now will most likely be the roster the team has when the season begins. The only change I imagine is the team bringing back Matt Martin. With Martin, the lineup will look mostly the same with one or two spots that could be up for grabs. Here's how I see it shaking out for opening night:
| | | |
| --- | --- | --- |
| LW | C | RW |
| Anders Lee | Mat Barzal | Jordan Eberle |
| Josh Bailey | Brock Nelson | Anthony Beauvillier |
| Michael Dal Colle | J.G. Pageau | Leo Komarov |
| Matt Martin | Casey Cizikas | Cal Clutterbuck |
| | | Ross Johnston |
| | | |
| --- | --- | --- |
| LD | RD | G |
| Adam Pelech | Ryan Pulock | Semyon Varlamov |
| Nick Leddy | Scott Mayfield | Ilya Sorokin |
| Andy Greene | Noah Dobson | |
| Thomas Hickey | AHL: Johnny Boychuk | |
Since the top two lines have been unchanged for some time, and the consistency the fans have come to expect with the fourth line, the majority of the rotation should be expected on the third line. The Islanders have some extra forwards that could see ice time early in the season or even challenge Dal Colle or Komarov for the spot outright. 
Expect familiar faces like Andrew Ladd and Johnston, as well as some who haven't been with the team as consistently, like Kieffer Bellows and Oliver Wahlstrom, to try to carve out a role in the low-scoring offense. Head coach Barry Trotz will certainly use a number of these players based on the situation at hand as he's done so often before. Johnston slots into the lineup when the team needs a larger physical presence, where Dal Colle might slot in when the offense needs a boost.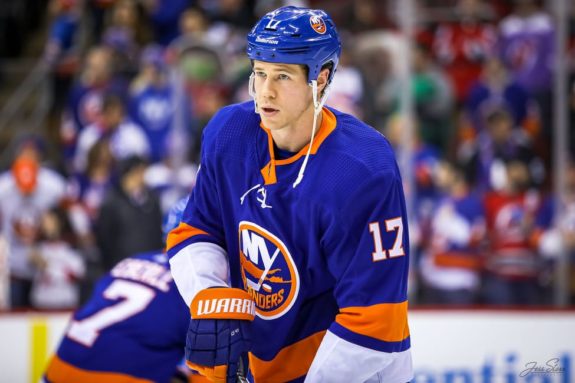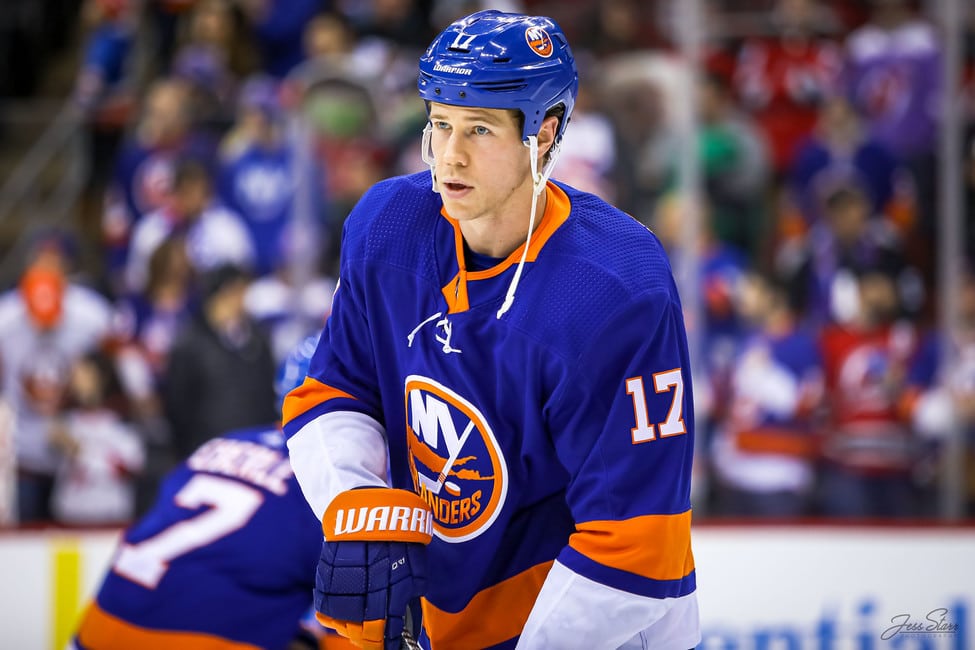 There won't be one lineup for the entire season, but this looks like the most likely setup should Martin return to the Island.
Now that Thomas Griess has departed for Detroit, it's Varlamov's net moving forward. It'll be interesting to see how Schneider fits in, although it's likely he'll be the mainstay in Bridgeports net in the AHL. Now that Sorokin is finally property of the Islanders, he's the obvious choice to succeed Greiss as the 1B option, and Lamoriello will need to see what he has in the young goaltender for his next contract.
Mike Fink: Balance and Chemistry
The Islanders will have to combat some of the depth players that they lost over the offseason. A team that traded away Toews, and is at risk to lose Derrick Brassard, Greene, and Martin. With this in mind, Trotz will have to find a way to balance all four forward lines equally, while filling the voids that the Islanders could lose to free agency.
| | | |
| --- | --- | --- |
| LW | C | RW |
| Anders Lee | Mathew Barzal | Jordan Eberle |
| Josh Bailey | Casey Cizikas | Brock Nelson |
| Cal Clutterbuck | J.G. Pageau | Michael Dal Colle |
| Anthony Beauvillier | Leo Komarov | Andrew Ladd |
| | | Ross Johnston |
I see the top line focusing on the chemistry that has proven to be successful with Lee, Barzal, and Eberle proving to be one of the teams better-skilled lines. The second and third lines focus on finding matchups and providing depth to an overall strong Islanders roster.
The young Dal Colle and Dobson are expected to have big seasons in their young careers with the veteran help of Pageau and Boychuk boosting their success (which will also explain my reasoning for Cizikas starting in the second line instead of the third line since Pageau can take advantage of the third line situations). However, Dobson falls in a seventh defenseman role, as I don't foresee him getting minutes night in and night out.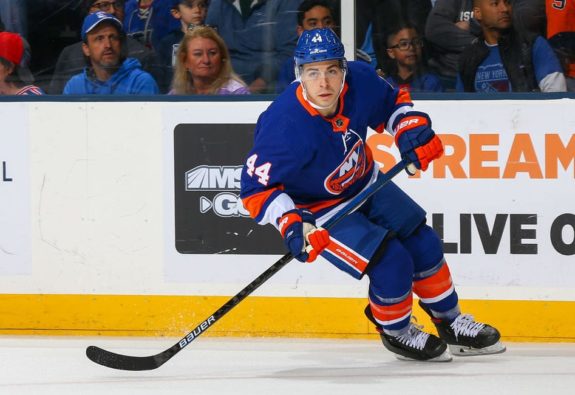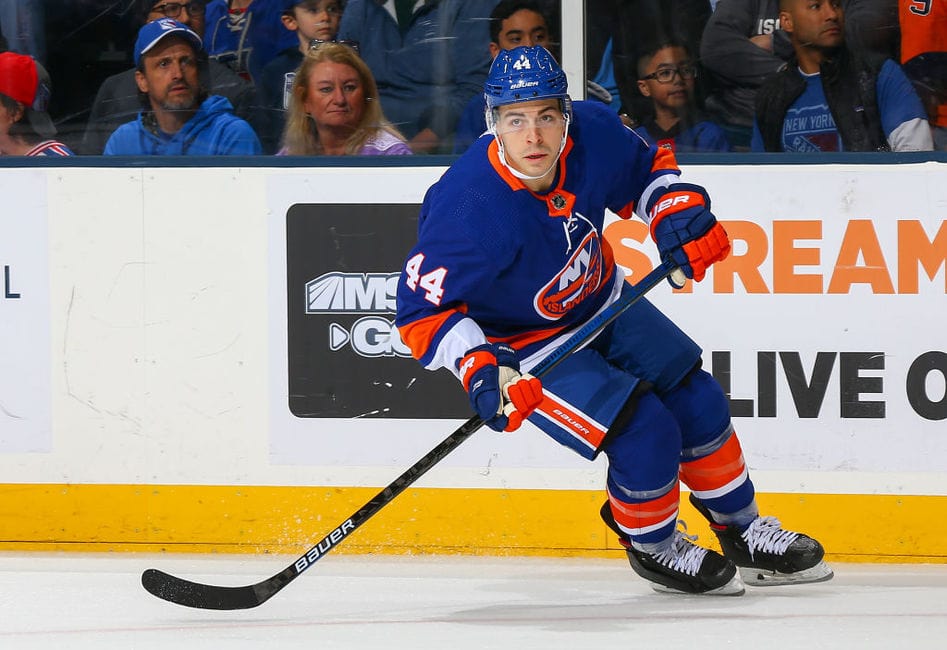 The fourth line comes with concern as both Komarov and Ladd slot in on the same line. A rising star like Beauvillier should make up for the liabilities on this unit. With the lack of five-on-five play, Beauvillier can easily receive more ice time on the power play.
| | | |
| --- | --- | --- |
| LD | RD | G |
| Adam Pelech | Ryan Pulock | Semyon Varlamov |
| Nick Leddy | Scott Mayfield | Ilya Sorokin |
| Thomas Hickey | Johnny Boychuk | |
| | Noah Dobson | |
The Pelech – Pulock duo is becoming one of the emerging young defensive pairings in the league. And now that Toews has been moved to, and signed with the Avalanche, Mayfield will be relied on for top-four minutes next to Leddy. Hickey should also get a crack at reprising a role he had just two seasons ago.
Varlamov should run away with the 1A role now that Greiss has moved on from the Islanders, and Sorokin will take up the mantle as the 1B in the crease.
Jon Zella: Help From Within
With the entire league at a stalemate due to financial constraints, both actual dollars and cap compliancy, I expect the Islanders roster to look virtually the same. The changes I do see come from within the organization or from a player not returning. 
| | | |
| --- | --- | --- |
| LW | C | RW |
| Anders Lee | Mat Barzal | Jordan Eberle |
| Anthony Beauvillier | Brock Nelson | Josh Bailey |
| Leo Komarov | J.G. Pageau | Josh Ho-Sang/Oliver Wahlstrom |
| Cal Clutterbuck | Casey Cizikas | Ross Johnston |
| Michael Dal Colle | | LTIR/AHL: Andrew Ladd |
The first two lines don't change at all, even if Lee could benefit from playing third-line minutes. It also wouldn't hurt to bring someone in – looking at you, Anthony Duclair – to give Barzal some finish on the first line. but we're not going to see that for the 2020-21 season. 
The third line won't change much, either; as we know Trotz likes Komarov a lot. "Uncle" Leo is great on the penalty kill, something the Islanders still need to improve on, so I don't really see a lineup that doesn't include him. My thought is Trotz and Lamoriello give one of the kids a shot to play with Pageau and Komarov. 
With Ho-Sang's arbitration avoided, he may be the injection of speed and talent – at a low cost, mind you – sorely needed to make that third line truly dangerous. My hunch, however, puts the 20-year-old Wahlstrom in that slot.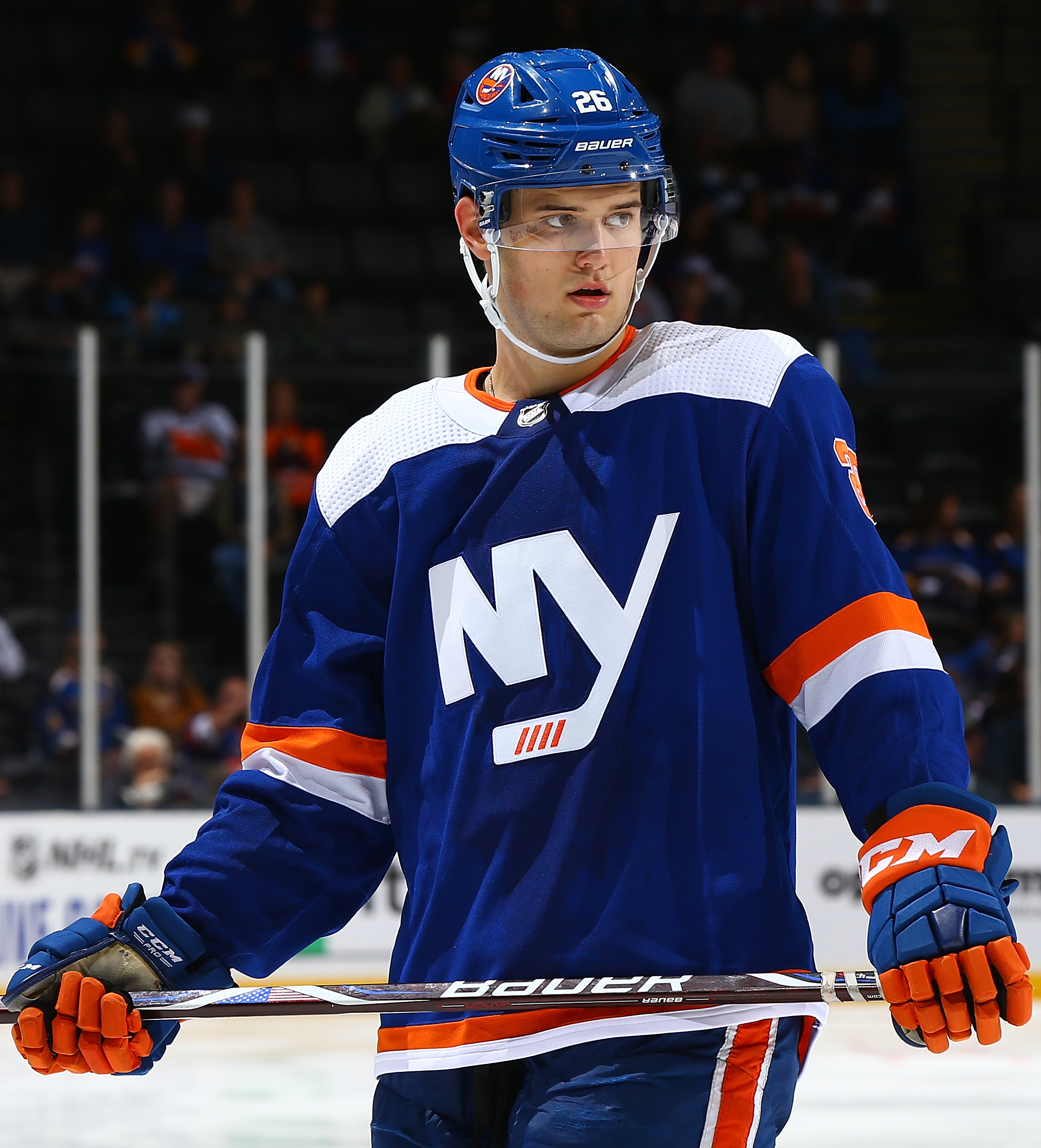 While I much prefer Ho-Sang's raw talent, Wahlstrom, also a cheap option, showed some real promise in his cup of coffee with the Islanders in 2019-20. Both players would benefit from skating alongside two veterans, especially with the skill and speed Pageau has. Neither player has ever played with someone quite that good in the NHL. 
The fourth line gets a shakeup, too, with long-time Islander and fan-favorite Martin, saying goodbye. Though he would probably come back on a cheap contract in the neighborhood of $1M, I'm not sure the money ultimately works out. In what could be an unpopular opinion, I also think it's time to give Johnston a regular shot. He's been a loyal soldier on this team, and within the organization, for some time. Additionally, Johnston can play, and Cizikas could certainly benefit from having another set of hands-on that line. 
On defense, there aren't too many surprises:
| | | |
| --- | --- | --- |
| LD | RD | G |
| Adam Pelech | Ryan Pulock | Semyon Varlamov |
| Nick Leddy | Scott Mayfield | Ilya Sorokin |
| Andy Greene | Noah Dobson | |
| Thomas Hickey | AHL: Johnny Boychuk | |
While I personally think Hickey should be considered to be in the mix here – he's been an outcast since his injury after a number of very good seasons – I understand his $2.5M just doesn't make financial sense. If Lou can make it work, however, he's a great option. 
Toews' departure leaves a bit of a question mark on the back end, but many believe Dobson can set up and play well next to Greene, the latter of which has yet to sign as we all wait for Barzal and Pulock's new contracts to be signed. To circle back on Hickey, I've mentioned before that I don't necessarily feel comfortable with Greene and Dobson playing every night. I'd prefer, if it can work out financially, to have Hickey sub-in every now and again to give one of Greene or Dobson a break throughout the season, whether it's shortened, as expected, or not.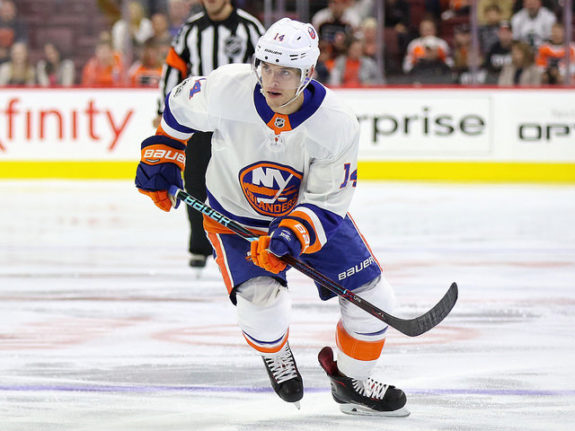 There's not much to question in goal, especially when you consider the presumed condensed schedule. Both goalies will get plenty of time and, if we know anything about Trotz, he'll pick his guy as the season progresses, ultimately choosing someone to go with in the playoffs. My guess is that Varlamov gets a few more starts along the way as the team sees how Sorokin adjusts to the North American game, if only incrementally.
James Nichols: Let the Kids Play
The way I see it, there's a reason why Lamoriello qualified Ho-Sang. In an offseason where the cap is more important than ever, the Islanders re-signed Ho-Sang to a one-year, two-way deal worth $700K at the NHL level, $250K at the AHL level.
Ho-Sang's agent, Patrick Bedell expressed how grateful he and his client, are to receive another crack a role in the NHL in an official statement.
"Josh is ready to give everything he has to earn a spot in the National Hockey League. This contract provides him with some financial security at the AHL level, but he intends to force his way into an NHL line-up," the statement read. (from 'Islanders' Josh Ho-Sang 'ready to give everything' after avoiding arbitration,' New York Post, 10/27/2020) "We believe this contract best allows for that as well. There was interest from teams overseas, but again, at the end of the day, Josh's focus is being a contributor for an NHL team."
It's now or never for Ho-Sang, as the upcoming season is likely his last one to make a name for himself as an NHL player. With Trotz, behind the bench, there is no better coach to mold the skilled wingers game, in my opinion.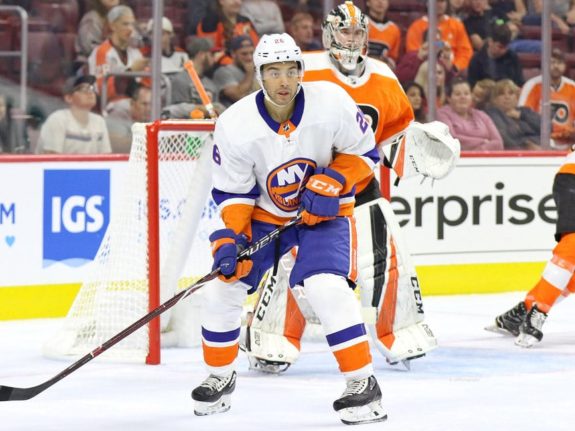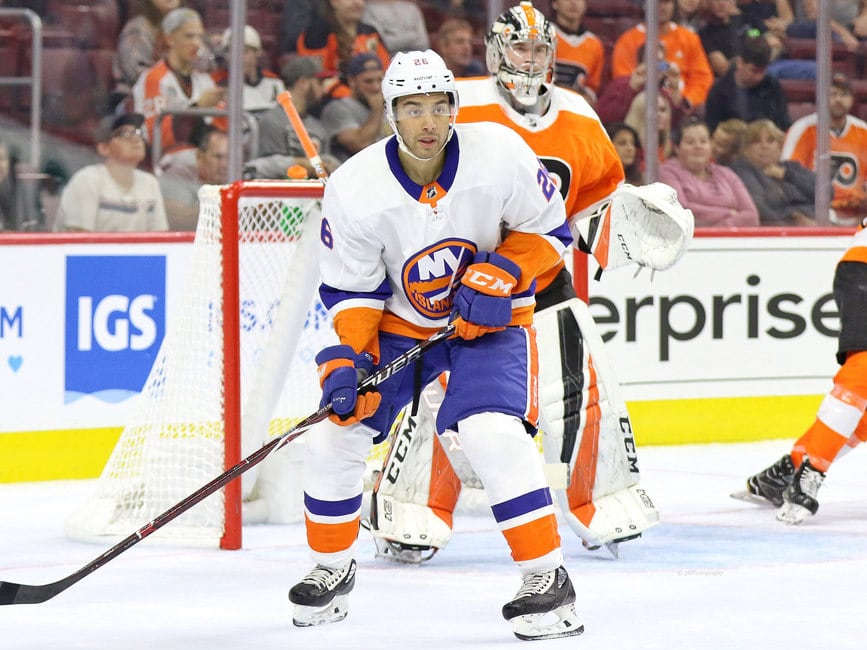 Wahlstrom is another forward I can see forcing himself into the opening night lineup. His shot has been NHL ready since being drafted in 2018, and he showed some pretty good flashes of NHL ability in a short stint during the 2019-20 season. With cap restrictions limiting the Islanders offseason moves, it's time to inject the lineup with some youth that has the talent to help push the needle for Trotz.
| | | |
| --- | --- | --- |
| LW | C | RW |
| Anders Lee | Mat Barzal | Jordan Eberle |
| Anthony Beauvillier | Brock Nelson | Josh Bailey |
| Josh Ho-Sang | J.G. Pageau | Oliver Wahlstrom |
| Cal Clutterbuck | Casey Cizikas | Ross Johnston |
| Leo Komarov | | LTIR/AHL: Andrew Ladd |
Barring any unfortunate injuries, the center core won't change. Similarly, the team's top-six forwards, who showed great chemistry in the 2020 NHL Playoffs, will most likely stay intact. With essentially three second-line units that Trotz can roll out and a fourth line that contributes a lot more than the NHL's average bottom-six, this lineup is constructed to play to the coach's system.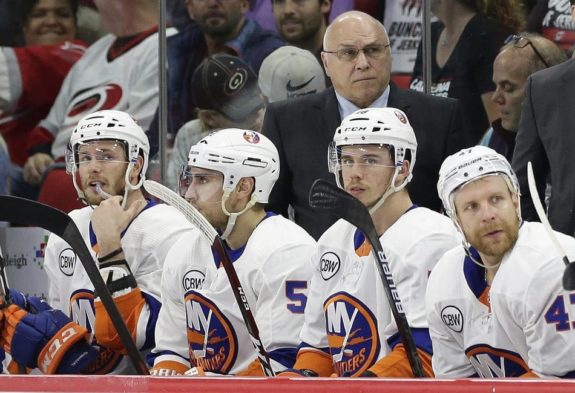 Some youth will be inserted into the defense as well, as we know by this point that Toews is now in Colorado. After the trade that saw the Islanders acquire two second-round picks, Lamoriello addressed a vow of confidence in the soon to be 21-year-old Dobson.
"We would not have made this move if the ice time that Devon received, we didn't have the ability to put a player into that," Lamoriello said. "And Noah Dobson, we feel, is certainly ready to take the next step so we'll have to just wait and see."
| | | |
| --- | --- | --- |
| LD | RD | G |
| Adam Pelech | Ryan Pulock | Semyon Varlamov |
| Nick Leddy | Scott Mayfield | Ilya Sorokin |
| Andy Greene | Noah Dobson | |
| Thomas Hickey | AHL: Johnny Boychuk | |
I still believe that Boychuk's contract is moved before the start of the 2020-21 season, but as of now, he's still Long Island property. His contract will have to be buried in the AHL in order to meet the salary cap. Hickey will serve as a fine seventh defenseman, who is likely hungry to regain a role he never really lost but fell victim to unfortunate timing with an injury.
As Zella stated earlier, it's pretty obvious what the goaltending situation will be. As of now, it's Varlamov's net while Sorokin gets a 1B-type role. With the likelihood of a condensed schedule, there's a solid chance that the two Islander net-minders will get an even split in goal.
Cory Schneider wasn't a surprise to me with his connections to Lamoriello. However, he should be between the pipes in Bridgeport, likely looking to resurrect his career, and he will only be recalled on an emergency basis.
Want more Islanders content? Check out the Nassaumen Hockey Podcast, hosted by The Hockey Writers authors James Nichols and Jon Zella. Follow on Apple Podcasts, Spotify, and Google Podcasts!
---
---