ESPN NHL Insider Corey Pronman unveiled his Top 100 prospects for the 2015-16 season. There are quite a few Islanders and even a former Islander on the list.
The first Islander prospect to make the list is Center Mathew Barzal at 13. General Manager Garth Snow traded 2012 first round pick Griffin Reinhart, who comes in at 56, to the Edmonton Oilers for the 16th pick in this year's draft. Snow selected Barzal. Here is Pronman's take:
Barzal surprisingly slipped to the 16th overall pick to the Islanders this summer, but in my mind, he's no doubt a top-end prospect. Barzal is an electric offensive talent whose puck skills, hockey IQ and agility all get very high grades. He makes unique plays happen, and when he has the puck Barzal seems to control the flow of the offense. He's not an overly effective player in the physical game but he does decent in that area. He ended the season with an exclamation mark, dominating the World Under 18s.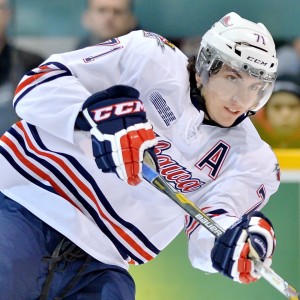 Michael Dal Colle, 5th Overall in 2014 Draft
Coming in at 17 on the list is 2014 first-round pick Michael Dal Colle.  The left winger could make it difficult for the Islanders to return him to back juniors if he has a strong training camp. If he makes the team, the Islanders can return him to the 2015 Memorial Cup Champion Oshawa Generals after nine games. Here is Pronman's take:
There was obvious chatter when Dal Colle was cut from Canada's junior team but he remains a top-flight prospect. Dal Colle has always been known for his offense and he scores in bunches. He's a very gifted puck-handler who makes creative, challenging offensive plays and has a big-time shot as well. Dal Colle's combination of size and skill makes him very appealing. There are flaws in his game though — his speed is average and his defensive game could use some work.
Joshua Ho-Sang, 28th Overall in 2014 Draft
Next on the list might be the most exciting prospect in the Islanders system. Coming in at 45 is 2014 first-round pick Joshua Ho-Sang. Snow traded the two second round picks to  Tampa Bay to move up to the 28th spot to draft Ho-Sang.  The right winger dazzled the crowd at the Islanders prospect game back in July. Here is Pronman's take:
Ho-Sang is a very tough prospect to read. Outside of the chatter people inside the industry and fans/media seem to want to devote to him as a person, his game is very perplexing. He is very creative offensively and a great playmaker, his skating and puck skills are truly elite and he makes special offensive plays look normal. However, his decision-making is often an issue, forcing plays and trying to do too much, on top of being problematic off the puck. While some could make the case that he's a truly top-end prospect, others think he's simply above-average.
Ryan Pulock, 15th Overall in 2015 Draft
Ryan Pulock comes in at 65. The defenseman is really the only prospect on the list who has a legitimate chance of making the big club. It's a bit surprising that Pronman has Reinhart rated higher than Pulock. Here is Pronman's take: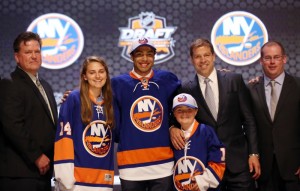 Prior to getting hurt midseason, Pulock was performing at the level of some of the top defenders in the AHL, while he was one of the youngest players at the level. I don't think I've ever been truly "wowed" by a Pulock performance, but he has a lot going for him. His offensive hockey sense is high-end, and his shot is one of if not the best outside the NHL right now. His defense continues to be problematic, and while he's not a slow skater, an extra gear would be nice. Overall, he's a prospect who is trending up, and his first pro season was very impressive.
Anthony Beauvillier, 28th Overall in 2015 Draft
Anthony Beauvillier, the second of the 2015 first-round picks, comes in at 66. Garth Snow, who did not have any first-round picks coming into the draft, worked his magic again as he traded the 33rd and 72nd picks to Tampa Bay to move up to 28 to select Beauvillier. Here is Pronman's take:
Beauvillier had a great second QMJHL season, elevating himself to a first-round prospect. I don't think his pure talent blows you away at first glance, but he does a lot well and has great hockey sense. His speed, hands, shot and work ethic all grade as above-average. Beauvillier's performance was tremendous for an under-18 player, and that's not even considering he was one of the younger top prospects in his draft class, indicating more potential improvement once he catches up physically.
Mitch Vande Sompel, 82nd Overall in 2015 Draft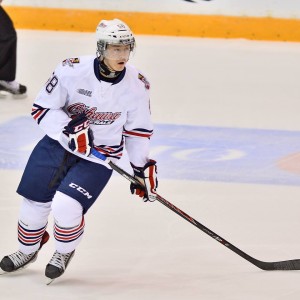 Corey Pronman is high on the next prospect, Mitch Vande Sompel, who comes in at 79. The defenseman was a teammate of Dal Colle in Oshawa. Here is Pronman's take…
There may be no single prospect outside the NHL I'm more intrigued by than Vande Sompel, who is a rare member of the utility-man club as someone who can play either forward or defense at a very high level. He is small, but skates and thinks the game very well. Despite his size, he's shown he can be a great defensive player at either position. Vande Sompel's offense is his calling card, though.
Defenseman Ville Pokka, traded to the Chicago Blackhawks in the Nick Leddy trade last October makes the list right above Pulock at 64. The top two prospects on the list come as no surprise. Edmonton's Connor McDavid at 1 and Buffalo's Jack Eichel at 2. I recommend checking out the entire list. An ESPN Insider account is required.