Just under two weeks ago, the Isles were in 14th place in the East, looking all but certain to finish the year with a top-5 draft pick, if not higher. Right now they sit in 12th with three teams between them and the 8th-seeded Boston Bruins. They have jumped from 11 to 6 points out of the playoffs having picked up five points out of a possible six in the last three games.
Some see this as a glimmer of hope for the Isles making the playoffs. Others see it as a team cheating themselves out of a draft pick.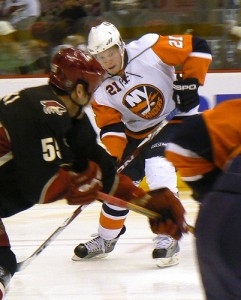 The magic number for a team to enter into the playoff race is typically around 90 points, give or take a few. Currently the Isles have 68 with 11 games remaining on the year. They will face the Kings (tonight), Rangers, Flames, Blue Jackets, Flyers, Senators, Canadiens, Penguins and the Devils before the year comes to a close; they are not going to have an easy time finding 90 points. However, they have done well on this trip against teams like the Canucks and the Ducks, but tonight will be a real test when they face a resurgent L.A. Kings team.
Oh and by the way, of those 11 games, the Islanders have to get two points out of all of them if they expect to reach 90. Can the Isles go on an 11-game winning streak? Anything is possible, but it is a farfetched expectation for a young team that lost seven in a row at one point in the season.
If the Isles don't make the playoffs and finish, say, around 9th or 10th place, they will have lost out on a top-five pick as well as the playoffs. Although a young rebuilding team can use all the fresh legs they can get their hands on, concluding the season just on the outside of a Cup run is not a bad way to cap off a roller coaster year.
Last year the Islanders were almost considered a shoe-in for the first-overall pick before the season even began. At this time of year the Islanders were finding ways to get points, but it still wasn't enough to move them ahead of 30th in the league since the year had been filled with numerous losses. This year the Islanders were tied for sixth place, sitting in seventh at one point, and competing for a playoff spot for a good chunk of the first half of the season. They even started the year collecting points when they were unable to find a win. It was almost comical how many times the Isles would find their way into a shootout. These are key signs of growth and competitiveness.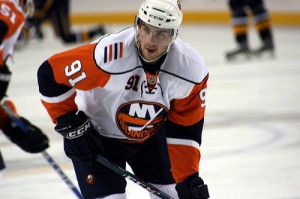 Therefore I think the Isles should continue to fight for that playoff spot, even if it's a very unrealistic expectation. But think of it this way: if the Isles somehow do manage to make it into 8th place, even if they lose in the first round, their confidence will sky rocket knowing they were able to defy the critics and accomplish a goal that no one thought they could. If they don't make the playoffs, they will have given everything they had to offer and will know they were just a few points away, leaving a sour taste in their mouths and a desire to change that next year; to have a playoff spot guaranteed at this point instead of within arms reach.
Top-five picks are always nice, but this team has to continue to play their hearts out. That's my theory, and I am sure that is the atmosphere of the Islanders locker room.
What do you think, are the Isles winning at the wrong time? Should they try to tank the season? Or is making a final push the right way to go?