The Vancouver Canucks have three prospects playing at the World Juniors: Jake Virtanen, Thatcher Demko, and Gustav Forsling. While the latter two prospects play on the U.S. and Swedish teams respectively, Jake Virtanen, by way of being drafted 6th overall this past Spring and playing on Team Canada, is going to garner the most attention from the Canucks faithful.
The scouting report on Virtanen has always been that he is big kid with good speed and a wicked shot. Against the world's best junior hockey players, Virtanen has been able to exhibit the skills he has long been touted to possess and then some.
Jake Virtanen Can Skate
Through Canada's first three round robin games one thing has become clear: Jake Virtanen can flat out fly. For a big body, as Virtanen stands 6'1 207lbs, that's impressive.
Virtanen's speed has especially helped the 18-year-old traverse the neutral zone. This aspect also allows Virtanen to be a key outlet for Canada's breakout, as the forward can pick the puck up along the half wall and move it out quickly or find space in the neutral zone for an outlet pass.
The Abbotsford B.C. native doesn't ever look like he's skating incredibly fast, but his long strides allows him to glide across the ice with ease and impeccable pace.  Bigger forwards usually can't skate as well as Virtanen can.  Virtanen has both size and speed and I become more and more impressed every time he moves through the neutral zone with such ease.
Physicality and an Opportunity
Jake Virtanen started the tournament on Canada's fourth line but has been moved up alongside Connor McDavid throughout stretches against Germany and Finland. The two have exhibited good chemistry and Virtanen should be a fixture alongside McDavid and Curtis Lazar moving forward.
Canucks prospect Jake Virtanen really an unsung hero for Canada v FIN; elevated to 2nd line sparking that unit + physical play

— Mark Masters (@markhmasters) December 30, 2014
What Virtanen brings to that line that Nick Ritchie didn't is Virtanen's skill with the puck along with his speed and physicality.
https://www.youtube.com/watch?v=aqQ03vx7AC0
At the 7:50 minute mark of the above video, Virtanen shows why he fits well with the McDavid line. Virtanen creates the break out by using his physicality to remove the Finnish defenseman off the puck, allowing McDavid to start the rush forward. Virtanen also shows decent ability to find the open ice, as he has a good look on net during the shift. He also uses his big frame to retrieve a lost puck.
Jake Virtanen has shown he is a big kid who can skate as well as providing a little bit of nastiness to the McDavid line. Virtanen is providing glimpses of a power forward that can skate well with pretty solid offensive instincts.
Areas to Improve
One area where Virtanen can improve is hockey IQ. This area is somewhat two fold: be smarter with the puck and don't do anything stupid.
At 18:30 of the above video, Virtanen sticks up for Curtis Lazar by being quite Liberal with the amount of punches he dishes out. As commentator Gord Miller points out, such an act can be a suspendable offence and while I like that Virtanen has his teammate's backs, he has to be a tad smarter about doing so.
Jake Virtanen also could make smarter decisions once he has the puck. A few times Virtanen has used his speed to create a one on one opportunity upon entry into the offensive zone only to try a fancy toe drag and ultimately turn the puck over.
Virtanen, finally, should try to use his size to drive the net rather than rely on his shot. Virtanen shoots the puck, a lot, and against lesser junior competition, he can find holes. Against top goaltenders shooting from everywhere isn't necessarily the best move.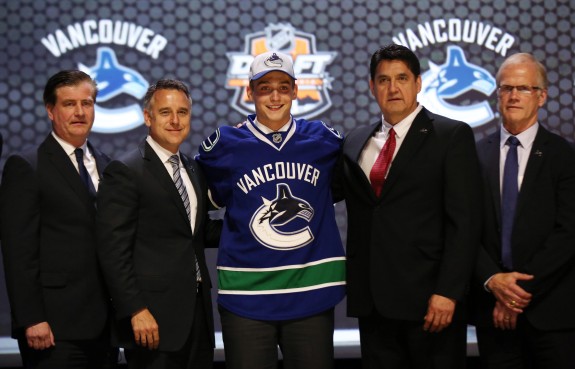 With the games that count the most on the horizon and an opportunity alongside Connor McDavid and Curtis Lazar, Jake Virtanen has the opportunity to utilize his speed and physicality to create chances for his dynamic linemates.
Vancouver Canucks' fans should be pleased with what Virtanen has done so far in this tournament. With a goal and an assist, Virtanen has exhibited great speed, size, and a willingness to use said size. The B.C. boy has some things to work, as does every hockey player, but all aspects so far point to a player in the making of a power forward the Canucks have long been looking for.
Andrew Jow is an English student at Simon Fraser University where he covered the SFU Men's Hockey team. Andrew is a Vancouver native and covers all things NHL for The Hockey Writers. Follow him on Twitter @MadJowDisease