In the Versus post-game interview following the Philadelphia Flyers' seventh-game elimination of the Boston Bruins in this year's Stanley Cup playoffs, Captain Mike Richards was asked what he thought was the key to the game.  "We rode the shoulders of a twenty-year-old rookie for two periods before our game kicked in and we took over from there.  We are lucky to have him."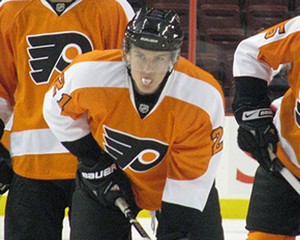 That 6'3", 210-pound rookie is New Jersey native is James van Riemsdyk.  His first career playoff goal, in the dying minutes of the first period to make the score 3-1, gave the Flyers some hope after a dismal opening stanza in which they allowed Boston a three-goal lead.  JVR, as he is called by his friends and teammates, flew up and down the ice from the outset of the game like he had jets on his skates.  While the Flyers are known as a team that never quits, on that particular day this rookie showed the way.
Born on April 5, 1989 in Middletown, NJ, JVR started his hockey career in the Kelly green uniform of the Brick Hockey Club, playing out of the Ocean Ice Palace in Brick, NJ.  Proudly displayed on the wall was a banner paying homage to Jim Dowd, the only New Jersey grad playing in the NHL at that time.  It was immediately evident that this young forward was also special.
In 2004-2005 he split his season between the Brick organization and his high school team, the Christian Brothers Academy.  Big, fast, smart and with magic in his hands, he captained the Brick Midget AA team to the Atlantic District Championship.  In November of that year, he moved on to play for CBA where he scored 60 points (33-27) in just 30 games.  He was named First-Team All-State Forward.
The following year he joined the National Team Development Program where, in his second season, he earned his upper-level draft rating scoring 63 (33-30) points in 42 games and leading the NTDP in goals, points, PPG (11) and GWG (6).  At the 2007 Entry Draft, van Riemsdyk was chosen second overall by the Flyers, immediately after Chicago picked Patrick Kane.
In the fall of 2007, JVR entered the University of New Hampshire, scored 11 goals and 23 assists in his first year and was named to the Hockey East All-Rookie Team, finishing the season a plus 14.
Known by all those who coached him or managed him as a strong-willed individual who knows what he wants and usually gets it, that summer James was about to face one of his toughest challenges.  G.M. Paul Holmgren of the Flyers, wanting his high draft pick to move to the NHL, openly criticizing his choice to spend a second year at UNH as a "waste of his time."  Feeling he was not ready for the big league, he held his ground and played a second year at school.  Reflecting on his decision to return to school instead of joining the Flyers, "It was definitely the right decision," he declared.  It has given me a lot of confidence. I wasn't ready yet.  I felt like I was still getting stronger and still getting bigger."
Playing at UNH also gave James the opportunity to play for the third consecutive year in the World Junior Championship for the USA under-20 team.  In the previous World Juniors (2008) he was the leading scorer with five goals and six assists ad was named to the Tournament All-Star Team.  Though he followed that performance in 2009 with ten points (6-4), his USA Team finished a disappointing fifth.
When the 2009-2010 Flyers training camp opened, there was no doubt about JVR's readiness.  Though not expected to join the club immediately, his play dictated otherwise.  In the annual rookie game against the Capitals, he dominated, counting four goals and adding one assist.  Starting in a preseason game against Detroit, he once again grabbed Holmgren's attention with a two-goal effort in a 5-2 win.  When the final cuts were made and the roster posted, his name appeared as a third line winger.
He earned his first assist in the season opener and two more in his second start, back in his native New Jersey against the Devils.  In November he scored four goals and had five assists, earning him the NHL's Rookie of the Month honors.  Establishing himself as a hard-working two-way player he played 78 games finishing the regular season with 15 goals and 20 assists, a very respectable total for his rookie year.
Off to an amazing start, James van Riemsdyk is part of the "new" Flyers.  Along with Mike Richards, Danny Briere, Simon Gagne, Chris Pronger, Claude Giroux and a host of other power players, he has brought the swagger back to the Broad Street Bullies.  This time around it is size and speed, not muscle and brawn, but the result is the same.
With all of this happening one hour from his front door in Middletown, NJ., JVR could not be a happier man, nor could Paul Holmgren.