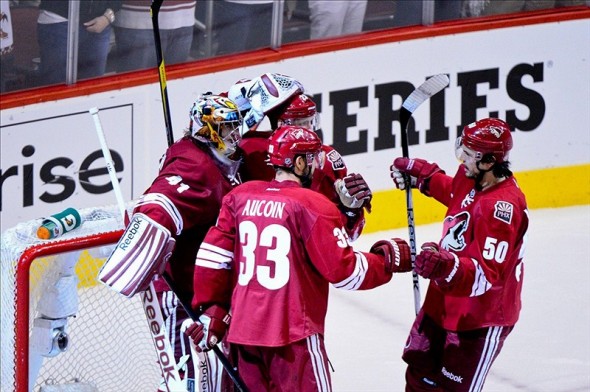 While the lockout continues, hockey fans in the desert and northern Providences are occupied with the Phoenix Coyotes.
Taking the stand at Tuesday's Glendale city council meeting, prospective Coyotes owner Greg Jamison, Coyotes supporters and opposers had the chance to speak on the major item on the meeting's agenda, the arena lease agreement with Greg Jamison.
After much talk between opposers and supporters, the council turned to it's members to weigh-in on the topic. Council member Norma Alverez would make full use of her chance to speak, often times losing traction on the topic at hand. But the most important words of the night aside from Jamison's were spoken by Yvonne Knaack.
Knaack, who was undeclared at the previous Glendale workshop spoke of the importance of having an anchor tenant for the city owned Jobing.com Arena. "I don't think this is a sports issue, it's an anchor tenant issue…I will vote in favor of this deal," Knaack said.
Reserved Optimism
Put on hold were the celebrations as Coyotes fans are well aware that the team is not yet in the clear. Jamison still needs to ink a deal with the National Hockey League and be okayed by the Board of Governors before the January 31, 2013. A deadline set by Jamison and interim city manager Horatio Skeete in the newest lease agreement.
A major day for both the team and their fans, Coyotes' front office personnel were in attendance; COO Mike Neely, GM Don Maloney, Assistant GM Brad Treliving as well as Jamison's partner, Anthony LaBlanc (formerly of Ice Edge).
Jamison, Neely, and LaBlanc up front #Coyotes Don Maloney also just walked in

— Ed Chavez (@edmchvz) November 28, 2012
Unreserved Opposing
The night was highlighted by the few characters that chose to speak in front of the council. After being presented a projection of what the city would be without the team compared to with the team, Glendale stood to make money with the team staying at Jobing.com, opposers took the stand first. Among them featured a Glendale residence who began to quack at the council and those in attendance, while another gentleman called the Coyotes, Hockey Partners, LLC, and the audience 'freeloaders,' and at one point comparing the seating arrangement, particularly his, to segregation, in reference to having to sit behind Jamison.
What Lies Ahead
Now with an arena lease agreement in place, Jamison will turn his attention to the NHL to complete the deal. Much like the last lease agreed on, a chance of a referendum popping up is very much possible. Ken Jones who was responsible for the last attempted referendum noted he would again be looking at his options at Tuesday's meeting. Jones who was guided by the Goldwater Institute previously but then abandoned after the realization of failure, is assumed to go a different route this next time.