The AHL's Houston Aeros were expected to be one of the league's most exciting teams while the 2012 NHL Lockout remained in effect as a plethora of top Minnesota Wild prospects joined the club including the likes of Mikael Granlund, Jonas Brodin and Charlie Coyle. While a lockout is always frustrating, it has given the franchise's top prospects some time to adjust to the professional North American game and for the club to get arguably a better look at them than they would have done with just training camp. It would probably be fair to say that the results have ranged from good to unlucky to poor for these prospects with the Houston Aeros so far in the 2012-13 season. The Hockey Writers provides a breakdown.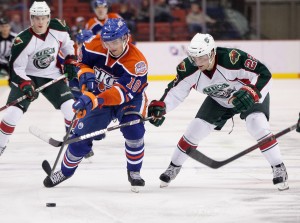 Granlund and Brodin Suffer Unfortunate Injuries
Few players encapsulate the word 'unlucky' better than Mikael Granlund in terms of the 2012-13 AHL season so far. The Finnish forward was the player of the month in October scoring 12 points in his first eight games in professional North American hockey. He registered three multi-point games, while failing to get a point only once during those eight games. He seemed on his way to stardom and looked a level above players around him, but suffered an unfortunate right ankle sprain in Houston's first game in November. The injury has already kept Granlund out a few weeks with the length of time still a little unclear.
Top defensive prospect Jonas Brodin's transition to the professional game wasn't quite as dramatic, but four points and a +2 rating in eight games wasn't a bad start. Brodin's injury is more serious, he suffered a broken right clavicle after a hard hit from Oklahoma City's Taylor Hall. It's unlikely that Brodin will return to action before the new year.
The Wild are likely to be especially frustrated by Brodin's injury as playing time is especially invaluable for a blue-liner adapting to the professional North American game. In the short-term, the Houston Aeros have had to significantly re-configure their line-up with these two major prospects sidelined.
Positive Signs For Young Wingers: Zucker, Coyle and Larsson
Jason Zucker wasn't as highly-touted as some of the other prospects joining the Houston Aeros this season, but he has made his mark, especially since Granlund has gone down with an injury. Zucker scored five points in just four games played in October, but he has been assertive in November scoring seven goals and 10 points in 10 games.
Charlie Coyle was arguably the biggest asset in the trade that sent Brent Burns to the San Jose Sharks and while his recent form has quietened down a little, the big winger has still shown positive signs that he belongs. Coyle has seven goals and 11 points in 18 games so far, though his last goal only came on November 18.
Johan Larsson wasn't necessarily talked about as frequently as the likes of Coyle, Granlund and even the likes of Zack Phillips and Jason Zucker. However, the young Swede has provided valuable depth scoring tallying five goals and 11 points.
Phillps and Bulmer Struggle With Slow Stars
Brett Bulmer has looked a long way removed from the young player who almost broke onto the NHL roster last season and enjoyed such a strong year in the WHL. He doesn't even look like the player who suited up for the Houston Aeros at the end of last season. Bulmer is a -8 and has managed just one goal and one assist in 17 AHL games so far this season. These are especially disappointing totals for a player expected to potentially challenge for an NHL spot again this season.
Meanwhile, Phillips may be the one young prospect who has taken some time to adjust to the AHL game. He has just one goal and eight points in 16 games so far in 2012-13. November has been a better month than October with five assists in 10 games. He looks like a young player gradually finding his feet, and should develop into a consistent contributor as the season continues to progress.
Seb has been writing about the NHL and ice hockey online for over a decade. A long-time passionate Bruins fan, it's a dream of his to be writing about this team, but don't expect him to hold back from telling some hard truths when necessary. Follow him on twitter @seberead