Even he hasn't seen anything like this before.
Blue Jackets GM Jarmo Kekalainen thought he had seen everything last season in the midst of a season that saw the team lose over 500 man-games to injury. Even still, the team finished with a winning record.
It's easy to see why there was so much optimism in Columbus for this season. When the team was healthy, they played well. They beat playoff teams, and altered the way the playoffs began (just ask the New York Islanders about not having Game Seven at home.)
The season began, and couldn't have started any worse at 0-7-0. They had to make a change (draw your own conclusions if you think this is all on the coach.) Todd Richards was let go. John Tortorella came in to help try to stabilize the team. Tortorella is 17-20-4 since he has taken over.
Let's face it. There are issues on many levels. Expectations were at an all-time high for this team. Many had them making the playoffs. Some even had them making a deep run. It's not even close. The playoffs are an after thought now.
The question many are asking is, how will the Blue Jackets respond to this season? How do they view things? What changes will they make? We got some insight into this Friday night.
Kekalainen was in Cleveland watching the Blue Jackets AHL affiliate Lake Erie Monsters play the Milwaukee Admirals. After the Monsters defeated the Admirals 2-1 in overtime, Kekalainen spent a few minutes with us talking about the season and what we could see down the road.
Sergei Bobrovsky's Health
I asked Kekalainen how concerned they were about the health of their star goaltender Sergei Bobrovsky in light of another groin injury. He said that the team isn't concerned about Bobrovsky's long-term health, but did add, "We are going to look at different things for him."
I followed up by asking what kinds of things are they looking at.
"We will look at all possibilities at this point, whether it be new routines, playing less games. These kind of injuries are tricky. You just don't know how long it will take for someone to heal from them. One minute, he'll be fine, the next, something happens with the muscle. We will be careful with him moving forward."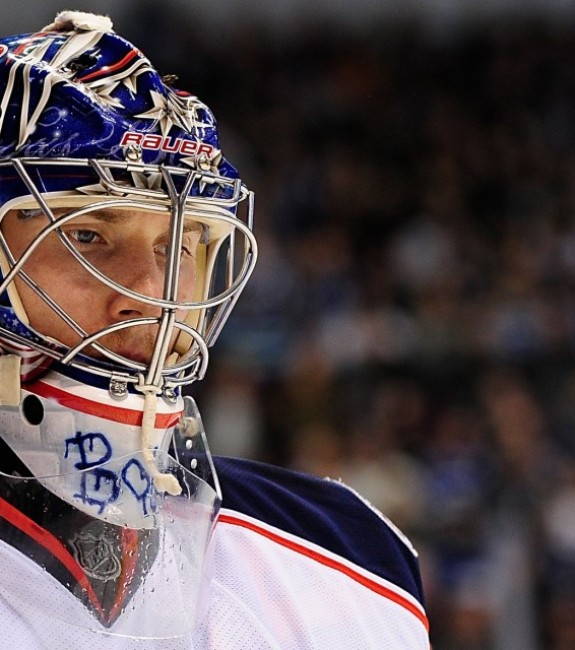 Frustrating Season
We then switched gears and talked about how disappointing this season has been for them from their point of view. He had a very candid response for the fans.
He specifically took time to thank the fans for enduring through this season despite everything that has happened. "I haven't seen anything like it", Kekalainen said. "I thought I had seen everything, then the incident with Tortorella happened (broken ribs at outdoor practice). I've never seen anything like this before. But you have to stay positive in spite of that. It's hockey."
I followed up by asking about Tortorella's health. "He's got two broken ribs. He's out for the Boston game. We are not sure when he (Tortorella) will be back at this point."
Trades?
When a team is in last, you reasonably expect moves to happen. It's not a matter of if, but how many. I asked Kekalainen about potential moves and expected activity level.
"We will always look at ways to get better", Kekalainen said. "We really like our young core and are excited at what the future holds."
He really didn't get into specifics about how many calls he's taken or how active they will be. The take away for me is how happy he was with his young core. He specifically mentioned newly acquired Seth Jones and Ryan Murray as bright spots.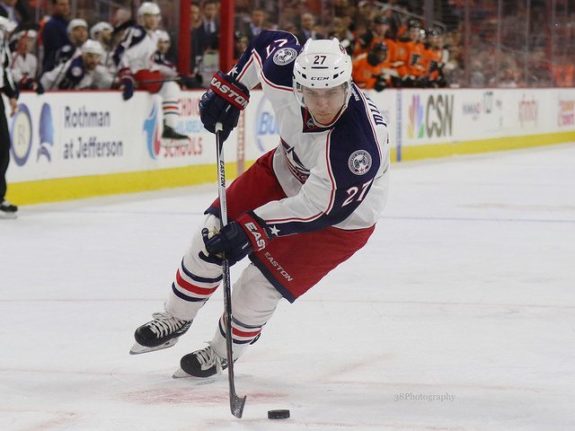 "It's nice to see Murray develop this season. He's been able to stay healthy and has been great for us. Jones has fit in nicely and is doing good things. We are excited to see them as a big part of our future."
Given how happy they are with those players, expect the Blue Jackets to look at all possibilities to get younger. Kekalainen essentially confirmed that. "It's important that we use the draft to our advantage to get talent into our organization."
With just five draft picks this summer, expect that number to rise through a variety of moves. The Blue Jackets place a high importance on getting this part right. So if you are a player like Scott Hartnell, Gregory Campbell, or another veteran, something could certainly happen by the trade deadline.
The team is still positive despite the season. They have a plan of attack. The next several months will unveil that plan to us. Moves are coming. If you can count on one thing, they are going to get younger. Expect the unexpected. Nobody is safe. The Blue Jackets are open for business.