This season has seen Jaromir Jagr continue to climb up the NHL record book.  Presently, Jagr is seventh all-time in goals and points, totaling 696 and 1,727.  Currently Jagr has 15 goals on the season for the New Jersey Devils and could hit the 30 goal plateau for the first time since the 2006-07 campaign.  While Jagr eclipses a new milestone with every point, just where might his career numbers look like if he'd had a full NHL career?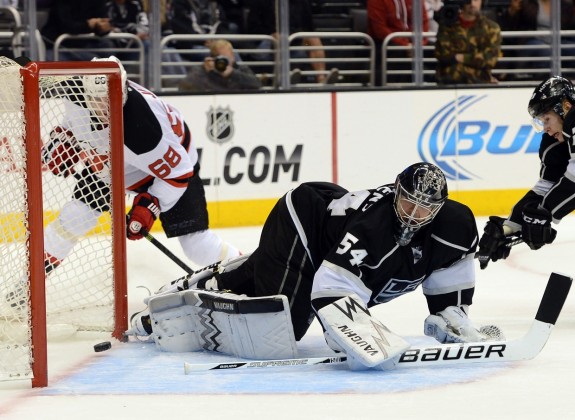 How much more impressive would Jagr's stats look if his career hadn't been shortened by three lockouts and one brief players strike?  Where would his numbers be if Jagr didn't spend three seasons in the KHL?  What would his numbers be like if he hadn't played in a primarily defensive era?  The Hockey News estimated that Jagr would place second all-time in NHL scoring, if his career hadn't been interrupted.
Those are obvious reasons for Jagr not accumulating as many points as he potentially could've but there are plenty of other factors to also consider.  So taking a trip on the Jagr "what if" machine, how different might Jagr's stats look like with the following change of events?
Jagr plays longer with Mario Lemieux:
Now it is a bit difficult to feel too bad for Jagr's numbers in this instance, given that he also played on a line centered by Ron Francis, who oh by the way is fourth all-time in points and second all-time in assists.  That being said, Super Mario is Super Mario.  Due to Lemieux's bout with Hodgkin's lymphoma and other ailments, there were at least three  full seasons where the two missed out on playing together.    Granted Jagr led the league in points during those three seasons.  Figure this though, when Lemieux returned in 2000-01, Jagr registered his first 50 goal season since the 1995-96 season.  When Jagr played for the Pittsburgh Penguins, only four of those seasons included Lemieux playing for 60 games or more in a given year.
Jagr doesn't go to Washington: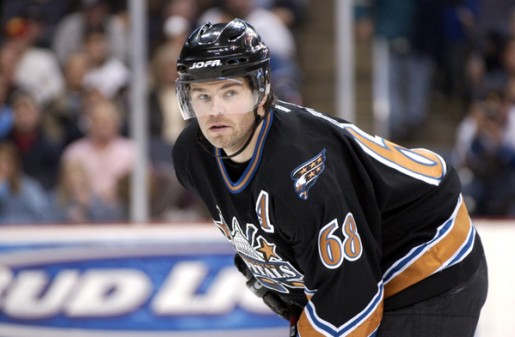 Now to be fair, Jagr wasn't going to spend the entirety of his career with the Pens, who went from seven wins short of a third Stanley Cup, to bordering on bankruptcy.  Having said that, it just never clicked with Jagr and the Washington Capitals.  Yes Jagr led the Caps in points in both of his full seasons there and recorded 30-goal campaigns as well but his point totals were the lowest in a non-lockout year since 1991-92.  Even playing with Peter Bondra, Adam Oates, Dainius Zubrus and reunited with Robert Lang, Jagr just couldn't make it click like his Pittsburgh days.
Jagr stays with the Rangers:
Jagr thrived and not only rejuvenated his career but revitalized the New York Rangers franchise.  In his first full season in New York, 2005-06, Jagr posted 54 goals and 123 points.  Mind you his numbers went down to 96 and 71 points in the next two seasons but he still led the club in points in both instances.  Who knows how the tenure of Scott Gomez or Chris Drury pans out in New York, if Jagr stays or the coaching status for Tom Renney for that matter.  All I know is Jagr and New York seemed to be a match.
Jagr comes back with the Penguins: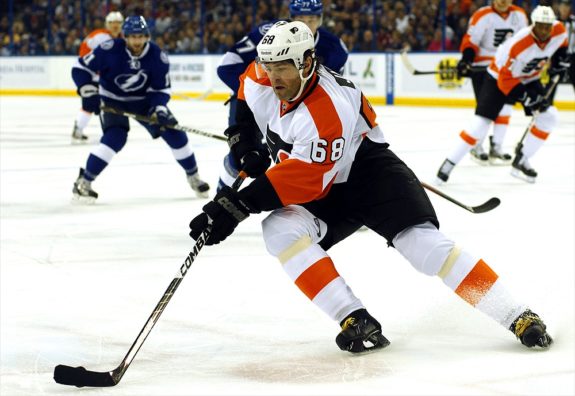 Would he return to the Penguins or Rangers, after a three-year hiatus in the KHL?  Nope.  Jagr ultimately wound up with the Philadelphia Flyers and bounced from the Dallas Stars to the Boston Bruins and currently the Devils.  Ah but who wasn't intrigued at the prospect of the old guard, uniting with the new guard in Pittsburgh?  While Jagr's Flyers and Bruins have gotten the last laugh against the Penguins in the playoffs for each of the past two seasons, it would've been interesting to have seen Jagr back in Pittsburgh.  Playing with the likes of Sidney Crosby, Evgeni Malkin, Chris Kunitz and James Neal, would've harkened back to the days when Jagr played with Lemieux, Kevin Stevens, Rick Tocchet and Francis.  It would've been quite different having Jagr teamed up with those players in their prime, than some older rosters in Dallas and New Jersey.
In any event, Jagr still tops the charts in overtime goals (18), game winning goals (122) and is slated to top the 700 goal plateau this season.  While Jagr could've been the first player to net 900 tallies, his numbers are still impressive when one considers the era he played in.