Google the name Jason Bonsignore and words will appear like bust, failure and disappointment. One phrase that is not considered is opportunity lost.
Bonsignore will live in folklore as the greatest disappointment in draft history for the Edmonton Oilers. Ultimately, he never lived up to the lofty expectations placed on him.
Jason Bonsignore: The Good Times…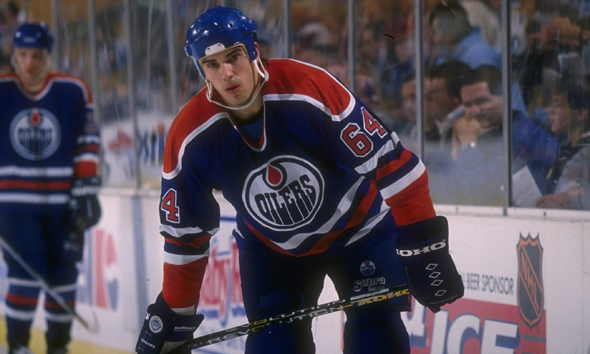 A fresh faced American kid was uprooted from his home in Rochester, New York  the year before. However, he was already playing in his second season with the Ontario Hockey League (OHL) for the  Newmarket Royals. Newmarket, like Bonsignore, was in their second year of operation after moving from Cornwall, Ontario. The Royals pinned their hopes on youngsters like Aaron Brand, Jim Brown, Paul Andrea, Todd Walker and Bonsignore.
Out of all that promise, only Jason Bonsignore played in the NHL at all. That would be an added burden for an already struggling franchise. Following a crushing first round exit at the hands of the Sudbury Wolves the year prior, Newmarket struggled out of the gate. The Royals eventually traded Bonsignore to Niagara Falls where he would join future Oilers captain Ethan Moreau. Bonsignore finished the season with 22 goals and 86 points in 58 games between Newmarket and Niagara Falls in his draft season.
At the time, NHL scouts were envious of the Eric Lindros trade because of his size and ability. Mario Lemieux was another big bodied skilled center who had just captained the back-to-back Stanley Cup champion Pittsburgh Penguins. Knowing it would now be difficult to acquire such talent via trade, teams shifted to the draft where players of that body frame would be earmarked as valued commodities. This would give teams the luxury to place these players in their bottom six while they worked on their skill sets so someday they could become top six players.
Then there was the draft…..
This would be the fate of Bonsignore on the morning of June 28th 1994.
After Ed Jovanovski of the Florida Panthers was selected first, Bonsignore would make his way onto the stage a few picks later as the 4th selection of the Edmonton Oilers. The Oilers also held the 6th overall selection which they used on Oilers folk hero Ryan Smyth. Ethan Moreau, Bonsignore's teammate in Niagara Falls, would go 14th overall to the Chicago Blackhawks who pegged him as a top 6 power forward.
In an attempt to supersede a rebuilding market in Edmonton, Sather and the management group drafted what they felt were two franchise cornerstones in the 1994 draft to compliment forwards Joe Hulbig (13th – 1992), Jason Arnott (7th – 1993) and Nick Stajduhar (16th – 1993). They were expected to join a rebuilding group around Doug Weight (acquired from NY Rangers), Todd Marchant (acquired from NY Rangers) and David Oliver (144th – 1991).
The Oilers And Bonsignore Never Saw Eye To Eye
History would rumour that the team was set on Radek Bonk who was unavailable by the time the Oilers made it to the podium that morning and were stuck between junior scoring sensation Jeff O'Neill and Jason Bonsignore but they chose Bonsignore because of his size. In Bonsignore's own words, a conversation with Edmonton media members Robin Brownlee and Gene Principe, the issues with the Oilers started on the draft floor.
Blog: Former Oiler goes on anti-Sather rant http://t.co/EO1dWDp #nhl #oilers — Edmonton Journal (@EJ_Oilers) September 2, 2011
 

I don't mind talking about this stuff now but it's been a sensitive issue for a lot of years. I mean Glen (Sather) just never seemed to, I mean one of the first things he ever said, I mean he never even said hello, was, 'I'm not going to give you a million dollars.' It was like, nice to meet you, too. (- Brownlee, OilersNation)
Bonsignore was also quoted saying Sather had pulled him into his office during training camp and told he was out of shape and would be fined if he hadn't lost 10lbs in a 3 day period. He was also unfairly given a tryout being earmarked to spend the year in the minors playing for Oilers farm team in Cape Breton of the AHL.
My version of a bust is someone who maybe didn't deserve to be in the situation they were in. I kind of feel like up until the point where I played for Edmonton I kind of deserved to be where I was and was in the right situation there as far as where I was drafted and everything. I was proud of that. It just never got off on the right foot with Edmonton and that's not to say that I wasn't excited about going there or the opportunity or the history it's just for whatever reason it didn't work."(Gene Principe, Kukla's Korner)
Jason Bonsignore is the #Oilers all-time worst draft pick: http://t.co/8OOnEf37 — Jonathan Willis (@JonathanWillis) October 19, 2012
Bonsignore is guilty in his own words of being naive about the work ethic it would take to be a professional hockey player and take that step from the AHL to NHL, but in many ways didn't get a full season shot with the Oilers to really show his abilities, whether it was deserved or not. It's very difficult to gauge a prospect when you are changing their environment on a month-to-month basis as evidenced by the fact he never played in the same city for a full season.
Upon his draft he would split the 1994-95 OHL campaign with Niagara Falls and a deep Sudbury Wolves that would eventually lose out in the conference finals. He would also play one NHL game with the Oilers scoring his first career NHL goal. In 1996, he would play under 20 games each with Sudbury (OHL), then with Cape Breton (AHL) and Edmonton (NHL). bouncing between teams without a clear cut developmental direction from the organization, which wasn't rare for the Oilers during this time.
Things turned even worse….
In his final season as a member of the Oilers, Bonsignore made an effort knowing his window to make the Oilers roster was nearly shut. He came into camp in the best physical shape of his career. Kelly Buchburger, a fitness fanatic in his own right, drew praise towards the young man's efforts to correct his mistakes and correct what his biggest detractors felt were his pitfalls. Unfortunately management already made up their minds on the prospect. Bonsignore was demoted from training camp after playing in one game.
Well he said, 'You're not good enough to play right now. You're not good enough to play at this level.' And I said 'Well I feel like I am.' I had 21 goals as a rookie, and he says, 'You're just not good enough."(Brownlee, Oilersnation)
Finally a trade and more bouncing around
In December of 1997, Bonsignore was finally traded along with defenseman Bryan Marchment and another failed development forward Steve Kelly to the Tampa Bay Lightning for defenseman Roman Hamrlik and forward Paul Comrie. After playing only 21 games for the Oilers organization at the NHL level, the Oilers gave up on the 4th overall selection in 1994. He would go on to skate in 79 NHL games in total between Edmonton and Tampa Bay. That was more than Allison, Hulbig, Stajduhar, Descoteaux, Riesen and Henrich combined.
Bonsignore would go on to play for a multitude of minor league franchises in Hamilton, Cleveland, San Antonio and St. John's before taking a hiatus from the game for two years starting in 2000. He would return for the 2002-03 season in the AHL which he split between Springfield and Lowell registering 26 points in 49 games. In 2003-04 after being unable to secure a two-way deal between an NHL franchise and it's minor league affiliate Bonsignore would spend the next four seasons in the ECHL before a short stint in the SM Liiga of Finland. Jason Bonsignore would end his career playing for the New Jersey Devils ECHL affiliate in Trenton in 2008.
After His Career
Upon retirement, along with his father Gene, he would go on to create his own motorsport promotion under the Jason Bonsignore racing banner and revitalized the Champion Speedway in Oswego, New York known as the East Coast Speedway. Through various philanthropic efforts Bonsignore would be known as the man who reinvigorated various communities in the New York area from his work on the raceway including Action Park East. He also created an amusement park in one of the suburban areas of New York.
The Oilers looking back missed a lot of opportunities…
There is no way some of these players such as Kelly, Allison and Bonsignore should have floundered as prospects on an NHL roster with the talent they possessed in junior. The fault lies in the organization's player development which was so poor following an era that saw them draft and groom future Hall of Fame caliber players like Mark Messier, Grant Fuhr, Glen Anderson, Jari Kurri, Paul Coffey and Kevin Lowe.
Maybe Bonsignore never should have been taken lower in the draft. Don't blame the young man who was given an unfair opportunity. However, blame the organization that failed to develop and harness his raw talent like so many others in that forgettable era of Oilers draft history.
=========================================
Other notable 1st round disappointments from 1994 include:
7th – G Jamie Storr (Los Angeles) – 219GP
9th – R Brett Lindros (NY Islanders) – 51GP 2G 5A 7PTS
10th – D Nolan Baumgartner (Washington) – 143GP 7G 40A 47PTS
15th – R Alex Kharlamov (Washington) – never played
16th – G Eric Fichaud (Toronto) – 95GP
20th – L Jason Botterill (Dallas) – 88GP 5G 9A 14PTS
21st – G Evgeni Ryabchikov (Boston) – never played
22nd – D Jeff Kealty (Quebec/Colorado) – never played
23rd – D Yan Golubovsky (Detroit) – 56GP 1G 7A 8PTS
24th – L Vadim Sharifijanov (New Jersey) – 92GP 15G 21A 37PTS
Edmonton Oilers regular contributor providing insight on all things Oilers including club history, prospect profiles, trade breakdowns, and everything else in between. Check back regularly for new and exciting content. Follow on Twitter @SanderTHW.