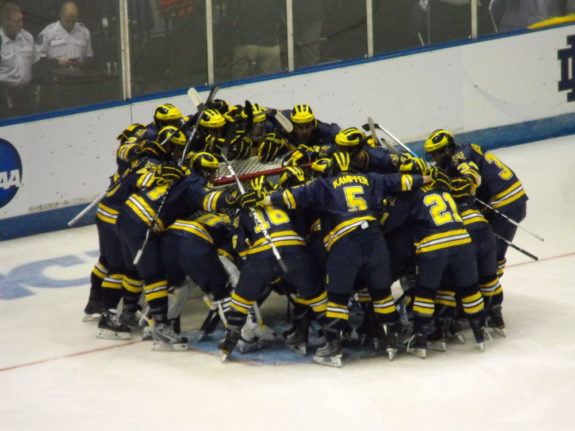 Somewhere John Buccigross would be proud as it is that time of year to crown a NCAA hockey champion. The term "cawlidge hockey" has been affectionately coined and hey it may be a bit overused but admittedly is a little different. I like that. As I have done for every year since 2000, I will be doing yet another college hockey bracket. This year I may do several actually.
Cawlidge Hawkey Is Our March Madness
The statement could not be more true. I don't really get into that other "March Madness" all that much. I watch the NCAA Selection Show religiously like an eight year old tears through presents on Christmas morning. As always, John Buccigross and Dave Starman did a brilliant job hosting along with breakdowns of the 16 teams. It really is a not so secret passion that I have along with the NHL Draft. After all, it always relates back to fantasy hockey somehow, even if indirectly. 

The Pickem Brackets are always a fun and easy way to compete for others and for prizes. I will be creating a group as well so that we can have a friendly little competition among the hockey fans and writers alike. This should be a fun experience to say the least.
If you are wondering what my bracket looks like for this year then, here it is.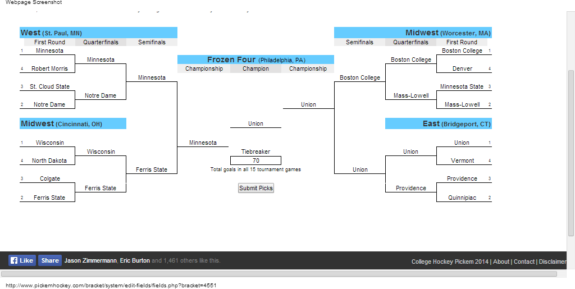 Again, this year we have come up with a group for The Hockey Writers. Honestly, anyone can join as the password is THW. So if you can think you can beat me, step on up, register, and join the group. It is that simple, honest!
Some Departing Words
Anyone is welcome to join. This is very much free. I want to encourage as many entries as possible because I am curious if anyone can get up to 12 or 13. That would be quite an impressive total given how the last several tournaments have gone.
Now as for my Hobey Baker vote, I will wait on that. In the meantime, good luck with your brackets and enjoy the true madness of cawlidge hawkey at its finest!
Simply a hockey writer who is a jack of all trades. No question is too big or too small and in fantasy hockey there is no such thing as a stupid question. Now a proud, accredited member of the FSWA. I am also a New Jersey Devils lead writer, prospects writer, humorist, and so much more. You can find me on Twitter at @ChrisWasselDFS