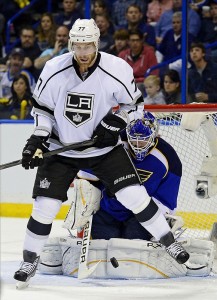 Let me say this right off the bat: I may be reasonably clever (not many would review Zero Dark Thirty as a failed romantic comedy on another site), but no, I didn't come up with this one. Tongue firmly planted in cheek, Jim Fox has been recently and repeatedly pitching Jeff Carter for the Cy Young Award.
He's been hot, there's no doubt about that. With 17 goals, Carter is tied with Chris Kunitz and James Neal for second in the league, a mere two scores behind Steven Stamkos. It's in the what-have-you-done-for-me-lately department where he's really shined, as his goal against Calgary on Saturday night in front of a raucous Staples Center crowd represented the fourth straight game he'd lit the lamp. Moreover, he's notched goals in nine of his last ten contests, tallying eleven over that stretch.
The "en fuego" list
As they say in sunny Mexico, Carter is en fuego. In fact, there are few out there more en fuego at the moment. Sidney Crosby handed out five assists today versus the Islanders, and now has a Gretzy-esque 20 points in his last eight games. Rangers fans are certain to point to Rick Nash, with his recent slate of goals in five straight and points in ten. Lightning followers would undoubtedly proffer the great Stamkos, with 20 points in his last thirteen, or the speedy Martin St. Louis, who has 19 points in his last 16 games. Ryan Getzlaf, Tyler Sequin, Vladmir Sobotka, and Patrice Bergeron also deserve mention, as does Carter's all-world teammate Anze Kopitar.
And yet as hot as the others are, over the past ten games Carter has the most goals of the bunch. He's been electric, as can be seen by his natural hat trick against the Nashville Predators on March 4th, shown below:
Revisiting the trade that brought him to L.A.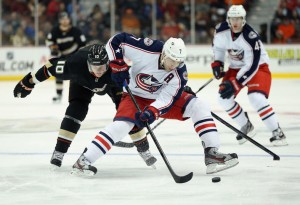 With the lockout having chewed 34 games from the schedule, time seems more than a little compressed. And yet, it's been just over a year now since Kings General Manager Dean Lombardi traded defenseman Jack Johnson and a conditional first round selection to the Columbus Blue Jackets for Carter, who is signed through the 2020-21 season and carries a cap hit of $5.273 million. By all accounts, the deal was exactly what the doctor ordered for the Kings. Not only did they embark on a historic, improbable run to the Cup shortly after he joined the team on February 23, 2012, but have put the puck in the net at a clip approaching three goals a game — a stunning number for a club that hasn't been above 25th in the league in scoring since 2009-10.
It's not that Jack Johnson isn't a terrific talent, but this was a trade that worked for both teams, albeit one that cost Columbus substantial capital in the acquisition/divestiture exchanges for Carter. With the emergence of Slava Voynov, Johnson became expendable, and the rest, as they say, is history. Carter is poised to be a fixture in Hollywood for years to come.
The Kings' playoff chances at this point in the season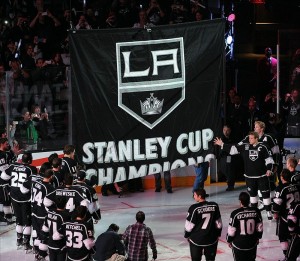 After having gone 8-2 in their last ten games, Los Angeles is firmly in the playoff mix, sitting fifth overall with 28 points in 23 games. The West is, as always, loaded once again. So much so, in fact, that last year's Pacific division champion Coyotes are on the outside looking in at the moment. So are the Predators, who earned 104 points last year and captured the fourth seed.
With the league's tenth most prolific offense, eleventh stingiest defense, and a guy who can't not score goals these days, the Kings seem well-positioned to defend their Cup this season.
The case for the Cy Young Award
All right, we've delayed it long enough. What the hell does that award have to do with one of hockey's most prolific scorers? Check out his stat line and see for yourself. As of this writing, Carter has 17 goals and two assists. He's 17-2! Recent "winners" included Renee Bourque in 2011-12 (18-6), Sean Bergenheim during the same season (17-6), Ryan Jones in 2010-11 (18-7), Nikolai Zherdev in 2010-11 (16-6), and Guillaume Latendresse in 2009-10 (27-13).
Just remember, I didn't make this $#@! up.