Do not be surprised if someday the IIHF decides to name the Best Defender Award after Jenni Hiirikoski. If anyone even petitioned the International Ice Hockey Federation to do so, the governing body would probably welcome the notion. It would be necessary to wait until Hiirikoski has retired – something we hope is many moons from now. Since she began representing Finland in Women's World Championships in 2004, Hiirikoski has won the award herself six times – including five consecutive – 2009, 2012, 2013, 2015, 2016, and 2017. Keep in mind that the tournament was not held in 2010, 2014 or 2018 because of the Winter Olympics, or otherwise she would at least have one more.
Aside from international competition, Hiirikoski is currently captaining Luleå HF/MSSK in the SDHL (Svenska damhockeyligan) – top women's league in Sweden, and one of the best in the world. This is the start of her third season with Luleå and the second one that she has captained. The team are the reigning champions of the SDHL. With the 2018-19 season just getting underway, Hiirikoski is poised to be in top form as always.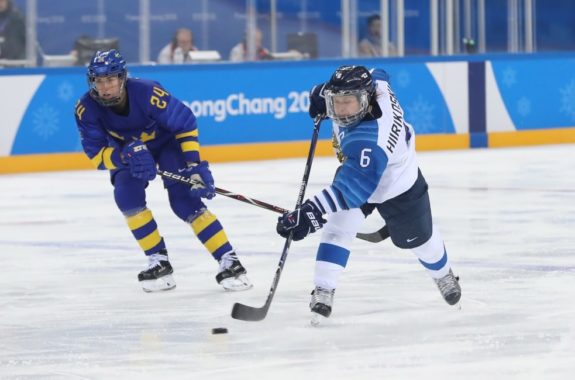 THW had the opportunity to catch up with Hiirikoski for a one-on-one interview. We gathered her thoughts on the upcoming Women's Worlds in April on her native soil in Finland, the current SDHL season, and then we opened the discussion up to a bit of fun. Hiirikoski shared some great thoughts in a way only she would know how.
2019 IIHF Women's Worlds in Espoo
The 2019 IIHF Women's World Championships will be played from Apr. 4 through 14 and will be held in Espoo, Finland. Since Hiirikoski's first Women's Worlds nearly 15 years ago, the tournament has been in her native country only one other time (2009). This upcoming tournament will be the first of its kind to include teams from 10 different nations. Hiirikoski hails from Lempäälä, Finland, which is a little more than an hour-and-a-half drive from Espoo. She is understandably excited for the 2018 tournament to get underway. The consummate leader that she is, Hiirikoski considered what Finland's success on home soil will mean for future generations of players in her country.
"We have home World's this coming April," Hiirikoski grinned. "That will be so awesome to play in there and have the home crowd behind us. Of course, we want to succeed there. And it would be nice to help the younger players to come into the national team."
#Naisleijonat kapteeni Jenni Hiirikoski pronssiottelusta: "Me olemme hakemassa mitalia täältä, ja meillä on upea joukkue, jossa on paljon kokemusta. Olemme varmasti valmiita, kun kiekko putoaa jäähän." #PyeongChangFI #OlympicTeamFI pic.twitter.com/q5ZnUfqnhV

— Olympic Team Finland (@OlympicTeamFI) February 19, 2018
To Hiirikoski's point, there are number of talented Finnish youngsters on the horizon. Finland has already brought current 16-year-olds Elisa Holopainen and Nelli Laitinen onto the roster of players preparing for April. An opportunity to step up to the big team is invaluable to these youngsters, particularly from experience the they will gain alongside Hiirikoski. The veteran defender will turn 32 years old just days before the 2019 tournament gets underway. Laitinen – a defender too – will not turn 17 until after the tournament is already over.
Hiirikoski has played in 61 games at Women's World Championships, scoring nine goals and 20 assists for 29 points. In the process she has helped Finland capture six bronze medals. At the most recent 2017 Women's Worlds Hiirikoski's three goals in six games tied her with Susanna Tapani and Petra Nieminen for the most on Finland, while her five total points tied her for second most on the team.
Defending the Championship with Luleå
It is difficult to summarize Hiirikoski's 2017-18 SDHL season in words. Astounding would likely make the most sense. Not only was she a vital cog in delivering the championship to Luleå, but it was how she did it. As a defender no less, Hiirikoski finished in the top-five in scoring for the entire league. In just 36 regular season games she scored 22 goals and 33 assists for 55 points. Hiirikoski finished the season as a plus-54 for plus/minus. Two of her Luleå HF/MSSK teammates also finished in the top ten in scoring with the team's Michelle Karvinen leading the league outright. Hiirikoski recognizes that the team is in a very good place for defending their title now that the 2018-19 campaign has gotten underway.
"With couple of new players, we have a really good team," she said. "And of course we will defend our title. I think it will be a lot of tight games this season. I'm so proud to be part of this club team."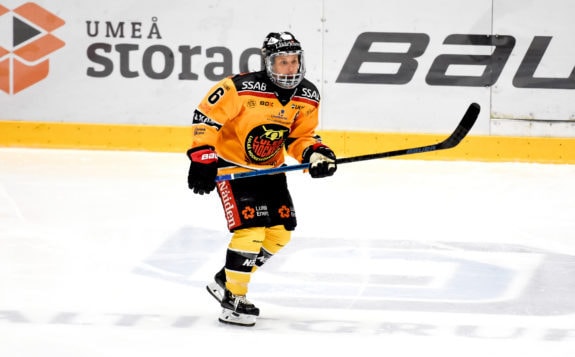 Hiirikoski has a very keen eye for the inner workings out on the ice. She places immense value on a player like Karvinen and her other teammates, and how they in turn bolster her own game. The offense is very high-flying when Luleå takes to the ice, and Hiirikoski's play is critical in making the team the scoring juggernaut that it routinely has been.
"I have to say skating is one of my strengths," Hiirikoski explained. "I try to do my best to help our forwards on offense. I play with players like Karvinen and (Emma) Nordin, so you just have to be ready to shoot – the pass will always come," she smiled.
More Left to Learn and Accomplish
In addition to the World Championships and her SDHL successes, Hiirikoski has four Finnish championships and two Olympic bronze medals. At the 2014 Sochi Winter Games – when Finland did not medal – Hiirikoski was named Best Defender and a Media All-Star. Taking the bronze at the recent 2018 PyeongChang Winter Games, she again earned the exact same accolades. Humble and as much of a student of the game that she is, can you believe that Hiirikoski still feels that there is more she can learn and improve upon?
"I want to be better all the time," Hiirikoski stated. "So I like to watch my own shifts from previous games, and also see how other defenders play. I work with my shooting a lot. I like to use my slap shot and one-timers."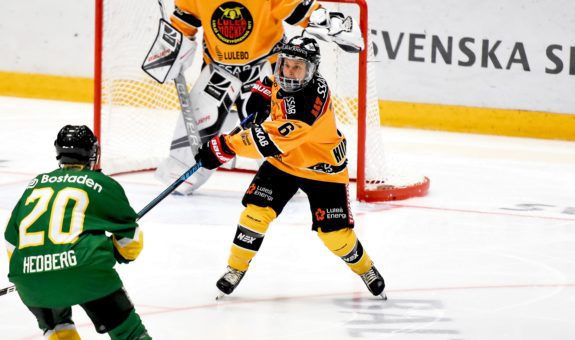 Hockey season is just getting started, and there is much for Hiirikoski to be excited over. The SDHL is mere games into their year so she has the entire season to relish and enjoy. Once that is wrapped up, she will be playing in Espoo right in front of friends, family and her fellow countrymen. Though she has competed many times over on hockey's grandest stages, Hiirikoski appreciates every moment of it.
We asked her what her loved ones will be thinking when she takes those first strides in Espoo. What will they be proud of? What will they be feeling?
"This question is hard to say," Hiirikoski said. "But I think they are happy to see me just on ice. Doing what I love to do – play hockey."
Fun Facts with Jenni Hiirikoski
At the completion of our interview, Jenni Hiirikoski decided to indulge us with a little bit of fun. We asked her five more playful questions not necessarily having to do with hockey. Hiirikoski enjoyed responding, and we hope that you will enjoy getting to know her a little better too.
Okay, ready Jenni?
If you were a general manager for a women's hockey team, who would be the first player – past or present – that you would sign and why this player?
"I will take Michelle Karvinen. The way she sees the game, good passing, shooting and how she can handle the puck. She wants to make her teammates better in every game."
What is your favorite board game to play?
"Mexican Train."
What book would you recommend to others to read?
"The Core – Better Life, Better Performance by Aki Hintsa"
If you could visit anywhere in the world that you haven't visited yet, what would it be and why?
"Nepal in the Himalaya Mountains. That place has always fascinated me.
Last question – what is something you know now about life or hockey that you would tell your 12-year-old self about, or that you wish you knew when you were 12?
"Just go for it. Enjoy and do what you love to do."
Thank you, Jenni!