With the 2023 NHL Draft rapidly approaching, it's time to take a look at who the Winnipeg Jets should target. Declan Schroeder of The Hockey Writers did a wonderful dive into ten players they should target with their first-rounder, so make sure you take a look at his articles.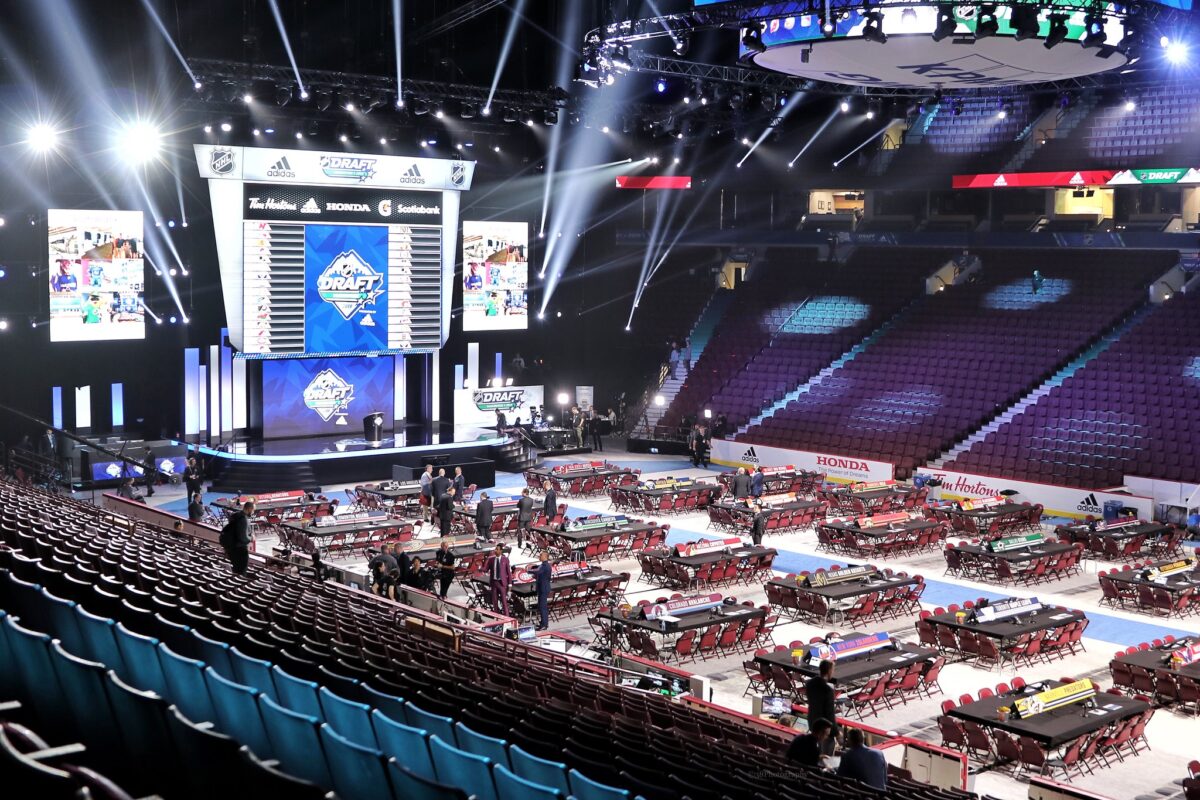 In this piece, we're going to look at players to target in rounds three, five, and seven. The Jets traded away their second-rounder in the Brenden Dillon deal, their fourth in the Mason Appleton trade, and their sixth in the Andrew Copp deal. Altogether, Winnipeg will be selecting four more times after its first rounder, which includes two in the fifth round at picks 146 and 151.
Round Three
Martin Misiak
Martin Misiak spent last season between two teams, the first half for HC Nove Zamky in the Slovak Extraliga, and the second half for the Youngstown Phantoms in the United States Hockey League (USHL). While he performed fairly well in Slovakia, he had a hard time adjusting to the American game in Youngstown with 17 points in 27 games. Eventually, he found his way and performed at a high level in the playoffs with 10 points in nine games. 
Misiak is an excellent defender who needs to improve offensively. Alex Chauvancy of The Hockey Writers stated in his prospect profile: "…there are things he does well consistently enough on offense. He's not afraid to get in on the forecheck with his 6-foot-2, 198-pound frame, nor will he shy away from going to the net front. If he can become a more consistent shooter and playmaker, it will improve his stock as a prospect in his post-draft years as he continues to develop."
Related: 5 More Jets Targets with 18th-Overall 2023 NHL Entry Draft Pick
---
Latest News & Highlights
---
For now, he's projected as a solid bottom-six NHL player, but the sky's the limit for him. He has a high-end motor and plays a real physical game. For a team like the Jets, Misiak would be a much-needed contributor to the culture they will be trying to build as they start a new era.
Gracyn Sawchyn
Gracyn Sawchyn is an interesting case because, in mock drafts, I've found him go from a late first-rounder all the way to a third-rounder. So for argument's sake, we're going to include him in this discussion.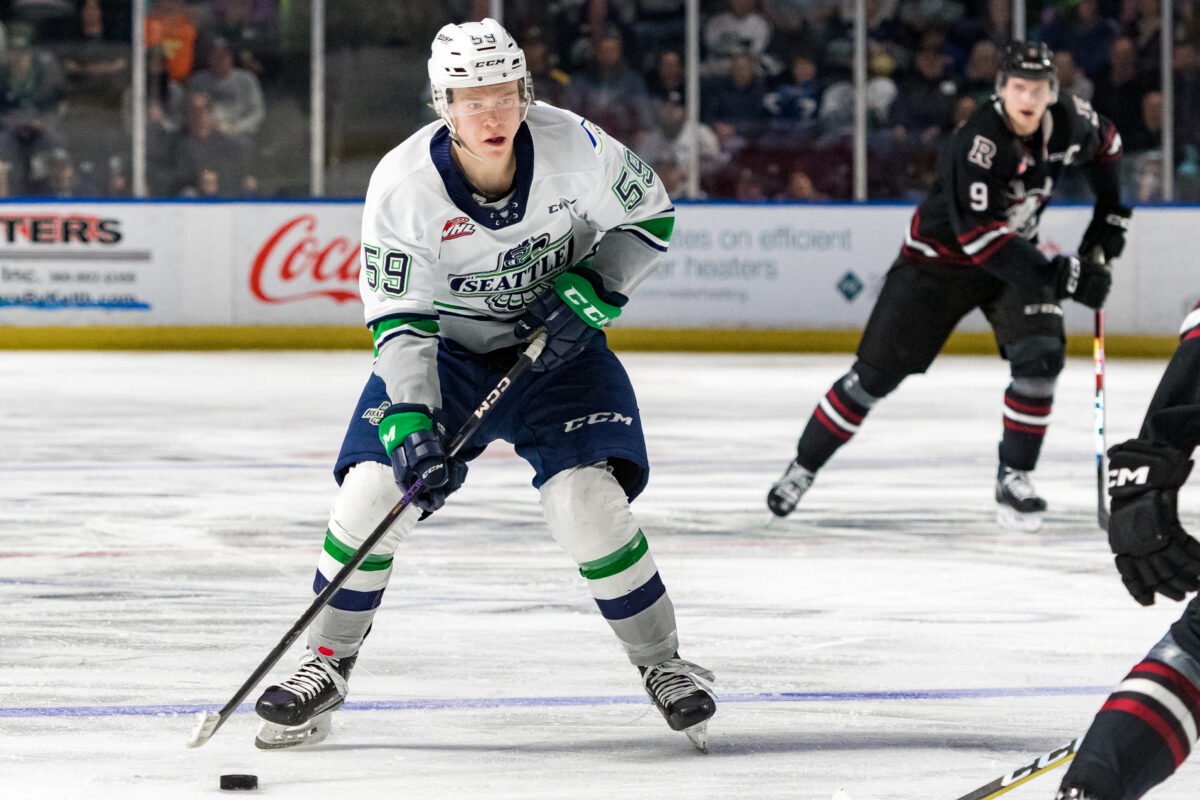 Sawchyn is a bit of a polarizing figure in the draft community being labeled as "one of the more divisive prospects" (from 'The Most Divisive Prospects in the 2023 NHL Draft,' EP Rinkside, June 13, 2023). However, it's impossible to ignore the talent. He may be small, and his skating needs some work, but he has everything you want in a prospect: elite puck handling, exceptional vision, and playmaking. Along with all of that, he has a high motor with a little bite to his game. Knowing what we know about the Jets (especially this past season), a little bite wouldn't hurt anyone now, would it?

His draft position is sort of unpredictable given the lack of production this past junior season (58 points in 58 games). However, as Logan Horn of THW reports, that's only because he was mostly playing on the second or third line on a stacked Seattle roster. With his skill set, he would be a no-brainer to take at pick 82.
Caden Price
While extra help on the blue line isn't a desperate need for the Jets, Caden Price is a longer-term project that has the potential to pan out as a legitimate player. There's no denying his ability, but it's the mental mistakes that cost Price in his draft position. There are times when he looks like a legitimate first-round talent, and there are situations where he cracks under pressure, and looks mentally checked out.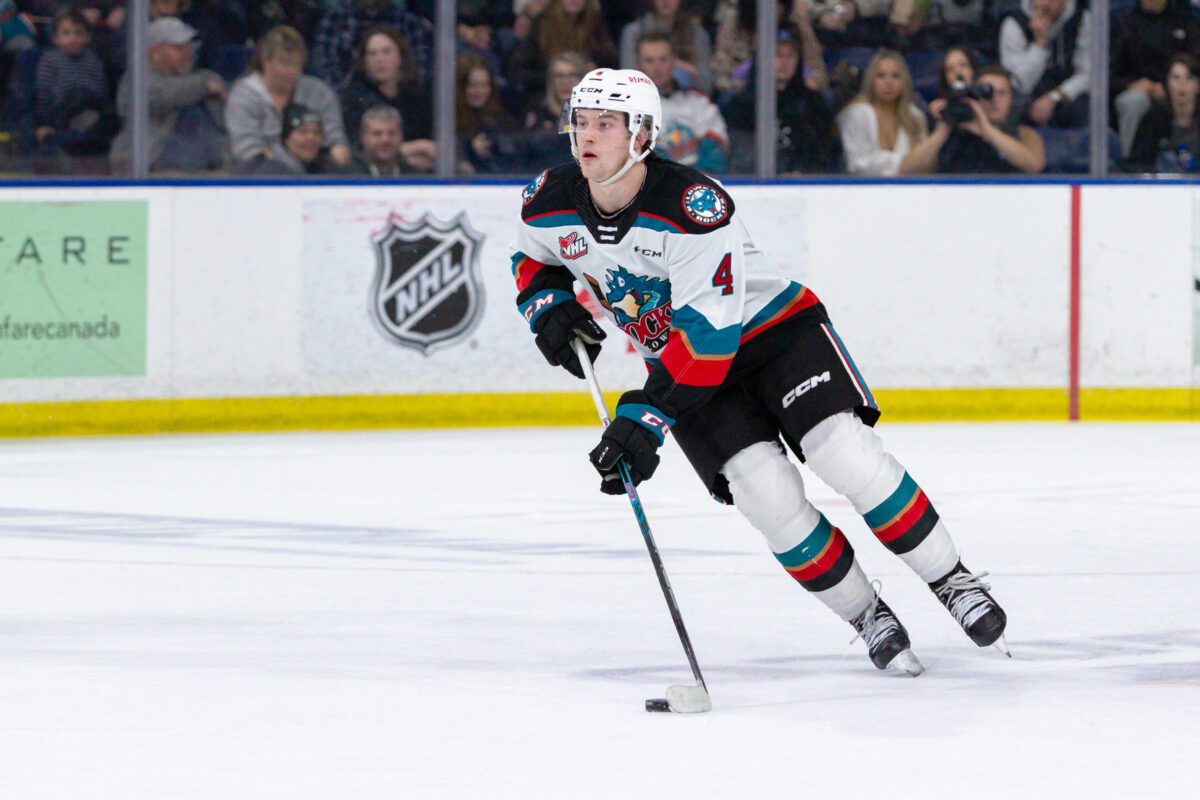 Price has elite vision, and can set up plays that most cannot, which is what makes him such a tantalizing prospect. Defensively, his skating is really solid, but his stride is below average, and something he needs to work on. As Horn of THW wrote in his June NHL Draft rankings, he's a "jack-of-all-trades, but a master of none." It'll be a couple of years until we see Price get a shot in the big leagues, and it's up to him to make his career last.
Round Five
Matthew Mania
Matthew Mania is a classic young offensive defenseman. Offensively, he's probably one of the more skilled defenders in the class, but his defense is fairly raw. Peter Baracchini of THW wrote in his prospect profile; "Defensively, Mania is still raw when it comes to his play in his own zone and positioning. However, the potential is there for him to make timely breakups on entry into his own zone. He displays a quick and active stick to get into the lane and disrupt passes very well. He needs to work on his one-on-one coverage and show more fight in front of the net, but his play away from the puck is coming together." 
This past season for the Sudbury Wolves, Mania registered 10 goals and 38 points in 67 games. He is incredibly creative with the puck, but his creativity comes with a ton of risk. He has a knack for being turnover prone and gets too offense-happy by trying to do too much. In order to become an everyday player in the NHL, he needs to slow down a bit and make better defensive reads. There's no doubt there's a ton of intrigue with Mania's game, but there's a reason why he's a projected mid-round pick.
Francesco Dell'Elce
One of the more under-the-radar prospects in this draft is Francesco Dell'Elce. He's a raw talent but worth the wait should Winnipeg take a chance on him with one of their two fifth-round picks. He led the CISAA in scoring for defensemen with 20 goals and 62 points for the Canadian-based St. Andrew's College. Next season, he'll be playing for the Penticton Vees of the British Columbia Hockey League (BCHL) and is already committed to the University of Massachusetts in 2024.
He has exceptional offensive instincts and can carry the puck north-to-south with ease. Pair that with his booming shot from the point, and you have yourself a legitimate power play quarterback. So if he's so offensively gifted, why is he projected to go in the fifth round? In short: his frame. He's 6 feet tall, but weighs 157 pounds soaking wet, and can get beaten off the puck rather easily. What he does have going for him is his work ethic, so once he grows into his body, he'll have an easier time winning battles.
Cole Knuble
The son of longtime NHLer, Mike Knuble, Cole came into this past season with a chip on his shoulder. In his first draft-eligible season, he went undrafted and returned to the USHL with something to prove. He was awarded the USHL Curt Hammer Award, given to someone who "distinguishes himself both on and off the ice through the course of the season by demonstrating outstanding performance, leadership, pride, and determination." He had a stellar year with 30 goals and 66 points in 57 games, before suiting up next year for the University of Notre Dame.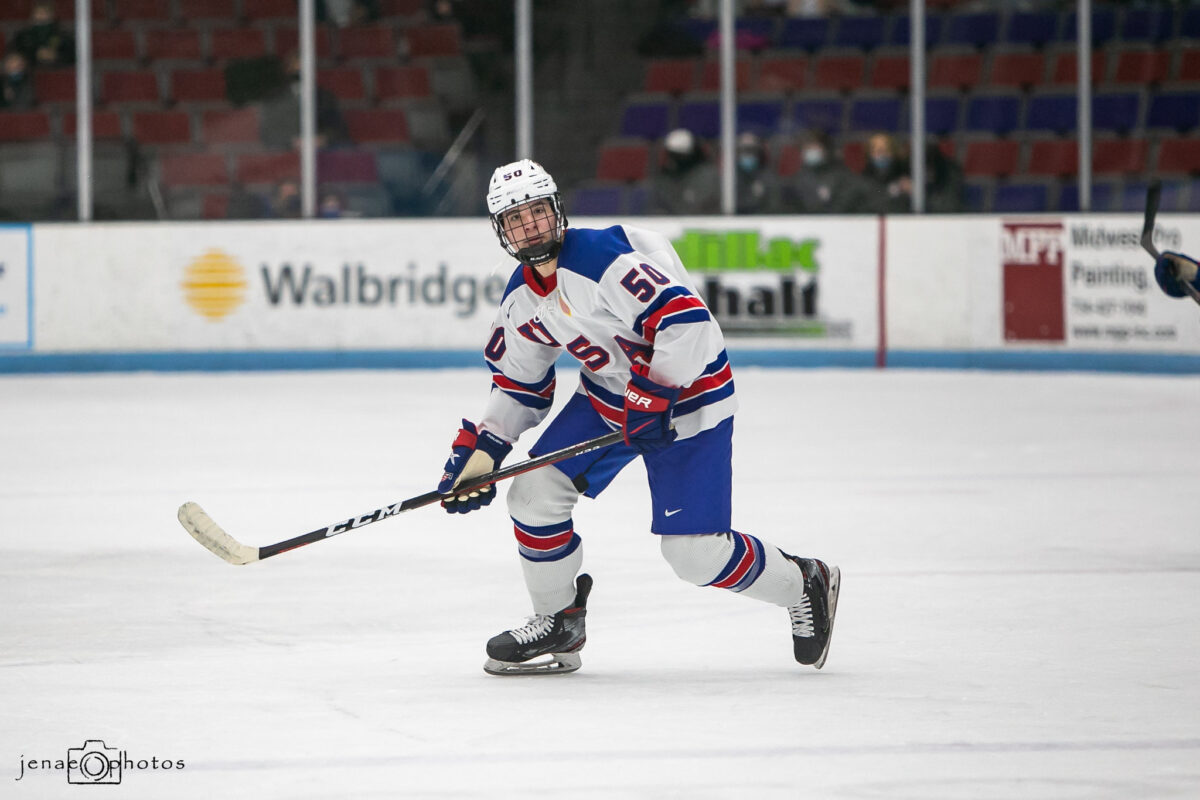 What makes Knuble such an attractive target for teams is his non-stop movement, and desire to get to the net. Adam Kierszenblat wrote in his draft profile: "While he is not the biggest player on the ice, he doesn't let bigger defenders push him around as he continually fights for space in front of the net."
Smaller players are always a hot-button topic when it comes to determining NHL value. We've seen in the past that in order for smaller players to succeed, they need to have an elite skill or possess a high-end motor. Knuble can be that type of player – someone the Jets would welcome with open arms.  
Tommaso De Luca
Tommaso De Luca is not a prospect that will blow you away. He's a favorite in the analytics community, with high-end intelligence, and is fantastic away from the puck. His stats aren't eye-popping, registering 16 goals and 49 points in 65 games for the Spokane Chiefs, but he has a great eye for the game.
This past season was his first full season in North America, so an improvement next season should be expected. His skating could use some work, but it's quite impressive how he carries the puck with his head on a swivel. Assuming he continues to improve and adapt to the American style, he has a chance to be an excellent bottom-six NHL player.
Round Seven
Hampton Slukynsky
Usually, the seventh round is either where teams load up and go for a home run swing or aim for prospects who have dropped significantly. Hampton Slukynsky is a home-run type of pick. On a number of mocks, he isn't listed, but he has an incredible amount of potential. He was named to Team USA for the 2023 U18s but hardly played to make an assessment. Regardless, it's impressive for a high school goalie to be recognized as one of the premier young netminders in the country. Along with that honor, he also was invited to the U.S. World Junior Showcase this summer in Plymouth, Michigan (from 'UND's Jake Livanavage, Warroad's Hampton Slukynsky invited to U.S. World Junior Showcase', Grand Forks Herald, 6/22/23).
He's a long-term prospect that won't sniff pro hockey for at least three years since he's in high school, but the tools are there. It's always hard to judge high school goalies since the level of competition isn't always the greatest, but Slukynsky stands out. He plays an aggressive style and has exceptionally quick lateral movement. His clear weaknesses are shots at point blank and his blocker side, but those are fixable. With the likeliness of Connor Hellebuyck heading out of town, it's important for the Jets to bolster their goaltending pipeline.
Magomed Sharakanov
Magomed Sharakanov is among the better Russian skaters in this draft class, and in the seventh round, he's a low-risk, high-reward type of prospect. In the MHL for Dynamo Moskva, he registered seven goals and 32 points in 44 games.
Offensively, he's very creative and moves the puck at a high level, but lacks hockey sense. Oftentimes, he will get lost in the defensive end, but his skating will help him recover from his mental mistakes. Every now and then, he'll throw a big hit, but he's not an overly physical player. 
As you can tell, most of his game is made up around his skating and agility. There's a lot that Sharakanov needs to do in order to become a full-time NHLer, but the framework is certainly there. 
Rodwin Dionicio
Rodwin Dionicio is an overager that was passed over last season due to underperforming on a poor Niagara Ice Dogs team. However, this season, he was traded to the Windsor Spitfires where his game blossomed. On top of playing a handful of games at forward alongside Shane Wright, he notched 11 goals and 43 points in 33 games.
Armed with silky mitts and great vision, Dionicio has all the tools to become an NHL player. The only problem is his skating which is nowhere near NHL standards. When you watch him, it looks like he's going in slow motion, but luckily for him, he can maneuver his way out of trouble with his high-end offensive instincts. There is potential here, but if he wants to stay as a defenseman, he needs to improve his defense which is attested to his poor skating; so that will need to be a main focus as he moves further in his career.
Jets Must Get It Right
With the major turnaround that's expected for the Jets, it's imperative that general manager Kevin Cheveldayoff strikes gold on these draft picks. Given the reports that Pierre-Luc Dubois could be Los Angeles-bound, there may be more coming their way.
The Jets have drafted well in the past, but have hardly used their prospect pool. In what is considered a deep draft by most, there's a significant chance that they draft a couple of future NHLers. Let the rebuild (or retool) commence.
---
---