The Winnipeg Jets are falling fast. They have lost eight of their last 10 contests, including most recently, a 3-2 overtime loss on home ice to the 19-33-12 San Jose Sharks. Every time it seems as though they have turned a corner and got back on track, a concerning loss sends them back into a tailspin.
Nate Schmidt was a healthy scratch on Saturday, March 4 in a 7-5 win against the Edmonton Oilers. When asked about it, head coach Rick Bowness explained that "We need more. We need better." Kyle Capobianco responded with an outstanding effort, scoring a huge goal for the Jets and providing steady play on the third pairing.
Poll results from Twitter showed that 54 percent of Jets fans voted that healthy scratching is their preferred way of accountability, while 32 percent voted to reduce ice time instead. The remaining 14 percent were either indifferent or thought that playing everyone their normal ice time was the best course of action.
Accountability Should Remain Consistent Throughout the Lineup
When inserted back into the lineup, Schmidt scored a massive goal for the Jets late in the third period, and when asked how he played after the game, Bowness said, "Nate was very good tonight, very happy for him to get that goal, he was much better today and much more consistent with his level of play."
This is what a healthy scratch is supposed to emulate. Being scratched in favour of a defenceman with only 10 games played this season clearly resonated with Schmidt and offered some extra motivation for his next outing.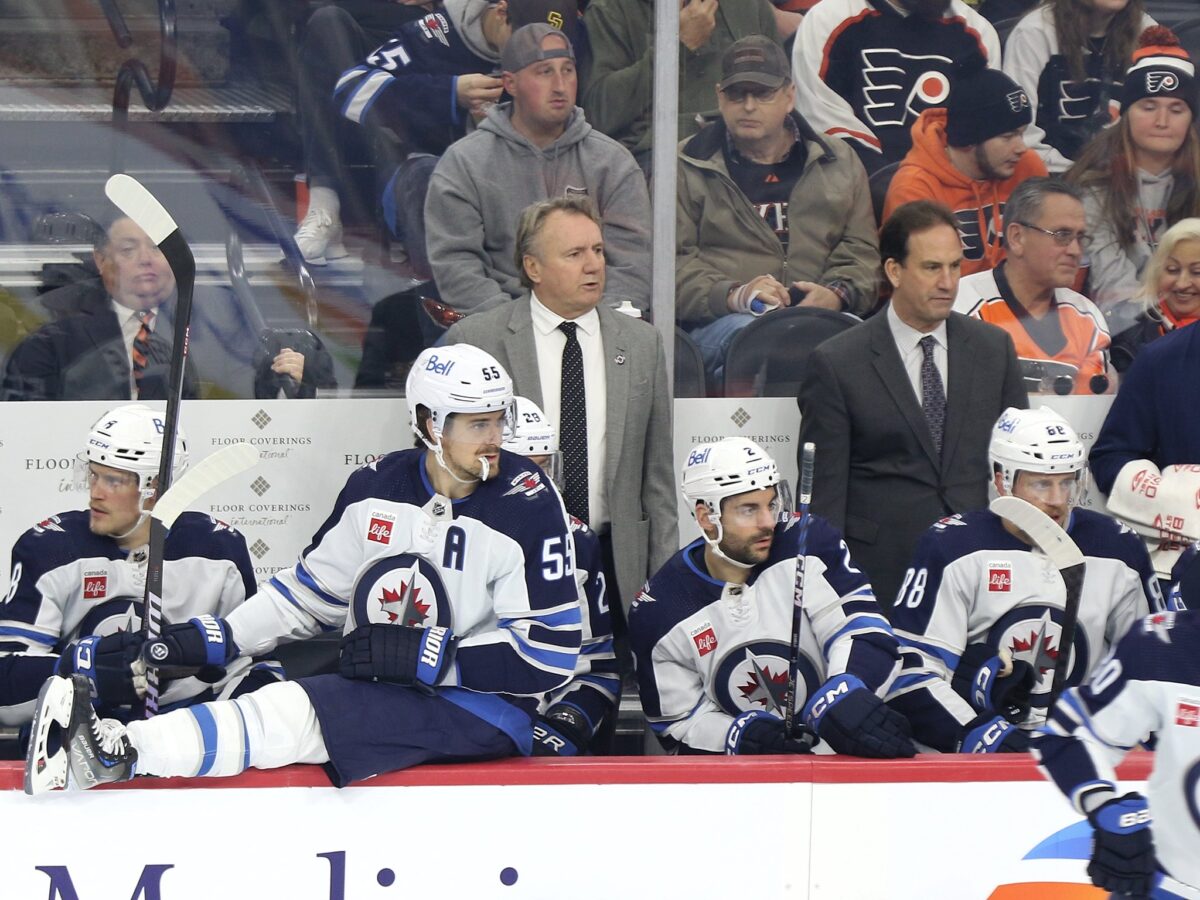 At what point does the healthy scratching method of accountability reach the rest of the lineup? Nikolaj Ehlers has had his ice time cut severely in recent weeks, yet other players within the top six seem immune to being the victim of a short bench.
It will be hard for Bowness to balance icing his best lineup with holding players accountable, but if this worked for Schmidt and resulted in a more consistent level of play, he may have to take a hard look at other parts of his lineup in the coming weeks.
Nate Schmidt's Healthy Scratch Should Be the First "Domino" to Fall
General manager Kevin Cheveldayoff's activity at the trade deadline, or lack thereof, means that this core has more weight on their shoulders as they fight for playoff positioning down the stretch. Nino Niederreiter and Vladislav Namestnikov were solid additions to the lineup, but the truth is, it's up to the players that have been here for years to turn this season around.
Related: Jets' Play Put the GM in a Tough Spot Ahead of Trade Deadline
---
Latest News & Highlights
---
According to Natural Stat Trick, of all forwards that have played 150 minutes since Feb. 1, Mark Scheifele is bottom-20 in expected goals against. Blake Wheeler has struggled as of late going scoreless in 10 straight games, with only four assists over that time. It's difficult to bench players that play significant roles within the top six, but cutting ice time, similar to what Bowness has done with Ehlers, should be on the table.
Adam Lowry had not scored a goal in 35 games before his tally against the Oilers on March 4. His average time on ice is over 16 minutes, and for a third-line centre, not scoring for over two months should be a major concern, and should have resulted in reduced ice time.
On the back end, the Schmidt scratch made headlines, but Capobianco's ability to fill in and play well should result in more flexibility in this aspect. Neal Pionk had a strong game against the Sharks on March 6 but has struggled mightily in 2022-23, yet his ice time has remained near his 21:44 average TOI throughout the months of February and March. He does not have to be outright scratched, but top-pairing minutes are likely not the best spot for him given his play of late.
Jets Need to Bring Free Fall to a Halt
Since Jan. 1, 2023, the Jets have a record of 13-12-2 for 28 points. For comparison, the Chicago Blackhawks are 14-13-1, and the Anaheim Ducks are 11-11-4. Both of those teams are vying for the first overall pick for the opportunity to select Connor Bedard. They are not competing with the top teams in the Central Division and attempting to make a push for the playoffs.
Whether that is from scratching players or cutting their ice time, accountability needs to be found. Bowness has preached it since the beginning of the 2022-23 season, and it has not been needed any more than it is right now. The Jets' playoff hopes have slowly been sliding since the start of 2023, and if they remain on this concerning pace, the Calgary Flames and Nashville Predators will have a chance to knock them out of a playoff spot. Their next game on March 9 will be a crucial one against the Minnesota Wild, a team that they are currently within reach of in the standings.