When the Dallas Stars fired Jim Montgomery on Dec. 10, 2019, it seemed as though every coach in the league was on the chopping block. Eight head coaches lost their jobs throughout the 2019-20 campaign, and each example of coaching turnover was unique.
Soon after Montgomery's dismissal, it became public knowledge that he struggled with alcoholism. He sought rehab a few weeks after his firing, and at the time, his future was uncertain.
Fast forward to Sept. 16 of this year, and Montgomery quickly found a spot behind an NHL bench again — this time as an assistant to Craig Berube in St. Louis.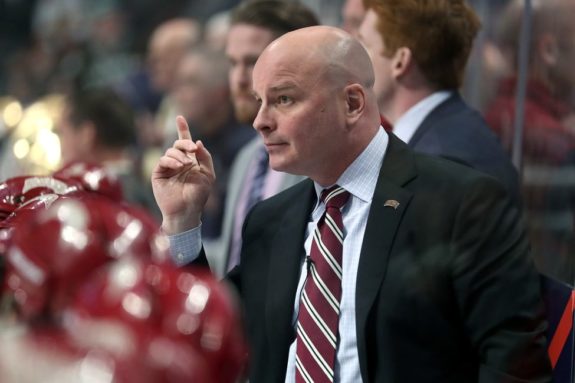 Addiction has a long, dark history in the NHL, but thanks to recent efforts from Bobby Ryan and now Montgomery, who have been open about their struggles, it is no longer the career death sentence it once was.
And feel-good story aside, the Blues are getting an asset behind the bench who can immediately help lead the team to another Stanley Cup.
St. Louis Connection
Montgomery is no stranger to St. Louis. The Blues signed him before the 1993-94 season after going undrafted. His wife, Emily, is from the city, and he has family in the area.
"St. Louis won," Montgomery said. "For our kids to have cousins to play with … the decision to come here for our kids' benefit was really the deciding factor. So we drove our two cars here, plopped right in, and started to live."

from 'Why Jim Montgomery feels ready for NHL return and how it happened in St. Louis,' The Athletic, 09/18/2020)
His familiarity with the city, along with his previous experience behind USHL, NCAA, and NHL benches, should lead to a smooth transition. Montgomery has seen success at each level he's coached, winning two Clark Cups with the Dubuque Fighting Saints in the USHL and an NCAA championship at the University of Denver. He also led the Stars to their first playoff appearance in three years during the 2018-19 season.
Montgomery's Stars' team was 17-11-3 when the team fired him last December, and we all know how last season ended for Dallas: a Stanley Cup Final loss. Needless to say, Montgomery knows how to win and will take that same pedigree to a team that's ready to win now.
Berube and Montgomery's Mutual Admiration
It's hard to ignore the similarities between the way Montgomery's Stars' team controlled play on the ice and the way in which the Blues wear down opponents. Several adjectives come to mind when comparing the two: disciplined, hard-working, physical, detail-oriented.
The best example of this comparison was the bruising second-round matchup between the Blues and Stars from the 2019 playoffs. That matchup, which took double overtime in Game 7 to decide, garnered mutual respect between Montgomery and Berube.
"They play championship hockey, and it's a big reason why they grinded people down to a Stanley Cup (win). (Berube) had me on my heels a lot in that seven-game series. It was really the first time as a coach where I was like, 'Geez, what's he going to do next?' Not having an idea what a guy is going to do next was something very unfamiliar for me."
Dallas was arguably St. Louis's toughest matchup in their run to a Cup victory, and there are no radically different coaching philosophies between Montgomery and Berube. Montgomery is not coming in to reinvent the wheel; he knows the Blues are already competitive and need reinforcement of their system rather than reinvention.
Coaching Style
Montgomery led a talented team in Dallas that was well-rounded and played a successful brand of hockey. When asked in the past, he has shed light on the way he likes to structure his lines.
"On a line, a scorer needs to go with a puck possession guy," Montgomery said. "Ideally, that third guy is a puck possession guy that does all the details and the habits right that create turnovers for the other two to do their magic.

from 'Dallas Stars coach Jim Montgomery explains his philosophy when constructing his lines,' Dallas Morning News, 11/01/2018)
That coaching philosophy lends itself well to a St. Louis roster that has plenty of intriguing options. A first line that could come together is Jaden Schwartz, Brayden Schenn, and Robert Thomas. Schenn has proven time and time again that he "does all the details and habits right," and Thomas is budding into a playmaking star. Schwartz can put the puck in the net but also does not skimp on the details.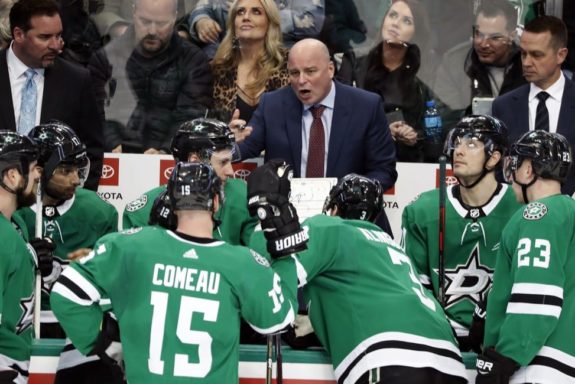 A second line option of David Perron, Ryan O'Reilly, and Zach Sanford mirrors the same mindset as there's no coach in the league who could complain about O'Reilly's Selke-winning style of play. Perron provides reliable scoring, and Sanford has shown that, with some improvement, he is worthy of some big minutes.
Whenever Vladimir Tarasenko returns off LTIR, the Blues' coaching staff can mix and match. However the team decides to do so, one thing is clear: The Blues' roster fits Montgomery's ideal makeup.
Montgomery has personally battled over the past year; however, he has received a second lease on his NHL career in a city he and his family know well, with a roster that conforms to his preferred style of coaching, and on a team that can seriously contend for a championship.
Things are a bit brighter than they were a year ago.
---
---