Joel Ward's hat trick on Saturday night got the Sharks back on track. After a blistering 4 game winning streak to open the season, San Jose dropped 3 straight in ugly fashion. Ward remained hot even through the losing streak as he scored the final goal in the Isles game and the lone goal in the loss to the Kings. Over two games worth of minutes where he was the only goal scorer for the Sharks was broken in the win against Carolina.
Do you remember two years ago in 2013 when the Sharks played the Rangers early in the season? For Sharks fans, it was a notable night: the night Tomas Hertl won everyone over with a few dekes and big smiles. What followed was Hertl-mania. The internet replayed that fourth goal for weeks. Remember, the one that made Martin Biron retire?

Ward can become this season's mania with much of the same fervor that Hertl did two years ago.
Energy and Love For the Game
What so many fans loved about that night had more to do with how Hertl scored and celebrated the four goals. Sure, the win was nice and the goal barrage brought some attention to San Jose, but the smile is what really made us fall in love with the kid.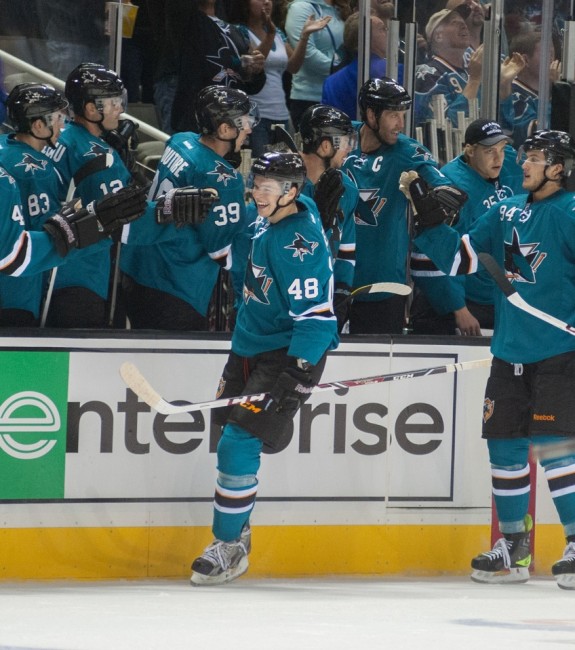 What happened on Saturday truly introduced Sharks fans to what Ward is: a 34 year-old man who still plays with the wonder and love of a rookie. With a 4-2 lead late, not even 10 games into the season, Ward sealed a hat trick with an empty netter. The celebration that follows speaks volumes about Ward's personality and how he has blended with this team.

This team looks like they just clinched their first trip to the Stanley Cup. Sharks veterans mob the guy they've been with for a few short months as if he's spent decades in San Jose. Ward's enthusiasm is worth just as much as his point production so far. With Logan Couture already injured, Ward has taken a lead role as a scorer for the Sharks. But he has also made the team fun again.
The new addition has endeared himself to his club early in the season. Fans will soon follow as they watch Ward wildly throw himself at his teammates and cheer like he was a fan himself. Can Ward become a fan favorite in San Jose? Even if the goals start to dry up, he'll still be loved if he keeps that boyish smile on through the season.