When the off-season began, we knew the group of Toronto Maple Leafs roster players that the Leafs would probably be looking to trade at some point. That list included Phil Kessel, Dion Phaneuf, Tyler Bozak and Joffrey Lupul.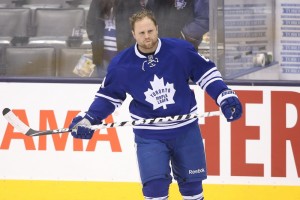 Kessel has been traded. It looks more and more likely that Phaneuf will be staying in Toronto and no one really knows what's happening with Bozak. This brings us to Lupul. The winger has had constant injury troubles over his career which, when combined with his $5.25 million cap hit over the next three seasons, makes him the most difficult asset to trade.
However, that might still be beneficial to the Maple Leafs. Get past the injury troubles and you realize that over his career with the Leafs, he has done pretty well when in the lineup. We'll forget about this past season because everyone had a down year. So,for the most part, the Leafs can still rely on him for offense when he's playing .
A Leader For Prospects
That might not be the most important role he will play, though. Lupul is a veteran leader on the Leafs. We all know that the Leafs will be bringing in younger players in the next couple of seasons, perhaps as soon as next year's trade deadline, when the Leafs inevitably deal some, or all, of their expiring contracts. Lupul could very well be a mentor for players such as William Nylander, Mitch Marner, Kasperi Kapanen and others. There is a reason that Lupul is an assistant captain with Toronto.
No one can question Lupul's character and heart. It would not be surprising if Leafs management would want those traits instilled in their youngsters. We know the Leafs are going for skill. Learning from a player like Lupul could make them even better.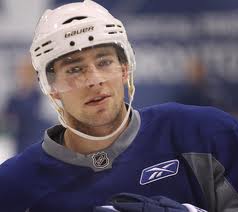 The problem with trading Lupul is not that he's injury prone, it's the money he's actually owed. His cap hit might be $5.25 million, but for next season he'll actually be making $6.75 million before reverting back to $5.25 in 2016-17. Over the next two seasons, it won't be easy to make a move. It's a different story for the 2017-18 season. That season, he will only be making $3.75 million in actual dollars. In that sense, he becomes much easier to trade. Any budget team that needs to hit the cap floor (cough, Arizona, cough) could look into acquiring Lupul at that point without too much damage to their actual budget.
So, while the Maple Leafs will not find it easy to find a trading partner concerning Lupul this off-season, it could very well be the opposite two seasons from now. While they wait, they can still have the benefits of having Lupul in the lineup.