An important summer for the Tampa Bay Lightning got started with a bang on Thursday and it's the latest example of the premium placed on defensemen in the NHL.
General manager Steve Yzerman pulled the trigger on a trade that sent Jonathan Drouin and a conditional 2018 sixth-round pick to the Montreal Canadiens for Mikhail Sergachev and a conditional 2018 second-round pick.
That's 40 games in reg season and playoffs

— Pierre LeBrun (@PierreVLeBrun) June 15, 2017
The trade sends a rising offensive star in Drouin to the Canadiens for a promising young defensive prospect in Sergachev.
Many around the league and in Tampa Bay will harken back to Drouin's dynamic offensive plays this past season and wonder how the Lightning could move a player like this now.
Drouin, 22, came into his own this past season. He posted career highs across the board offensively with 21 goals and 32 assists in 73 games. He brought hockey fans to the edge of their seats with goals like his overtime winner against the Colorado Avalanche.
After signing a six-year, $33 million deal with the Canadiens just hours after the trade, he will undoubtedly be doing it in Montreal for a while too, and against the Lightning, in the Atlantic Division.
In fact, there's a good chance that barring injuries, Drouin will be a perennial top-10 scorer in the NHL for a time. And at the very least, he is the sort of player who will bring fans at the Bell Centre to the edge of their seats at any given time.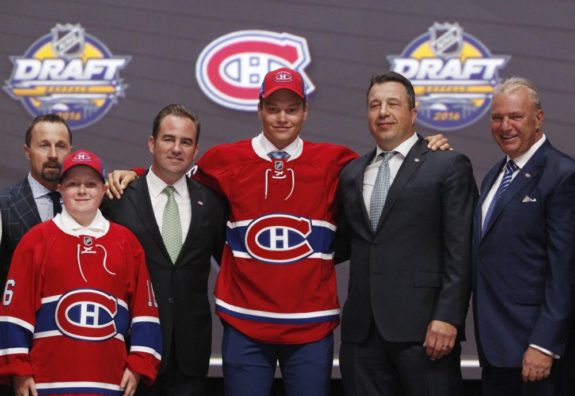 On the other hand, if you aren't monitoring junior hockey closely, you may not know a whole lot about Sergachev — the 18-year-old Russian defenseman who won the Memorial Cup with the Windsor Spitfires in just his second season playing hockey in North America. The 6'3″, 215-pound blueliner was chosen ninth overall in the 2016 NHL Entry Draft and is considered to be one of the top prospects at the position not yet playing regularly in the NHL.
Defense in Today's NHL
In today's NHL, offense sells tickets but defense wins Stanley Cups. Run down the list of teams who had deep playoff runs (and won) over the past decade and there are some common denominators.
They have rosters that play a sound game defensively, a strong stable of defensemen who are hard to play against physically and a goaltender who is nearly unbeatable regardless of how many quality scoring chances he's facing each night.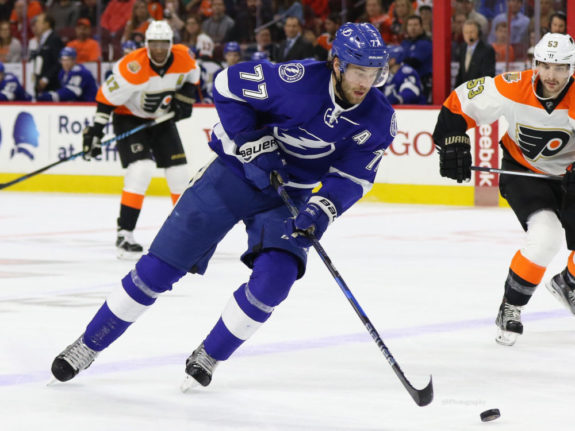 If you had a dollar for every time you heard an NHL GM say that they were in the market for a top-4 defenseman, you'd probably be halfway to buying a ticket to the 2017 Stanley Cup Final in Nashville — they were that expensive.
Landing that sort of player is no easy feat. Often, they are drafted by a club and bred through their minor league system. Look at players like the Lightning's Victor Hedman, Ottawa's Erik Karlsson, Nashville's P.K. Subban and Montreal's Shea Weber as just a few of these players. Before the blockbuster trade that saw Subban and Weber change teams, they were each players who became top pair defensemen with the clubs that drafted them.
There are exceptions to the rule (i.e., San Jose's Brent Burns), but the reality is that if your club isn't fortunate enough to land one of these players through the draft, you are often going to give up a lot to land one of them.
Why Jonathan Drouin Was Moved
To bolster the Lightning's defensive core with a blue chip prospect, it took moving a player like Drouin. A restricted free agent like Tyler Johnson wouldn't do it, nor would a player like Alex Killorn.
Even a down year for the Lightning, which helped earn them the 14th overall pick in this summer's draft, is not the sort of spot that will land them a can't-miss prospect at this position. And if you look at the Lightning's system, they are deep at forward and thin on the blue line.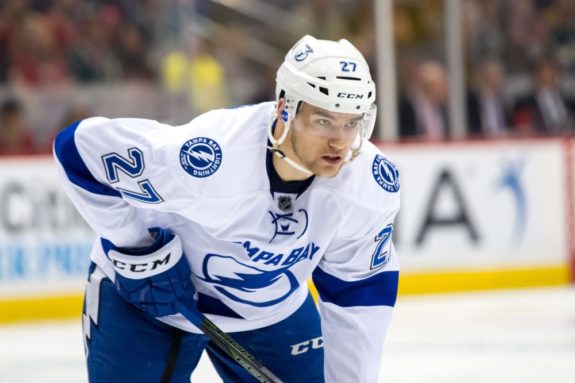 Drouin was the third overall pick in the 2013 draft and one spot ahead of Seth Jones, who was selected by the Predators. Jones was a major piece of their blue line before he was traded to the Columbus Blue Jackets in a blockbuster deal for star forward Ryan Johansen in January 2016.
The Predators were (and still are) a deep team defensively and for the Blue Jackets, it took moving an asset like Johansen to land a blueliner like Jones, who was 21 at the time.
Last season before the NHL trade deadline, there was speculation that Drouin was part of a potential trade to the St. Louis Blues for defenseman Kevin Shattenkirk. Neither team has ever commented on this, nor should they. But the reality is that at 28 years old, Shattenkirk is an aging asset in today's game.
He's undoubtedly a top-pair defenseman, but as an unrestricted free agent this summer, look for him to be overpaid by a team looking to bolster their blue line immediately. With this, there's the likelihood that he's over-termed as well. The sort of heavy contract that can bury a club in the salary cap era.
In today's NHL, youth is the name of a game, and a young defenseman is at the ultimate premium. In the trade for Sergachev, that premium was Drouin.
How the Drouin Sergachev Trade Benefits Both Teams
This is a trade that benefits both teams, although if you look at it narrowly under a microscope, it may look one-sided in favor of the Canadiens right now.
For Montreal, this is a trade that shows Habs fans that GM Marc Bergevin is all-in on the upcoming campaign. With goaltender Carey Price up for a new contract after this season and a fan base that is eager for a trip to the Stanley Cup Final, Bergevin is under a lot of pressure to produce now.
With Drouin, the Canadiens immediately become a better team offensively. It is unknown whether or not he will play center with the club, but at first glance, this move does not immediately address their issues at that position. Bergevin still has a lot of decisions to make, specifically what to do with Alex Galchenyuk, whether Alexander Radulov can be re-signed this summer and what keeping Price will cost.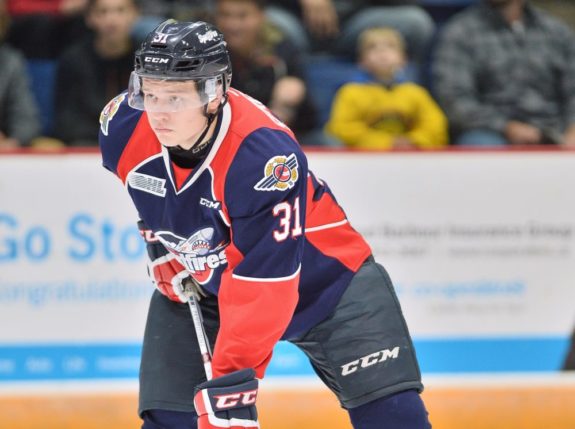 For the Lightning, this is a move that opens up another protection slot at the forward position ahead of the NHL Expansion Draft later this month. Because Segachev has just four games of NHL experience, he is exempt from the process. This is another plus for Yzerman as he decides if defensemen Jake Dotchin or Slater Koekkoek should occupy the third protection slot at that position.
Moving Drouin also relieves some of the financial strain that the club faces as they make decisions about other free agents and the long-term future of the franchise.
Lastly, and most importantly, landing Sergachev bolsters the Lightning's future on the blue line although not filling the need for a right-shot defenseman now. But the ultimate deciding factor for determining who the 'winner' of this trade down the road will be when Sergachev does it regularly at the NHL level and to what extent.
This was a huge trade that fills needs for both teams but likely just the start of more to come from Yzerman and Bergevin.
Steven is a lawyer and writer with a passion for the game of hockey. He's the Lead Writer covering the Tampa Bay Lightning with THW. He's also been press credentialed through the Lightning since 2016. His work has been published at The Fourth Period, LightningInsider.com, Bolt Prospects, The Sports Daily Network, U.S. College Hockey Online and College Hockey News. He's had radio appearances on TSN 690 in Montreal, Lightning Power Play Live and multiple podcasts to give insight and analysis on the team. He can be reached on Twitter @StevenDiOssi and by email at sdiossi@gmail.com.