With the second round of the NHL playoffs about to commence, the on-ice product is clearly commanding much of the hockey world's attention, but in southern "Cali" a more recent and troubling development has caught the attention of Anaheim Ducks diehards: The Justin Schultz saga.
Drafted by Anaheim, 43rd overall, in 2008 out of the BCHL, Justin Schultz has developed into one of the best prospects playing outside of the NHL during his tenure at the University of Wisconsin. With rumors flying that Schultz will forgo his final year of college eligibility and opt to become an unrestricted free agent, thanks to section 8.6(c)(ii) of the Collective Bargaining Agreement, which only allows Anaheim to retain his rights until June 1st, 2012, the management team has found itself in a precarious position.
The fact that Schultz is, by all accounts, leaning towards free agency (with Edmonton a rumored destination according to Bob McKenzie of TSN) presents a threefold problem for Anaheim as an organization; They stand to lose their best prospect, they'll receive no compensation, and they possess zero leverage in trade negotiations.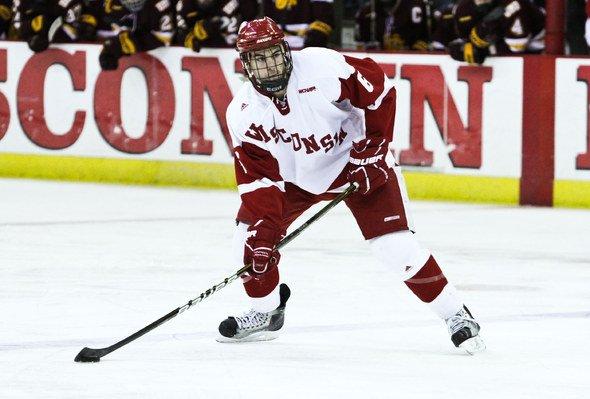 It was nice almost knowin' ya!

About four years ago Justin Schultz donned an Anaheim jersey after being selected in the 2008 NHL Entry Draft in Ottawa, and he's completed a meteoric rise to the top of their prospect list since. A two-time Hobey Baker Award finalist and two-time WCHA Defensive Player of the Year, Schultz is known for his offensive acumen much the same as former Wisconsin teammate, and former Anaheim prospect, Jake Gardiner.
University of Wisconsin coach Mike Eaves has had much success developing NHL prospects, and Schultz is just another in the long line of players that have developed admirably while donning the red and white Wisconsin Badgers jersey. Schultz's ascension within the Ducks' system is indicative of the maturation process he's undergone due to Eaves' tutelage, and he'll surely be a hot commodity on a free-agency market devoid of depth this summer, as all 29 teams will likely beckon.
While offense is certainly the calling card for Schultz (in large part due to his skating, a shot that can find the net with regularity, and his ability to quarterback the power play) he's also the proud owner of a frame that should welcome a little added weight and strength without sacrificing speed or mobility. Therein lies his potential. It's not just the offensive ramifications that hurt Anaheim if Schultz opts for free agency, it's the all-around game he should develop in the future they lose out on as well.
Thus, not only do the Ducks lose their top prospect, a player that could arguably be selected within the first three picks were he eligible for the upcoming 2012 draft (which speaks to how highly many executives around the league think of Schultz), his departure also leaves a gaping hole in their system which they now need to address.
FREE GIVEAWAY! FREE GIVEAWAY!

An additional issue that remains problematic for Anaheim, with Schultz's departure seemingly imminent, is the fact that the organization will receive no compensation for their inability to sign him. According to section 8.3(b) of the Collective Bargaining Agreement, compensatory selections, which are provided in the second round, are only available if a team fails to ink a player selected in the first round a la Phoenix's situation with Blake Wheeler in 2008 (in a cruel twist of fate, Anaheim acquired the Coyotes' compensatory pick in 2008 and now find themselves in the same, unenviable position. That's proof the hockey gods have a sense of humor).
Losing a player in this manner obviously isn't ideal, and brings about the worst rate of return possible, but it hurts more when you consider the stature of a player like Schultz. He's a talented young player whose decision to dictate his own future makes it possible that future Anaheim prospects may attempt to take the same route.
As unlikely as that may seem, Schultz wants to test free agency for a reason and money isn't one of them since he's bound by the financial maximum allowed for those signing entry-level contracts. The term will be two years since he's 21 years-old, and while he's been mum on the subject and could very well simply want to sign with a team closer to his Kelowna, B.C. hometown, if his departure is a sign of trouble within the organization, defection may not be an isolated incident.
Can we get a couple of pucks for Schultz?
Normally when one talks about trading a player for something like a "bag of pucks" it serves as an analysis of said player's talent, or lack thereof, but in this case the aforementioned question indicates how much leverage Anaheim has in trade negotiations now, and has had over the past few months.
If general manager Bob Murray has indeed posed that question to managers around the league recently, his query was probably met with laughter. With Schultz all but set to test the free agent market, securing exclusive negotiation rights wouldn't make a difference for any team, and as such Anaheim is left with an asset that is all but a hindrance at this point.
Further pouring salt in Anaheim's wound is their lack of blueline depth with regards to young talent given that Jake Gardiner was traded in February of 2011. The Anaheim brass felt comfortable moving Gardiner due to Schultz's presence within their system, but now find themselves without a prospect that could complement budding Cam Fowler on the first power play unit moving forward.
It is far too easy to say Anaheim should have moved Schultz instead of Gardiner, but if there was ever an inkling they wouldn't be able to get Schultz's "John Hancock" on a contract, they should have begun exploring other avenues in order to find a suitable alternative compared to the prospect of losing him without any compensation whatsoever.
So what really happened with regards to Justin Schultz and his decision to spurn Anaheim, and the chance to call sunny Orange County home? In all likelihood the truth will never be made available for public consumption, but it does bring to light some of the tough decisions that need to be made when dealing with prospects plying their trade within the NCAA ranks.
Since college players forfeit their "student-athlete" status once they sign a professional contract, organizations must choose between attempting to convince players to leave school early and sign a professional contract or allowing them to develop contract-free in the NCAA. If they choose the latter, the route Justin Schultz is about to embark on is a distinct possibility.
In the end, time will tell whether the expected loss of Justin Schultz will represent an absence of epic proportions or not, but at this point, losing one of the best prospects in all of hockey certainly can't be considered anything other than a sizable loss.
Ryan Fulford is an up-and-coming hockey writer who relishes the opportunity to confront, and dissect, the game's most controversial and pressing issues. Dedicated and ambitious, he strives to marry originality with journalistic integrity to provide readers with unique insight and analysis. In addition to his work with THW, he writes for The Good Point and Bleacher Report. Follow him on Twitter @dryanfulford.