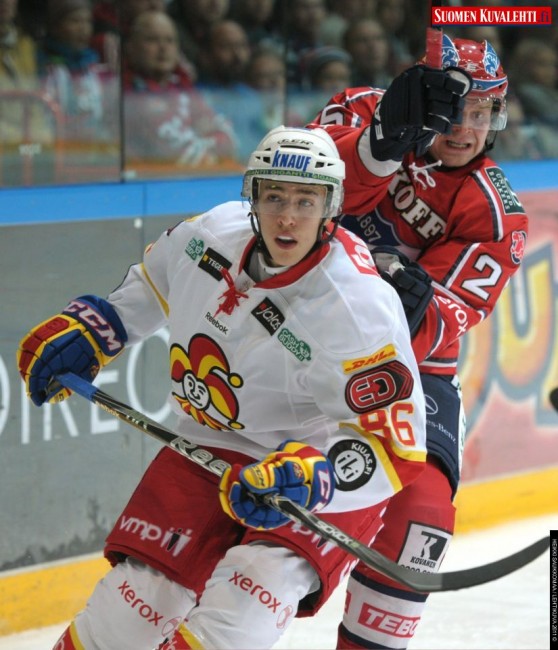 When Brandon Saad stepped to the podium on June 22, 2012 to announce the Blackhawks first round selection in the National Hockey League entry draft, many were expecting a different name to be called. Maybe Malcom Subban perhaps. But instead, the team might have secured the steal of the summer when they selected then 17 year old Teuvo Teravainen (Tay-vo Terra-vine-en) of Finland. General Manager Stan Bowman was reserved but obviously ecstatic to pick up such a skilled forward so late in round one.
#Blackhawks GM Stan Bowman on top draft pick Teuvo Teravainen: "He's going to be a special player for sure." Story, http://t.co/W7XsaeSF

— Chris Kuc (@ChrisKuc) July 13, 2012
Some scouts had the diminutive winger going as high as top 5, and one of our resident draft experts here at the Hockey Writers, Fred Poulin, did an outstanding draft sheet on Teuvo and speculated he could go as high as 7. Nobody will really ever know why the teams drafting ahead of the Hawks passed on such a skilled forward but many could have been dismayed by his lack of size and physical prowess. Their loss could most certainly turn out to be Chicago's gain and keep the stable full of exciting young offensive talent. See some of the skilled Finn in action below…
What's in a title?
Ready to turn 19 by the start of 2013 training camp, the comparisons to the Hawks own small statured superstar have already begun and when you look at it, the similarities are striking. Born on September 11 in Helsinki, Finland, Teuvo stands 5'11 and weighs in at 185 lbs. Now there is room for growth there but in all honesty, not much. More importantly will be the need to get stronger rather than taller. A left handed sniper who can play wing or center, he missed 4 weeks earlier in the SM-Liiga Elite League with a broken finger. Now fully healthy, he has increased his offensive output by 72%, jumping from 11-7-18 in 40 games to 13-18-31 in 44 games this season. Not to mention his outstanding performance at the U-20 World Junior Championships, where he posted 5-6-11 in just 6 games for Team Finland.
You cannot look at the current Hawks roster and come by anyone even close to Teravainen other than Patrick Kane. Although born on US soil in Buffalo, NY, Kane is almost exact in stature, standing 5'10 and weighing 181 lbs. Another left handed sniper, he also can play wing or center. The 1st overall pick of the 2007 draft from the London Knights, Kane has overcome some maturity issues in his early career to lead the Hawks in scoring so far in 2013. By the young age of 24, Patrick has already amassed 408 National Hockey League points in 430 games, including 143 goals. He has become a responsible, relied upon member of the offense and is utilized in all situations by Coach Joel Quennville. It might not be such a coincidence that Teuvo grew up listing Patrick as one of his idols and he got a chance to make an impression at the Hawks rookie camp.
http://youtu.be/qpkiRJETpcw
The Future
One does not have to look far and wide to envision a Hawks lineup for many years to come that features a steadily maturing Kane, captain Toews, Saad, Jimmy Hayes, Andrew Shaw, Patrick Sharp and Nick Leddy in addition to the young offensively gifted talent waiting in the wings. The Hawks took care of any size related questions prior to even drafting Teravainen as their last 3 first round picks are anything but small. Dylan Olsen (2009, 6'2, 206), Kevin Hayes (2010, 6'3,205) and Mark McNeill (2011, 6'2, 210) are all expected to have an impact on the future of the Blackhawks organization. General Manager Stan Bowman and his staff continue to do an outstanding job at the draft table and will need more of that magic working the salary cap in the coming two to three years.
Rants and Rumblings
-The Hawks lost for the 4th time in regulation, and 2nd in a row, dropping a 5-4 decision to the LA Kings at United Center on Monday night. It's the first time all season the team has suffered back to back losses and could be related to all the time off recently (3 games in 9 days). They proceeded to bounce back by trouncing Calgary last night by a very deceiving 2-0 final. Next up is a rematch with the Anaheim Ducks on Friday before heading to Detroit on Sunday March 31. Both games will be nationally televised on NHL Network and NBC, respectively.
-2 goals went in Monday night on Corey Crawford relating to some freak deflections. In the 2nd period, Anze Kopitar was the beneficiary of a bounce off the linesman's head, and on the game winner, Dustin Brown scored after the puck ricocheted off Johnny Oduya's upper back. And the full moon was last night?
-Jarome Iginla continues to be the talk of the trade market but cannot see him making his way to Chicago. Not at Calgary's current asking price of 2 high prospects and a 1st round pick. Jussi Jokinen was placed on waivers by the Carolina Hurricanes and his grit and faceoff skills would be a welcome addition to the Hawks forward ranks. But it looks as though he is going to go unclaimed. Chicago is in the market for another lower line center, but with the trade market being saturated by overpriced stars, its more than likely Stan Bowman will stay put.
-Patrick Kane has points in 26 of 32 games this season and is 5th in the league in scoring. The Hawks are 80-9-13 in his career when Kane has a multi-point game.
-Captain Jonathan Toews ranks 4th in the NHL in faceoff percentage at 59.6% and 2nd in the league in takeaways with 35.
-Marian Hossa and Patrick Sharp skated yesterday in full equipment. Hossa could be back for the Detroit game on Sunday while Sharp is believed to still be one to two weeks away.
-Upcoming Hawks milestones: Dave Bolland, 2 A from 100 : Marian Hossa, 3 A from 500 : Johnny Oduya, 1 A from 100 and 6 GP from 500 : Patrick Sharp, 2 G from 200.