You do not play hockey for good seasons. You play to win the Stanley Cup. It has to be the objective — Guy Lafleur
We all love hockey, and by all means hope our teams have 'good' seasons, however we choose to define the term. That being said, Lafleur was right: winning the Cup is the only acceptable objective a franchise should have. Is there any downside to that approach?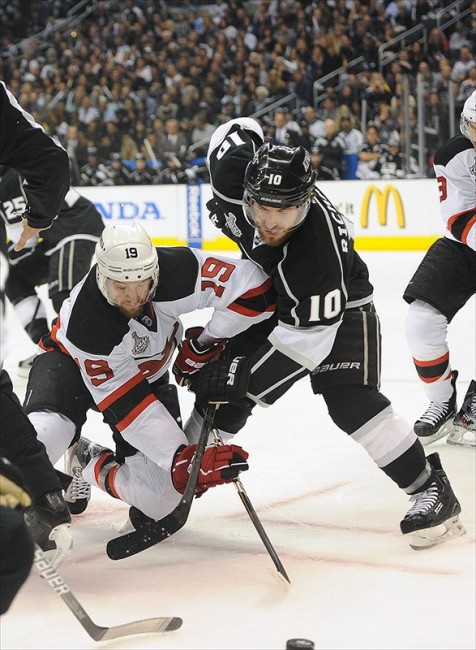 Yes and no. After a team wins a championship, management typically works to keep the core of the roster together as long as possible. It makes sense, of course — the talent level is high, chemistry is strong and the players have clearly bought into the system. If achieved once, logic dictates that keeping the key players around and supplementing with youth and strategic acquisitions should allow the club to compete for the Cup indefinitely. At least in theory, anyways.
However, there is a significant potential downside, and it's a looming brick wall that potentially faces the Los Angeles Kings: salary cap purgatory.
The Slava Voynov situation
As it happens, the Kings are already experiencing cap problems due to Slava Voynov's indefinite suspension (with pay) by the NHL. The recent news that the Los Angeles district attorney's office has elected to charge Voynov with a felony count of 'corporal injury to spouse with great bodily injury' underscores their continuing cap difficulties. The NHL has already stated the suspension will continue, leaving the team with nearly $4.2 million in dead cap space.
#Kings' Slava #Voynov charged with felony count of spousal abuse http://t.co/J5Ukks3yvh

— Charlie (@hockeybias) November 21, 2014
The NHL and the Player's Association may ultimately negotiate a degree of cap relief for Los Angeles. For now, however, the franchise must deal with having one hand tied behind their backs. Alas, it could end up being the tip of the proverbial iceberg.
The Kings have eight players signed for at least five years
General Manager Dean Lombardi traded for Mike Richards in October, 2011 and acquired Jeff Carter four months later, inheriting two very long contracts in the process. He signed team captain Dustin Brown to an eight-year extension in June, 2013, and has franchise defenseman Drew Doughty, franchise goaltender Jonathan Quick, recently re-signed right winger Marian Gaborik, defenseman Jake Muzzin and the aforementioned Slava Voynov on long deals as well.
Adding it all up, the Kings have nearly $50 million of cap space (per season, for at least five years) tied up in just eight players, with the NHL's current cap being $69 million. Worse still, early reports are that the cap may not increase next yer, with a host of key players (Kopitar, Williams, Pearson, Toffoli and Jones, to name a few) seeking new, bigger contracts soon.
Other teams have greater flexibility under the cap
When it comes to flexibility, the Kings are in worse shape than most teams.
Anaheim has just two players (Corey Perry and Ryan Getzlaf) signed for more than four years. Chicago has five players signed that long, headlined by Patrick Kane and Jonathan Toews. The Sharks only have three contracts of that length, the Bruins three and the Blues two. The list goes on and on.
Clearly, Dean Lombardi has worked hard to keep the core together, an approach which helped lead to two Cups. Unfortunately, it may also lead to salary cap purgatory.
A number of contracts will be difficult to move
Lombardi is a top-tier general manager, and thus there is little doubt he will work the phones to solve the problem if and when it becomes necessary. However, that may not be as easy as it sounds. One rumor making the rounds on Twitter, for example, would certainly help the club's financial situation:
It is being rumored that Los Angeles #Kings F Mike Richards could be traded to free up some salary cap room. http://t.co/OT7KKE6MDa

— HockeyRumors&Trades (@HockeyRandT) November 12, 2014
But who would take him? Richards is owed approximately $29 million over the next six years. Despite outstanding leadership and intangibles, he hasn't surpassed 44 points since 2010-11, making him a very tough sell at this point in time.
Three other long-term contracts would likely be difficult to trade as well. Fan-favorite Dustin Brown's declining production wouldn't exactly entice a suitor to absorb his nearly $6 million cap hit, Voynov is in legal limbo and Gaborik, although more marketable than the others, is on the wrong side of 30 and injury prone to boot.
It's not as if Lombardi won't have options at his disposal. The aforementioned contracts merely illustrate the downside of the go-for-it approach a Cup contender faces in trying to keep it all together as long as possible. The Kings are Exhibit A in that regard.
What should the Kings do? Trade lesser players and other contracts, move a big name to free up some serious cap space, or just ride it out and see how things go? Go ahead and add your thoughts below, or send me a message @McLaughlinWalt with your suggestions.
Walter McLaughlin is a Los Angeles Kings correspondent for The Hockey Writers. He is an avid sports fan, having followed the Kings since living in L.A. in the mid-1970's, as well as suffering through Seattle sports teams' general futility. He has a Bachelor's degree in Finance and has worked in community banking for over 25 years, specializing in SBA loans. He is married and has two daughters.