With the 35th Pick in the 2020 NHL Entry Draft, the Los Angeles Kings Have Selected Helge Grans from Malmö Redhawks of the SHL
About Helge Grans
Grans made a strong case as to why he should be considered the third-best defender late in the 2019-20 season after finding a regular role as a teenager in the Swedish Hockey League. He's a true offensive defenseman, using his long stick, quickness, and great shot to drive the play and run the power play. He's a high-risk pick, though, as there are several areas of his game that will need to improve significantly before he reaches the NHL. It's a long-term investment, but Grans has the talent to make that risk worth it.
THW Prospect Profile Excerpt
"While much has been said regarding the forwards available for the 2020 NHL draft, the same cannot be repeated for the defensemen. Beyond Jamie Drysdale and Jake Sanderson, the group lacks high-end talent, and it's anyone's guess as who could be the third defenseman selected in 2020. However, it could be the rangy Swede Helge Grans. Ranked 21st among Europeans by Central Scouting (CSS) at the midterm report, he jumped up to sixth on the final list, making him one of the most intriguing potential first-rounders heading into the final months before the draft.
Grans' biggest strength is his offensive skills. He was dominant with the Malmö Redhawks of the Swedish U20 SuperElit league this season, scoring 27 points in just 27 games. Despite playing at least 10 games less than his competition, he still was seventh in defensive scoring at the season's end. He spent the rest of his time in the Swedish Hockey League, playing another 21 games with the men's league Redhawks, gradually earning more minutes and coming away with a goal and two assists in 21 games. Draft eligible Swedish defenders William Wallinder and Emil Andrae, also potential first-round picks, had 10 games and zero points combined in the SHL.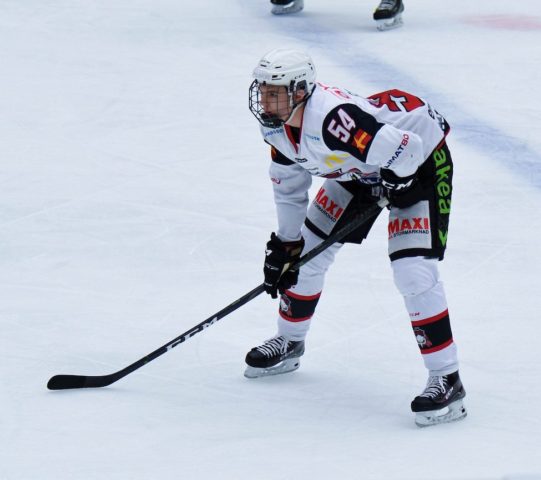 Although Grans proved he could be a regular in the Swedish men's league, his full talent was on display in the junior league and gave scouts a good idea of his potential. He possesses incredibly soft hands when it comes to picking out teammates with long passes, but he also has the speed and skating ability to carry the puck up the ice himself into the offensive zone. To top it off, he also possesses good size. Standing 6-foot-3 and 192-pounds, he was one of the biggest players on the U20 Redhawks while also being one of the youngest.
Thanks to his impressive combination of size, speed, and skill, Grans was a natural on the power play. Of his 27 points with the U20 Redhawks, 14 came from the power play alone. With the man advantage, he showed great poise under pressure and was able to easily create space with his long reach and quick feet. His powerful, right-handed shot also adds another intriguing aspect to his game, despite it not being the most accurate and will likely need some more work.
Related: 2020 NHL Draft Guide
However, scouts have not been able to come to a consensus on him. He currently is ranked all over the board and has been placed as high as a low-first rounder all the way down to the middle of the third round. Teams love his physical tools, and they're arguably some of the best at the draft, but his lack of physicality and defensive liabilities are cause for some concern. Despite his size, Grans is not an intimidating presence on the blue line, often looking for the puck and the breakout instead of trying to shut down the opposition. In fact, there is little physicality to his game at all, which could be a problem when transitioning to a North American style.
Grans also struggled with decision making and vision this season, often making baffling mistakes off the puck. He has shown to be competent in the critical defensive skills, but can still be a liability on defense. On offense, his mistakes are far less common, but not nonexistent. He sometimes appears to have limited vision while on the attack, making passes to those only within his immediate area. His inconsistency from one end of the ice to the other is prone to hurting his team and has raised questions about his long-term potential."
Full player profile can be found here
How This Affects the Kings' Plans
With the Kings showing signs of age, the team has gone full steam ahead in rebuilding through the draft. They nabbed one of the best forwards in the draft with Quinton Byfield second overall, and now turn their attention to defense. Los Angeles doesn't have a particular need in that area – Tobias Bjornfot, Jordan Spence, Sean Durzi, Kale Clague, and Mikey Anderson have the upside to be mid to top-pairing defenders – but adding another never hurt anyone, especially when the player is arguably one of the best left available.
The Kings take a big risk with this pick, but a worthwhile one. Grans is a developing offensive defenseman, and in three games in the SHL this season, he already has a goal and an assist. Given time, he could develop into a very talented power-play specialist. A very good selection at 35th overall, indeed.
---
---
An elementary teacher by day and an avid hockey fan, Dayton joined The Hockey Writers in 2019 and currently covers the Ottawa Senators, World Juniors, and NHL Entry Draft.