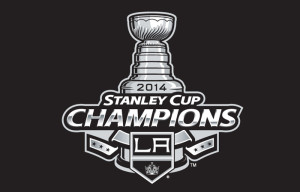 There's nothing quite like your first Stanley Cup. That is, until you win your second.
Such are the feelings the Los Angeles Kings are experiencing after another amazing run through the playoffs to win their second Stanley Cup in three years. This Kings team will go down as one of the most memorable in NHL history, coming back repeatedly during the playoffs, literally snatching victory from the jaws of defeat time and time again.
The Kings dropped the first three games against the San Jose Sharks before becoming just the fourth team in NHL history to mount an improbable rally to win series. Los Angeles fell behind 3-2 to the Anaheim Ducks, then came back to win in seven hard-fought games. They overcame three two-goal deficits versus the Chicago Blackhawks to win in double overtime. Fittingly, they came back from a one-goal deficit in the third period against the Rangers to capture the series-clinching game in double overtime, securing the Stanley Cup in dramatic fashion in front of a sold out Staples Center crowd.
"The difference is that we had to struggle this year," said Kings left winger Kyle Clifford, comparing the two Cup runs. "It gives you that great feeling that you've gone out and earned it."
Justin Williams is the MVP of the Stanley Cup playoffs
There are certainly bigger names on the Kings, but nobody who plays bigger during the postseason than Justin Williams. Williams finished tied for second with teammate Jeff Carter in playoff points, registering nine goals and sixteen assists in 26 games. More importantly, he was +13 during the postseason, scoring two game-winning goals.
For his efforts, he was named the Conn Smythe Trophy winner as the MVP of the playoffs. "To get that award and to get the ovation that I got from my teammates was pretty special and emotional for me," said Williams. "I can't believe I won that. That will, I don't think, ever, ever sink in."
Emotional #JustinWilliams speaks with @JSB_FOX after @LAKings clinch #StanleyCup http://t.co/gcXl0wfFLW #ConnSmythe #GKG

— FOX Sports West (@FoxSportsWest) June 14, 2014
Williams barely beat out teammate Drew Doughty for the trophy, an honor Doughty was happy to see go to the veteran right winger. "It's been a long year," sighed Doughty, taking in the moment during the post-game celebration. "I'm pretty tired right now. But it feels good."
Alec Martinez becomes an improbable 'it' factor
Earlier this year, Martinez was far from a regular in coach Darryl Sutter's rotation, having been a healthy scratch ten times in October alone. However, he ended up having a breakout season, scoring eleven goals and 22 points in 61 games, along with a +17, tied for third on the club. "As a player everyone has ups and downs and I guess I learned from that experience, but I don't dwell on it," he said during the second-round series against the Ducks.
Indeed he did, as Martinez become a key contributor during the regular season. He also tied with Drew Doughty for second amongst Kings defensemen with five goals during the playoffs, recording five assists. It was Martinez' double overtime goal that ended the Western Conference finals series against the Blackhawks, and in repeat fashion, game five in the Stanley Cup finals. "We just had to dig deep and just keep grinding away," explained Martinez. "We believed that we were going to win this game."
Just in case you were in a cave somewhere and missed it, here is is:
Jonathan Quick: A true Stanley Cup champion
A number of goaltenders have better overall statistics, but nobody has a bigger championship heart than Jonathan Quick. Quick stopped 28 of 30 shots, including a fantastic glove save on Chris Kreider's breakaway in overtime.
Quick made huge saves throughout the game, drawing rave reviews from pundits even as his counterpart Henrik Lundqvist was frustrating the Kings with 48 saves of his own, several of the highlight reel variety. "We have a great time every time we go to the rink," said Quick after the game. "This group has done a lot of things over the past few years, and I'm just happy to be a part of it."
Can the Kings become a dynasty?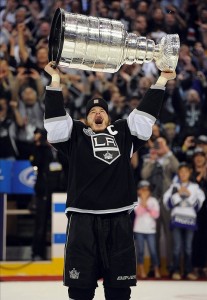 Inevitably, the word 'dynasty' has been thrown around with respect to the Kings, given the team's second Stanley Cup in three years. Not only are L.A.'s core players are locked up long-term, but the club has franchise players at three positions and exciting young talent such as Alec Martinez, Tyler Toffoli and Tanner Pearson emerging. Asked about the possibility, Martinez said, "That's more of a story for the media. That's a term you guys can use. We just want to be a good hockey club consistently and I'm not going to think about that. I'm just going to enjoy the moment right now."
Whether or not it eventually happens, it's undeniable that the Los Angeles Kings are indeed the kings of the NHL tonight. The ghosts of so many previous disappointing seasons have been exorcized forever. Congratulations to the Los Angeles Kings, the NHL's 2014 Stanley Cup champions. If any team ever earned the trophy, it was this one.
Walter McLaughlin is a Los Angeles Kings correspondent for The Hockey Writers. He is an avid sports fan, having followed the Kings since living in L.A. in the mid-1970's, as well as suffering through Seattle sports teams' general futility. He has a Bachelor's degree in Finance and has worked in community banking for over 25 years, specializing in SBA loans. He is married and has two daughters.