At the beginning of this decade, the Los Angeles Kings' prospect pool was routinely celebrated as one of the best groups across the NHL. While there isn't the same level of quality available because a good portion of that talent has either graduated or moved on in some form, their prospect pool still contains plenty of players that could – and should – develop into useful NHL players some day.
For some of their prospects, that day is coming this season. The Kings have the aspirations of a Stanley Cup contender, dealing away future assets to augment their current roster in recent seasons. But if they are going to rise up the Pacific Division hierarchy, they need some of their young players and prospects to make meaningful progress towards becoming everyday contributors in the NHL.
These are the players most likely to find their way onto the NHL roster some time this season.
(LW) Samuel Fagemo
Samuel Fagemo, a second round pick back in the 2019 draft, seems to have found a comfort level in North America after coming over during the COVID-shortened 2020-21 season. In three seasons and 151 regular season games with the Ontario Reign of the American Hockey League (AHL), he has 60 goals and 94 points. At this point, he has proven that he can score against AHL-level competition, but now the question becomes whether or not he can become a consistent goal-scorer in the NHL.
Related: Pacific Division Will Be Ultra-Competitive in 2023-24
---
Latest News & Highlight
---
Fagemo has the shot and offensive awareness to become a triggerman on the power play that produces 20 goals or more on a yearly basis. In his 13 games of NHL action he has two goals and three points, all of which came last season. With the winger talent already in place in the NHL as well as Quinton Byfield's presumed move to the wing to start the 2023-24 season, there aren't many, if any, spots available for Fagemo to claim without doing what he does best as soon as training camp starts. Realistically, he'll have to wait for an injury before getting another shot at cementing himself as an NHLer.
(G) Erik Portillo
One of the newest additions to the Kings' prospect pool, Erik Portillo is a talented Swedish goaltender that spent the last three seasons backstopping the University of Michigan. Standing at 6-foot-6, 225 pounds, his frame covers up a lot of the net, and his calm demeanor in the crease made him a third round pick of the Buffalo Sabres back in 2019. With the Sabres' depth chart in goal seemingly blocking him out, he opted out of signing with Buffalo and signed a two-year deal with Los Angeles in April.
In his two seasons as the starter for the Michigan Wolverines, Portillo compiled a record of 56-21-3, and a save-percentage of .917. He knows what it means to play goal for a team with championship aspirations, and he knows how to keep his composure when things aren't going his way. He will begin his professional career this season in the AHL, but a strong start and a timely opportunity could result in him seeing some time in the NHL this season. With a little bit of luck and steady development, he could easily become the Kings' goalie of the future.
(C) Alex Turcotte
The third player on this list to come from the 2019 draft, Alex Turcotte is entering what is going to be a pivotal season for him and his future with the Kings. The former fifth overall selection's talent is evident, but he has struggled to get any momentum going due to his overall inability to stay healthy. Over the last two seasons, he has appeared in just 59 AHL games (as well as 12 NHL games) mostly due to time spent on the injured list. Naturally, this is far from the future the Kings had in mind when they made him such a high draft selection.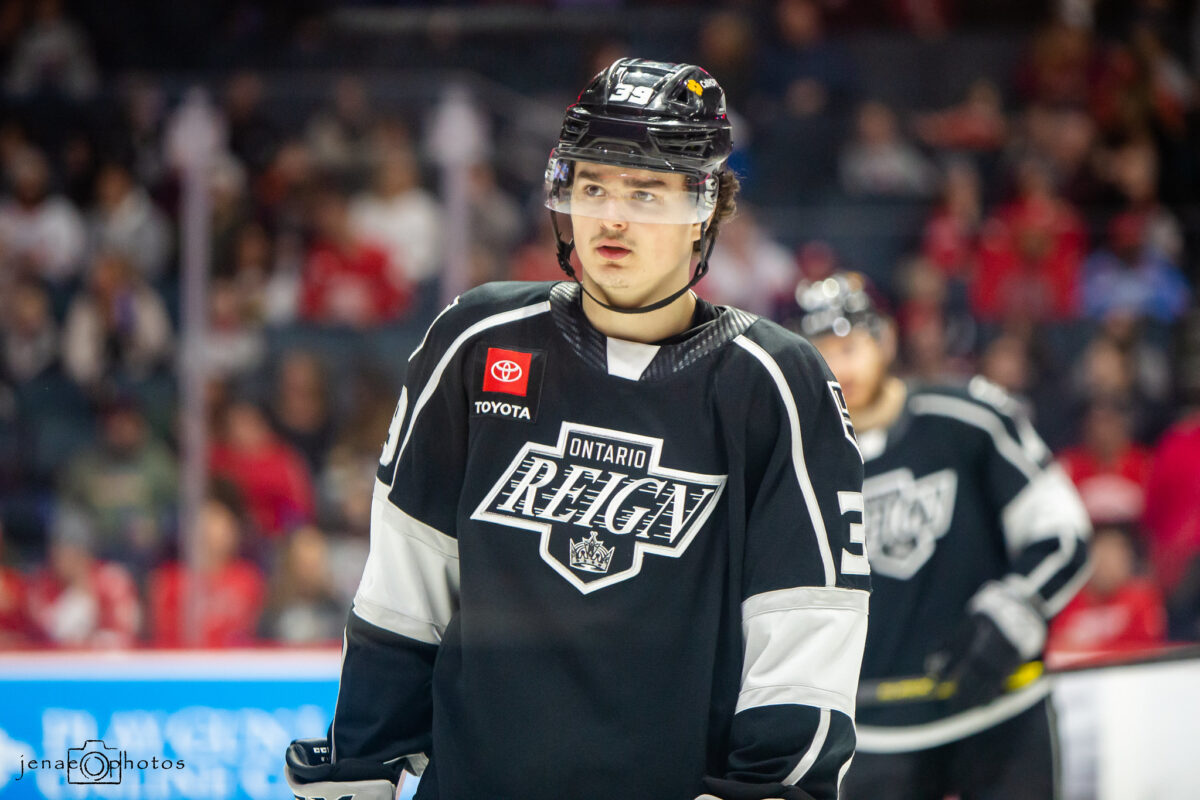 Turcotte still has the potential to become a needle-mover in LA's top nine, but he isn't getting any younger, and there are other prospects in the system that have just as good of a shot to become legitimate pieces of the Kings' puzzle. He will almost certainly get a look or two when injuries or other circumstances present themselves, but he will have to make the most of those chances when they come. He may never live up to his draft slot, but that doesn't mean he can't still become a quality NHLer.
(RW) Alex Laferriere
Over the last two seasons, Alex Laferriere seems to have announced himself as one the Kings' top prospects. A third round pick in the 2020 draft, he recorded 35 goals and 73 points over two seasons and 69 games at Harvard University. He joined the Reign late last season and recorded his first professional goal on April 7. With a full offseason to prepare himself for his first full professional season, all momentum is on his side as he heads into training camp with the Kings.
While there are other players in the Kings' system that are presumably higher on the priority list in terms of receiving a call-up, Laferriere should not be counted out. If his momentum from last season carries over in to training camp, he could put himself in a position to climb up that list swiftly. Regardless, he's a prospect worth keeping an eye on over the course of this season.
(D) Brandt Clarke
The prospect with the best shot at beginning the season in the NHL is Brandt Clarke, the Kings' top pick in the 2021 draft (eighth overall). The right-handed defenseman made his NHL debut in the Kings' second game of the 2022-23 season; he went on to play in nine of the team's first 12 games of the season before he was returned to his junior team. After dominating in the Ontario Hockey League (61 points in 31 regular season games; 23 points in 12 playoff games), he made his AHL debut, appearing in five games with the Reign.
Not only could Clarke join the Kings right out of the gate, he could quickly play his way into some pretty big minutes. He's a highlight-reel puck-mover that skates well and can be an active contributor on the power play. His taste of NHL hockey last season should help him be prepared for this season, and a prepared, motivated Clarke is a force to be reckoned with. With Drew Doughty entering his mid-30s, Clarke represents the future of the blue line in Los Angeles, but the Kings' pursuit of a championship in the present would receive a heck of a boost if he has a breakout season.
Who did I miss? Share which prospects and rookies you think have a chance to join the Kings' roster in the comments section down below!
---