John Klingberg burst on the scene in November last year with the Dallas Stars and ever since fans have been incredibly captivated by his ability with the puck on his stick. While he has continued to pile up the points this season (43 in 53 games played), he has also put himself in a position to take a ton of hits. While he hasn't lost any games to injury yet this season (knock on copious amounts of wood), the physicality being thrown his way has forced more puck errors than we saw in year one of Klingberg's emergence.
Unless you're an Islanders fan, you know the hit statistic can be skewed from one arena to the other and isn't always 100% accurate. That being said, it at least gives us a rough idea of how physical players are being and how much of a beating one player is taking on a night-to-night basis.
And Klingberg is taking an absolute beating.
How Bad is it?
Per war-on-ice.com, Klingberg has taken the third-most hits in the entire NHL. Only Andrew Shaw, Niklas Hjalmarsson, and Kevan Miller have taken more. Aside from Hjalmarsson those are two physical players and Hjalmarsson also isn't close to the offensive catalyst that the Stars need Klingberg to be.
The Dallas Stars are not a team that gets hit very much despite how often they possess the puck. They are right in the middle of the NHL in terms of hits taken this season while being a top-five possession team. Most teams that have the puck a lot take a lot of hits but Dallas has the speed to avoid a lot of them.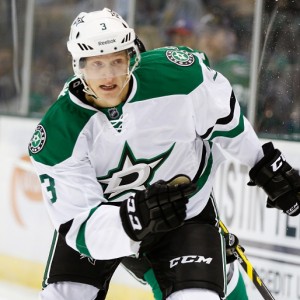 Individually, Klingberg has taken 132 hits so far this season. That is over 11% of the hits taken by the entire Dallas team this season. To make it a little more clear on exactly how much he is getting hit, the second most-hit player on the Stars is Antoine Roussel who has taken 87 hits this season. Nobody on the Stars comes close to the amount of physicality that Klingberg deals with each and every night.
You might say "Well, Klingberg plays a lot and has the puck a lot so of course he takes more hits". Okay, that's fair. Let's look at some other top defensemen who play just as much, if not more, than Klingberg.
Erik Karlsson has taken 97 hits this season. P.K. Subban has taken 95. Just 89 hits taken for Drew Doughty. 69 for Brent Burns. 68 for Kris Letang. Just 54 for Justin Faulk. As far as top offensive defensemen go, only Oliver Ekman-Larsson comes close with 116 hits taken. Avoiding hits has become sort of an art-form for offensive defensemen and it is something Klingberg needs to learn as he continues to grow in this league.
The Hits are Taking Their Toll on Klingberg and the Scoreboard
Klingberg hasn't looked as sure-handed with the puck as he did last season and I'm sure the hits play a role in that. When you create plays as much as Klingberg does, some turnovers are to be expected. Some of them this season, however, have been quite egregious and several goals can be traced directly to Klingberg turnovers.
Bobby Ryan got right into Klingberg's face and simply took it away with the pressure he was putting on. Let's look at another one.
While Daniel Sedin isn't exactly physically threatening, the pressure he put on Klingberg forced yet another awful turnover that would lead directly to a Canucks goal. Are the physical liberties teams are taking with Klingberg sitting in the back of his mind? Maybe. Turnovers when you have the puck that much are to be expected but the ones that lead to a goal in seconds are generally inexcusable.
What Can Be Done?
There are a few parts to this story. One, Klingberg can be guilty of not making his decisions with the puck quickly enough, leading to him taking a few more hits than he probably should. Another part is that teams are clearly making it a point to go after him. You see it almost every night. There have been plenty of hits on Klingberg that ride just on the border of legal and late and teams are taking liberties with him.
And why wouldn't they?
Another horrible turnover for John Klingberg. That leads to easy Daniel Sedin goal.It is 1-1 in Dallas

— Mike Heika (@MikeHeika) November 28, 2015
They see the physicality forcing Klingberg off his game and into turnovers and the Stars simply don't have many guys that are going to make them pay for taking shots at him. Is that a solution? Maybe it is. I'm not talking about going out and getting an enforcer but adding a bigger player with a more physical game wouldn't be a bad idea.
Ultimately Klingberg has to start learning how to avoid those shots a bit better as well. There are plenty that can't be avoided but there are still many hits that can be evaded by quicker decision-making. Like I mentioned before, it is a skill that Klingberg just hasn't developed yet. And that is okay, he is playing in his first full NHL season after all.