GLENDALE, Ariz. — Darcy Kuemper had a career high 44 saves and the Arizona Coyotes held off the Western Conference-leading Nashville Predators 2-1 on Thursday night.
Kuemper, starting in place of injured No. 1 goaltender Antti Raanta, kept a shutout going until Nick Bonino scored with 7:51 to play.
The Coyotes (9-8-1) got goals from Michael Grabner and Jason Demers in their second win in six games. Arizona played the first of five straight home games after going 4-1 in its previous five-game homestand.
Demers left with an apparent leg injury with 37.1 seconds to play after crashing into his own net.
Nashville (13-5-1) finished a five-game road trip — which included three games against Pacific Division teams — with five points, but lost its third straight. Pekka Rinne stopped 21 shots.
The Predators' Kyle Turris hit a post at the 12:22 mark of the third period. Nashville took out Rinne for an extra attacker inside of two minutes to play.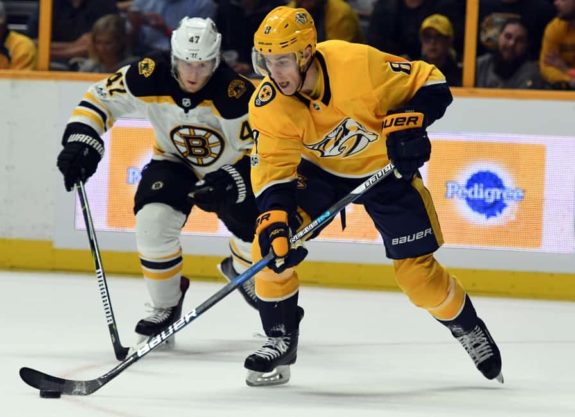 The Coyotes scored their NHL-best 10th short-handed goal at 7:16 of the first period. Grabner had open ice on a power-play clearance and scored from just in front of the blue line to give Arizona a 1-0 lead.
Four of Grabner's five goals this season have been short-handed, and he leads the league in that category. Grabner has 19 short-handed goals since 2010, second only to the 23 for Brad Marchand of Boston.
Demers put a wrist shot past Rinne on the goaltender's stick side for a 2-0 Coyotes lead at 4:09 of the second period. It was the defenceman's first goal of the season.
The Predators were 0 for 5 on the man advantage for their third consecutive game without a power-play goal. That helped the Coyotes maintain their standing as the NHL's top penalty-kill unit with only five power-play goals allowed.
The fifth power play for Nashville came as a result of Josh Archibald's illegal check to the head of the Predators' Josh Hartman with 1:41 left in the second period. Hartman was bleeding and had to leave the ice.
Coyotes forward Lawson Crouse became the third Coyotes player this season to play his 100th career NHL game.
Notes: Predators D P.K. Subban was placed on injured reserve before the game with an upper-body injury, and F Viktor Arvidsson, already on injured reserve, could miss six to eight weeks with a broken thumb. … Nashville activated D Dan Hamhuis from injured reserve for his first game since Oct. 23. … F Austin Watson played in his first game after serving an 18-game suspension for domestic violence. … Coyotes D Jakob Chychrun was scratched with an upper body injury and is day to day, coach Rick Tocchet said. Chychrun, after being out due to injury until his return on Tuesday in Detroit, missed his 16th game this season. … The Coyotes announced Thursday the hiring of former U.S. Olympian Lyndsey Fry to serve as a special advisor to Coyotes' president and CEO Ahron Cohen. Fry, 26, will also be a brand ambassador for the club.
UP NEXT
Nashville hosts the Los Angeles Kings on Saturday night.
Arizona hosts the Boston Bruins on Saturday night.
___
More AP NHL: https://apnews.com/NHL and https://twitter.com/AP_Sports
Jose M. Romero, The Associated Press