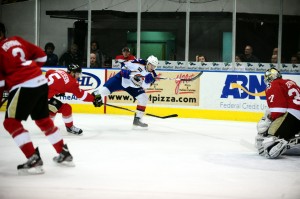 Newly acquired Norfolk Admirals forward Kyle Bonis went one-on-one with THW correspondent Ted Warren earlier this month. The twenty-four-year-old signed with the AHL affiliate of the Anaheim Ducks March 29th after shutting the door on his four year stint at Ferris State University. The undrafted prospect comes to Norfolk hoping to add on to his impressive resume that includes 77 points in 136 games played with Ferris State along with being named a Hobey Baker finalist last year. The 175-pound forward netted his first pro goal April 4th against the Wilkes-Barre/Scranton Penguins.
THW: What is your earliest hockey memory?
Bonis: My Dad took me to a local rink to learn how to skate and I stepped on the ice and I fell flat on my back. I said Dad, I don't want to play hockey anymore. We still laugh about it to this day.
THW: How is it working on a farm back home in Ontario?
Bonis: It's busy. We have a lot of acres. We keep expanding it.  It teaches you a lot of good values. I've been doing it for a long time. I enjoy it and I look forward to it when I get back.
THW: How do you juggle hockey and college at the same time?
Bonis: It's tough. It's a lot of time management.  You find routines for homework and things like that, but once you get yourself in a routine it's a pretty enjoyable experience.
THW: How did you handle being Captain of Ferris State your senior year?
Bonis: It was the second time I was a Captain. I was a lot more comfortable with the responsibilities and things. With being a college Captain, there is a lot more to handle and more people to talk to. At that point, I was a little older than most guys on my team. I did a better job of leading by example.
THW: You were a Hobey Baker finalist your senior year. Was that a surprise to you?
Bonis: Yes and No. It's a prestigious honor to be nominated for that. You work hard for it. When it comes along, you don't want to be surprised by it. You want to enjoy it and be grateful to be mentioned with some of those players.
THW: What's the biggest difference from college to pro hockey?
Bonis: It's how everybody is so consistent day-in and day-out. They bring their best and as a younger player that's something I need to work on and improve on.
THW: How are you adjusting to the pro game so far?
Bonis: Just trying to learn as much as I can. There are a lot of great players here with NHL experience. I just think it's asking a lot of questions and just try to be a sponge and soak it up the best I can.
 THW: Who are the veteran players who are helping you out right now?
Bonis: Nate Guenin and Patrick Maroon. I'm playing with those guys and if I make mistakes, they'll tell me and help me out."
THW: When you're away from the rink, what do you do to get your mind off hockey?
Bonis: I play a lot on the guitar I picked up over the last year. I enjoy it because it's so different than hockey. It's something I wanted to learn for along time.
Follow Ted on Twitter @bauerhockeydude
Ted grew up in Virginia. Warren has a passion for the AHL and dishes out articles about the Norfolk Admirals and the AHL. Follow him on Twitter @bauerhockeydude