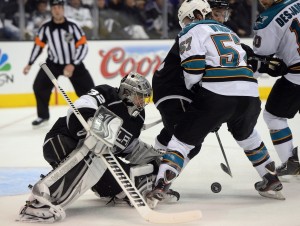 I didn't hear him because my two Stanley Cup rings were plugging my ears
— Patrick Roy
Over the past two weeks, I've published the first three segments of a four-part series analyzing the performance of the Kings' centers, wingers and defensemen this year. In this final installment, I'll be grading the goaltenders.
A recap of the 2014-15 season
Before we get to the topic at hand, let's take a quick look at the seasons the other position groups had.
The centers
As previously discussed, the center position experienced a major power outage.
Jeff Carter and Trevor Lewis may have earned their keep, but Anze Kopitar had his least productive season since his rookie campaign. Jarret Stoll likely played (and allegedly huffed) his way out of town, and Mike Richards spectacularly cratered. Nick Shore didn't punch enough time on the clock to judge one way or the other.
The wingers
Overall, most of the Kings' wingers had pretty decent seasons.
Relative to expectations, Tyler Toffoli, Kyle Clifford and Marian Gaborik headlined the group. Justin Williams finished fourth on the team in goals scored with 18. Jordan Nolan played like the energetic fourth liner he is, Tanner Pearson showed early promise before falling off (and eventually missing half the season) and Andy Andreoff barely broke a sweat in just 18 games.
The only winger to massively fall short (Kings fans will appreciate the double entendre) was Dustin Brown, and boy, did he ever. As bad as he's been the past couple of seasons, there is some hope: Brown's iCorsi remains among the highest in the league, as do his hits totals. It's the rest of his game that needs to be rejuvenated.
The defense
The defense may have slipped a tad from the year before, but when the dust settled, it was still one of the league's best.
Drew Doughty and Jake Muzzin had fantastic seasons, and Andrej Sekera showed exactly why Dean Lombardi traded for him. Alec Martinez and Matt Greene were solid, and Brayden McNabb turned out to be excellent value for the money. Jamie McBain and Jeff Shultz were bottom-pairing defensemen in limited action.
And then there was Slava Voynov, whose much-discussed domestic violence case ultimately cost the team a playoff spot this year.
The goaltenders
Recaps are boring. It's time to dissect L.A.'s goaltending this past season.
As a team, the Kings allowed 2.40 goals per game, up from the 2.05 they allowed in 2013-14. The loss of Voynov and resulting defensive disarray is pegged by Kings fans as the reason for the increase. With that said, how did the netminders perform?
Jonathan Quick
He didn't lead his team to the Cup and was brutal in the shootout, but other than that (yes, those are big 'other than' considerations), Quick arguably had one of his best seasons.
He won 36 games, which was topped only by the 39 he won during 2009-10. Quick's goals against average was 2.24, sixth best among goalies who played in 30+ games and tied for the third lowest mark in his career. Although not upper tier, Quick's .918 save percentage was also one of the best he's had.
No, he wasn't good in the shootout, but Quick's greatest strengths remain his reflexes and athleticism. Both were on full display during this incredible save against the Jets' Mathieu Perreault:
He's a fiery competitor and rises to the occasion when it matters the most, as evidenced by his allowing two or fewer goals in ten of his final eleven games (not to mention 15 of his last 17) this past year.
For what it's worth, he's earned plenty of kudos:
.@JonathanQuick32 still one of the greatest in the postseason. Too bad he can't show it off this year 😭@LAKings pic.twitter.com/m32thrjR1R

— USC Psycho 😷 (@uscpsycho) May 5, 2015
https://twitter.com/G0LeafsGo/status/589969976662040576
Just found this on my little brothers "about me" rough draft @LAKings @pucktwit @JonathanQuick32 @vikingsblair pic.twitter.com/GvAJI6reDy

— Scott Phillips (@mviking42) April 13, 2015
Quick fell just outside of the 'A' range due to his sub-par shootout statistics, but he remains one of the very best there is.
Grade: B+
Martin Jones
Martin Jones had an outstanding season in 2013-14, going 12-6 in 19 games with a 1.81/.934 slash line. The 25-year old netminder followed it up with an almost-inevitable regression, falling to 4-5-2, 2.25/.906 in 15 games.
The Kings would like to see Quick stay fresh by playing in fewer games, but with the team hamstrung for much of the season due to the Voynov situation and battling for the playoffs until the very end, head coach Darryl Sutter went with experience more often than not. That being said, Jones has become a very reliable backup and should continue to see his game improve over the next few years.
Do you think playing with Quick is rubbing off?
He hasn't been tested in critical situations like Jonathan Quick, but there is little doubt that the Kings are in great shape in net for the foreseeable future.
Grade: B-
Do you agree or disagree with anything you've read? Leave your thoughts below, or send a message to @McLaughlinWalt.