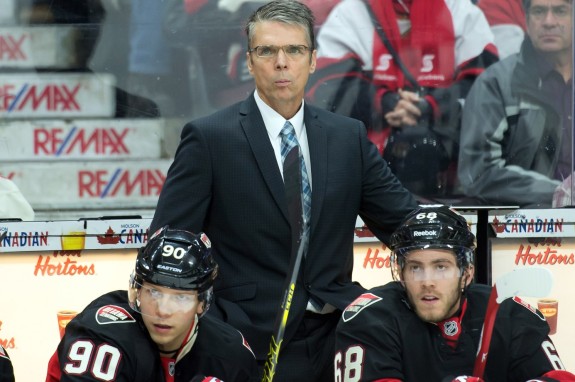 It didn't take very long for the opening round playoff series between the Montreal Canadiens and Ottawa Senators to reach epic proportions.
The Canadiens skated away from Game 1 with a thrilling 4-3 victory, but all of the reaction afterwards was centered squarely around one controversial moment from the second period and some even more controversial words that came afterwards.
At 8:23 of the second period Canadiens defenseman P.K. Subban delivered a nasty slash to the wrist of Senators forward Mark Stone.
Subban received a five-minute major and a game misconduct for the infraction.
Sens head coach Dave Cameron was, not surprisingly, none too happy with Subban's slash, but added some real fuel to the fire during a post-game press conference.
"I think it's an easy solution: You either suspend him or one of their best players gets slashed and just give us five," he said. "Not that complicated."
Despite Cameron's justified frustration towards Subban, threatening retaliatory violence against Montreal players is an extreme reaction and one that oversteps the boundaries of what's acceptable these days in the NHL.
Surprisingly, however, neither Subban nor Cameron were suspended or fined for their choices on Wednesday night.
For Subban, the argument could be made that the lack of supplementary discipline is the right call. His slash, although violent, is something that happens on a fairly regular basis in the NHL playoffs, like it or not. There is a strong relationship for league disciplinarians where the offending player gets harsher punishment when the receiving player is injured, but even though Stone may miss time because of his wrist it appears the extent of the injury wasn't severe enough in this case.
The lack of punishment for Cameron, however, is a lot more puzzling. The NHL has taken a hard stance against retaliatory violence, and threats thereof, ever since the infamous Todd Bertuzzi – Steve Moore incident, so it's strange that the Sens head coach got off with only a warning from the league instead of a suspension or fine.
The league's decisions in these cases, while arguable, could have unintended consequences for the remainder of the series. Animosity between the two teams is already high after just the opening game, and it's only going to ratchet up from here. The likelihood of Senators players wanting to exact some revenge isn't far-fetched. A suspension or heavy fine to one or both of Subban and Cameron would have sent a strong, clear message that any further shenanigans would be dealt with swiftly and aggressively. The league's decision to not do so essentially sends the message that they're going to allow the two teams to play "playoff hockey," opening the door wide for a potential increase in the rough stuff.
If one player crosses the line in the next game and causes a serious injury it's certainly not going to reflect well on the NHL, and will undoubtedly spark a lot of discussion as to why more action had not been taken sooner.
Regardless of what does or doesn't happen next, one thing is for sure: it's going to make for some interesting playoff hockey.
Derek Neumeier primarily covers the Dallas Stars, but also other various topics related to the sport of hockey. A Journalism graduate of Mount Royal University, Derek also writes for Defending Big D, and has done previous work with the Edmonton Oilers as a communications intern and Hockey Canada as a freelance writer. You can follow him on Twitter at @Derek_N_NHL