Finally, the 2014-15 hockey season is here! After an injury riddled training camp and the surprise addition of Brandon Kozun to the lineup, the Leafs embark on another season and hope to finally take the next step in their excruciatingly long rebuild.
After bringing aboard Shanahan and Dubas, and replacing all coach Carlyle's assistants, the Leafs have ditched the enforcers and embraced a whole new way of doing things. Gone is the philosophy of letting the other team take uncontested shots from the point. Gone is the idea that slow players who's only attribute is body checking, and face-off specialists are integral to team success.
In the place of those things we look to see a more well-balanced defense core, a faster lineup with a fourth line that can play. Not to mention a roster full of job competition and actual competent players waiting in the wings to steal a job or two. Not to mention two of the most exciting young defensemen in the NHL in Rielly and Gardiner.
I could sit here and lament about the last couple of collapses the Leafs have had and discuss the short leash Randy Carlyle is on, their potentially exploitable defense core, or their lack of an elite centerman, but I 'd rather focus on the positives: I think this is a team that not only makes the playoffs, but competes for home-ice advantage and wins a playoff round or two.
The team's collapses – you know what I am talking about – might have been tough to sit through, but they could legitimately help the team as it goes forward. Teams don't come out of nowhere to win the Stanley Cup and this type of growth is necessary to a young team looking to take the next step. I have never heard anyone question the notion that surviving adversity only makes you stronger and more resilient, and if that is indeed the case, the Leafs are  perhaps on the verge of becoming the strongest and most resilient team ever!
Other reasons to like the Leafs this year: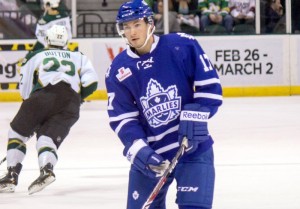 Brandon Kozun
How can you not cheer for this guy? 5′ 7″ and he comes out of nowhere to make the team. His speed fits in nicely with the Leafs who should have one of the fastest teams in hockey up and down the lineup. Kozun might be an afterthought by November, or he might end up being the best story of the NHL season – at this point we can't know.  We can, however, get excited. If Kozun is a legit scoring winger the Leafs are going to be stacked at that position.
Whether ultimately successful or not, just his presence in the line-up on opening night is an exciting development for the team.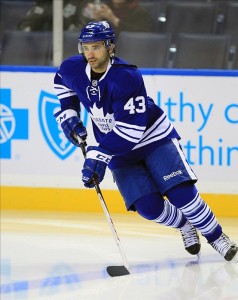 Nazem Kadri
It seems like so long ago that he was drafted, but he just turned 24 the other day, and if the confidence he showed in the pre-season is any indication, he is going to take huge steps this season. I still marvel at the level of talent Kadri possesses and there is nothing stopping him from becoming an elite NHL forward. Last year we got to see JVR break-out, this year we'll see Kadri do so. I find it so interesting to note that although JVR is two seasons, developmentally, ahead of Kadri, the same people who were happy to see JVR breakout last season don't think Kadri ever will.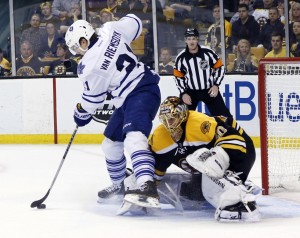 James Van Riemsdyk and Phil Kessel
As Leaf fans we just are not used to having nice things. Kessel has to put up with some of the stupidest and craziest things of any player in the NHL. Why the Toronto media won't just embrace one of the best players to ever wear the uniform is a case best left to Hurcule Poirot. It doesn't matter. The fans love him and he is indisputably one of the top five most fun players to watch. I think this is the year he finally hits 50,
Spoiled by Kessel, I don't think we've fully acknowledged what we actually have in JVR.  Still only 25 and fresh off his first 30 goal season, no one is sure just what his ceiling is. He isn't as flat-out talented as Kessel, but he does have moves rarely seen in a player of his size and he collects a lot of garbage goals to go along with the sick finesse moves he also the ability to make. Altogether, JVR is the total package and I believe his 30 goals from last year are a bare minimum going forward.
With Kessels playmaking skills seeming to improve every year, there is always a possibility that JVR actually leads the team in goals.
Final Analysis
I think people have  a hard time looking past the 74 shots per game allowed last year as well as the collapse they ended the season with. If they could get beyond those things, they'd see a team with a really nice core that still has room to improve. The emergence of Rielly and Gardiner, as well as the addition of Robidas will finally give Phaneuf some actual peers to play with and I think that will mean that he too will much better than he has been. But let's be honest, he's been pretty damn good. The team has asked so much out of him and he's never done anything but give his all and perform at a level so much higher than the next best Leaf's defenseman for so long now that the way the fan-base's failure to accept him has become embarrassing.
The addition of Komarov, Frattin, Carter and Kozun to go along with Rielly, Gardiner, Kadri, Kessel, JVR and Bozak is going to give the Leafs an edge in speed over virtually all of their opponents.  Their defense will be more balanced with the addition of Polak and Robidas and, more than anything, they are a team with a lot of skill that will be fun to watch.
When I look at the East, I think it's wide open and that the Leafs have a great chance to not only make the playoffs, but to actually finish pretty high. It's going to be a great season.
I can't wait.
Covering the Leafs for the Hockey Writers.