By Mike Miccoli
For years, Carl Soderberg was a legend–just not in the way that you'd suspect.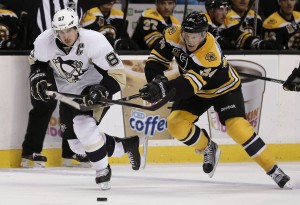 Acquired via trade from the St. Louis Blues in exchange for once-promising goaltender Hannu Toivonen in the summer of 2007, Soderberg became a myth of a prospect. He was a player whose NHL rights belonged to the Bruins, but he never made an appearance anywhere in the organization's pipeline.
The truth was, no one really knew if Soderberg would ever make his way to Boston, especially after playing six seasons in Sweden. Now, more than a quarter into the 2013-14 NHL season, it's hard to imagine the Bruins roster without the presence of Soderberg on the third line.
Soderberg is turning into a consistent cog for the Bruins, highlighted by his five-game scoring streak that he extended with two assists in Monday night's 4-3 overtime win over the Pittsburgh Penguins. It's easy to get excited over the potential that Soderberg possesses, especially after seeing both of his crisp passes that led to goals from Loui Eriksson and Reilly Smith on Monday. His vision, along with the way he handles the puck, has improved greatly since the Bruins welcomed him to Boston last April.
"It's really nice to see that he's playing with confidence and making good plays out there," said Eriksson, who finished the game with three points. "He made a great pass today on the power play and even to my goal there. It's really nice to see that from him and I think he's getting better and better."
Carl Soderberg, A Welcomed Addition
Soderberg has been a welcomed addition to the Bruins' second power-play unit after missing the first six games of the season due to an ankle injury. Soderberg has three points on the unit when the Bruins have the man-advantage, but his perfectly-timed feed that led to Smith's goal on the Bruins only power-play of the game looked like second-nature.
"We were working on that play for the last little bit," said Smith. "We knew they were going to be pretty aggressive so as soon as it went down to him, he kind of knows that I'm going back door. He made a great play."
It also showcases how he's developing more chemistry with linemates Smith and Chris Kelly. The third line was a big question-mark last season and going into 2013-14, but the trio is becoming more of a consistent, sure-thing with the rejuvenated additions on the wing. Along with the acquired Smith, Soderberg is playing a big part of their success.
"We've been keeping it pretty simple," said Smith. "We're pretty good when we can get the puck down low and work good. Carl and Kells are great players so if you can get the puck to them they're pretty good at making plays and keeping it away from the other team."
On any other team, Soderberg and his three goals and nine assists in 18 games would be good enough for second-line minutes. In Boston, he's a third-line winger behind guys like Milan Lucic and Brad Marchand on the depth chart, averaging 13:40 minutes of ice-time per game. It helps too that he's capable of playing center, his natural position before coming to Boston where the position's depth is almost clogged. In Thursday night's shootout loss against the St. Louis Blues, he went six for eight at the dot, second-best on the team behind Gregory Campbell.
"He's very capable of taking face-offs," said Bruins' coach Claude Julien on Soderberg reverting to his natural position in Thursday's game. "He's always part of that group that works on face-offs on game day, so we're going to keep him going in that area so that if the first centerman gets kicked out, we know we've got another one there."
Soderberg has the potential to become one of Boston's better power forwards. A big-bodied frame that barrels down the wing, the Swedish player isn't afraid to fire the puck on net from any angle, reminiscent to what a young Jarome Iginla did in Calgary.
While it's still early, it's possible that his legend will grow and transform into the mysterious prospect who was always waiting in the wings to a legitimate, offensive weapon on the wing in Boston. Soderberg said himself that he's feeling more comfortable all of the time, transitioning his game to the NHL level and growing accustomed to playing with centers Kelly and Patrice Bergeron. If he's still growing and developing as an NHLer, maybe the wait was worth it.
"I see him getting better and better all the time," said Julien. "It's nice to see that potential that everybody saw in him when we brought him over."
Follow Mike on Twitter for more Bruins updates, news, and commentary.
Check out our partners at TiqIQ for the best deals on Boston Bruins tickets for all 2013-14 games.
Mike Miccoli covers the Boston Bruins for The Hockey Writers and has been a credentialed member of the media for all Bruins' home games for the past five years. As a former player, coach and official, Miccoli has been around the game of hockey since the age of three. Along with his work on THW, Miccoli has also been published in the New England Hockey Journal, Improper Bostonian magazine and on BostInno.