With the start of training camp officially underway, the Tampa Bay Lightning begin their quest to become the second team to repeat as Stanley Cup champions in the salary cap era. Winning back-to-back Cups is already considered one of the hardest feats in all professional sports and, combined with this year's shortened season and likely more upcoming COVID-19 scheduling complications, the 2020-21 season looks to be no different.
The Lightning spent the bulk of their offseason clearing up cap space so they could sign their top free agents — Anthony Cirelli, Erik Cernak, and Mikhail Sergachev — putting together the pieces to make another deep playoff run. While this is certainly a step in the right direction, it will take more than free agent signings if the Lightning want to become the first team in NHL history to raise two Stanley Cup banners in the same calendar year.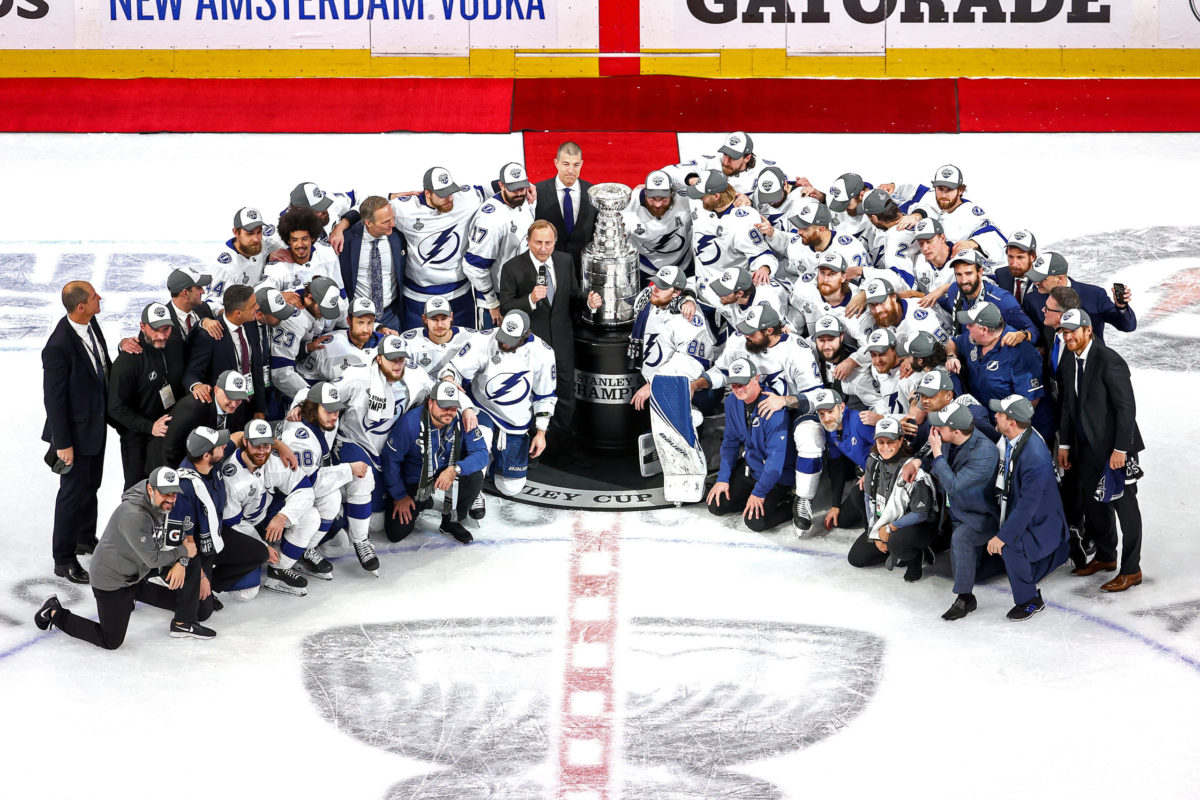 Many things can happen during a shortened season, but the following will be important keys for the Lightning to have a successful 2020-21 season.
Survive Training Camp Injury-Free
This may seem like a no brainer, but it cannot be stressed enough. After losing Nikita Kucherov for the regular season, coming out of training camp injury free will be huge for the Lightning heading into the 2020-21 season. The compacted schedule will certainly take a toll on the players this season, so coming out of camp with the team at full health will give the Lightning an advantage to get off to a hot start that will be so crucial for division play.
The importance of a healthy Steven Stamkos is not lost on the team either. After returning from a leg injury for three shifts during Game 3 of the Stanley Cup Final, Stamkos scored one of the most inspirational goals in NHL history.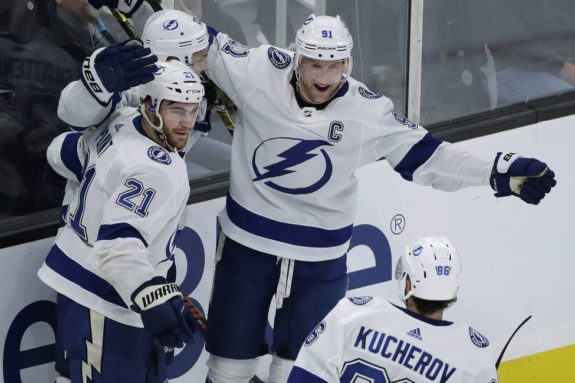 Stamkos has scored better than a point-per-game average in each of the last four seasons, making his health even more important when trying to find someone to fill the void that losing Kucherov has created.
Utilize Taxi Squad to Get Younger Players More Experience
While the main rosters and taxi squads have yet to be announced, it will be imperative that the Lightning utilize most every player at their disposal. The 2020-21 schedule will see 56 games in 117 calendar days — for an average of almost one game every two days — basically an extended playoff format. The grind that will come from playing meaningful games night in and night out will likely take more of a toll on a player than in past seasons.
To combat this, the Lightning will need to roll their younger guys in and out of the lineup consistently to allow them to gain NHL experience and offer occasional rest to guys who are banged up. Whether guys like Mitchell Stephens, Mathieu Joseph, or Alexander Volkov make the final roster, coach Jon Cooper should dole out plenty of opportunities for minutes among guys who are able to be plugged in wherever needed.
Continued Production From the Goodrow-Gourde-Coleman Line
No third line was better than the Barclay Goodrow, Yanni Gourde, and Blake Coleman line for the Lightning in the 2020 Playoffs. Their line accounted for 33 of the Lightning's 218 points — 15% — and had a combined plus/minus of plus-23 in 25 games played during the Cup run. Early reports from camp are showing that Cooper has kept this trio together and, if they continue producing where they left off this summer, they will likely dominate the Central Division.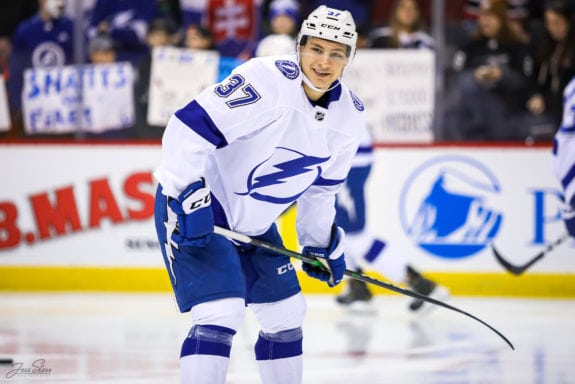 Having three deep scoring lines was essential to the Pittsburgh Penguins' runs of back-to-back Stanley Cups during the 2015-16 and 2016-17 seasons — the only team to have accomplished repeat championships during the salary cap era — and for the Lightning to have a chance to raise another Cup, they will need their third line to stay hot.
Finish Top-2 of the Central Division
Not only do the Lightning have to contend with a more compact schedule, but the 2020-21 season will also include new divisional alignments — including both teams from last year's Stanley Cup Final in the same division. With the new divisions also comes a new playoff format. Teams will need to finish in the top four of their divisions to qualify for the playoffs, with only one team from each division advancing to the "Conference Final" round. These four teams will be reseeded based on their regular season standings — meaning teams with the better record from the regular season will have home-ice advantage.
In a year that will see limited travel throughout the regular season, having home-ice advantage will be monumental during the playoffs. Even more so, if Tampa is one of the few stadiums that will host fans in attendance during the 2020-21 season — once COVID-19 restrictions are again lifted. Imagine a team playing four games on home ice in front of live fans while only having to play three on the road in an empty arena during a playoff series — it is almost unfair. Finishing in the top-two of the Central Division will put the Lightning in a great position to have higher seeding during the final two rounds of the playoffs.
Get Kucherov Back to 100% in Time for Playoffs
Again, it's another no-brainer to want to get your best scorer back in time to make a push for the Cup. However, the Lightning need to be careful about not rushing Kucherov back too soon. Tampa has invested in him for the long haul so it would be wise for Julien BriseBois and Cooper to let him take his time getting back on the ice. The team showed that they were able to be patient in the past, not rushing Stamkos back too soon during the playoffs last year, so there is reason to believe that they will continue that practice with Kucherov.
The good news is Brayden Point underwent a similar surgery two summers ago and was back on the ice within six months — looking stronger and faster than ever. That timeline would put Kucherov's return somewhere in May, right around the end of the regular season. While a first-round return would certainly spark extra life into the Lightning, having Kucherov at 100% health will be more important for a deep Cup run.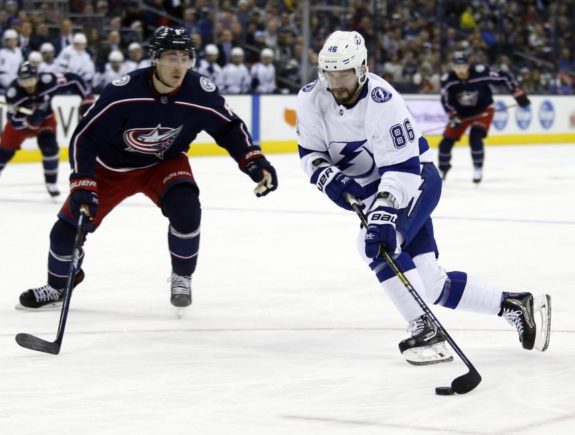 The Lighting wrap up their training camp with an intra-squad scrimmage on Sunday, Jan. 10, 2021, at 7 p.m. — the scrimmage will be streamed live on TampaBayLightning.com.
---
---