The New York Rangers one-goal game streak has ended at 15 consecutive games and not for the better. The Rangers gave up an embarrassing 6 goals in Game 2 of the Eastern Conference Final which continues to add to their Game 2 hardships.
"It's embarrassing," McDonagh said. "There are a lot of things you want to say right now but talking doesn't do much."
Safe to say, at this point, #Rangers' streak of 15 straight one-goal games in the playoffs is over. It was an NHL record.

— Seth Rothman (@SethDRothman) May 19, 2015
Game Two Troubles
The Rangers are 5-12 in Game 2 of the Stanley Cup Playoffs. Since the 2012 playoffs the Rangers are now 1-7 in Game 2 after winning the first game of the series
King Henrik hasn't fared well in Game 2s #StanleyCup pic.twitter.com/CG2TF24sbN

— NHL on NBC Sports (@NHLonNBCSports) May 19, 2015
Lightning Strikes Again …And Again …And Again
Henrik Lundqvist has allowed at least five goals in a single game only five times throughout the regular season. Three of those five goal games have come against the Lightning. This is his worst postseason performance since his playoff début more than nine years ago, allowing six goals in the Rangers' 6-2 loss to the Lightning in Game 2 of the Eastern Conference Final. Lightning strikes again. His other games of five-plus goals allowed came in back-to-back losses to Toronto and the Islanders in October.
Lundqvist, entered Game 2  with a 1.56 goals-against average and a .945 save percentage in the playoffs, shockingly allowed six goals on 26 shots.
"We just have to wipe it clean," Lundqvist said. "It's one game. It's a tied series; we're going down to Tampa."
Johnson Jolts The Rangers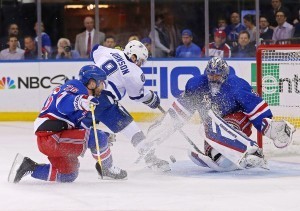 Johnson scored the third hat trick in these 2015 playoffs, after Vladimir Tarasenko for the Blues against the Wild and Filip Forsberg for the Predators against the Blackhawks. What makes his efforts triumphant is that Johnson scored one of his goals short-handed, one on a power play and one at even strength. Claude Giroux was the last one to record this achievement back in April 2013 against Pittsburgh in an 8-5 win. Scoring a SHG, PPG and ESG has occurred only seven times in modern playoff history.
Prior to Johnson's jaw dropping game, he had gone without a goal in the Lightning's past four playoff games after scoring eight in their first 10 postseason contests.
After Monday nights Game 2, this marks Johnson's fourth multiple-goal game of the playoffs; no one else has more than two. His hat trick was also the first in Tampa Bay's playoff history, which dates to 1996. Johnson leads all players in the playoffs with 11 goals and 16 points.
When asked the reason behind his playoff success, Johnson replied with, "Just playing with good players," a true team player.
"You walk into that kid's house and you look at the trophy mantle and all you see is trophies of where this kid has won," Lightning coach Jon Cooper said of Johnson. "Memorial Cup, Calder Cup, World Juniors … winning follows that kid. You're a special player for that to happen.
Penalty Problems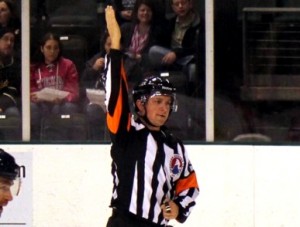 The Rangers took seven penalties and it cost them three power play goals. This is not something you want to do Against a team with Tyler Johnson and Steven Stamkos on the power play unit. There was a total of 14 penalty minutes awarded throughout the 20 minute first period.
The Rangers are up to 44 minor penalties in 14 playoff games and Tampa is no better with 68 minors in 15 contests. The only difference is they have Tyler Johnson and Steven Stamkos working their power play.
Tampa was 3-for-6 on the power play, scored a goal right after one power play ended and Tyler Johnson's first goal was shorthanded. The Rangers scored two power play goals.
"Our guys better figure it out quickly here and realize that stupid, selfish penalties are going to cost us against this team," McDonagh said
Big Ben Standing Tall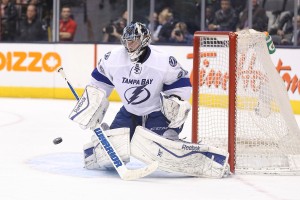 Ben Bishop has improved to 9-1-0 in 10 career decisions vs New York in both the regular and postseason after Monday nights 6-2 Game 2 blowout.
Bishop faced 37 shots on goal and stopped 35 of them. Bishop caught a couple of breaks in Games 1 and 2 from the Rangers missed chances, the continuous penalty kill on Tampa's part and the lack of production at even-strength on the Rangers back-end, but that's not to be overlooked by his skill and 6 foot 7 stretch.
"Obviously, we weren't happy with the first game," Lightning goalie Ben Bishop said. "We knew we had better in us." And that is exactly the type of performance Tampa Bay displayed on Monday night.
Optimistic
There's no need for New York to panic after Game 2, as it is still early in the series. Despite the mess of game 2, head coach Alain Vigneault has seen this movie before and overcome even worse deficits.
"I'm confident that we're going to respond the right way," he said. "We always have."
Michael is in his first year with the Hockey Writers covering the latest news on the New York Rangers. Michael is employed by the Madison Square Garden Company, having worked with the New York Rangers Hockey Administration Department and with the New York Knicks organization.