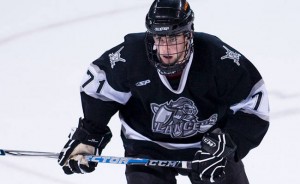 71 is a number we are going to get to see much more of in the near future. It was announced Sunday afternoon that Aaron Palushaj will be sent to the Hamilton Bulldogs which will give rookie Louis Leblanc another chance with the Montreal Canadiens. On Monday November 28th, two days after forward Max Pacioretty's suspension, Leblanc was recalled from the Hamilton Bulldogs after only 14 games with the AHL affiliate team to the Montreal Canadiens.
In the 2009 NHL Entry Draft, Leblanc was selected 18th overall by the Montreal Canadiens and on July 30, 2010, he signed a 3-year contract with the Canadiens. He joined the Montreal Juniors later that year. Leblanc is the first Montreal Canadiens draft pick to actually play for the Canadiens since 2007 where Pacioretty, P.K. Subban and Yannick Weber were selected. He will also be a welcome francophone addition to the team which currently only has 4 francophones left. This will help gain support for the team from the city's large French population.
In Leblanc's short time with the Hamilton Bulldogs, he gained 10 points in the 14 games that he played, with 4 goals and 6 assists to tie for second in scoring leaders. In his first game with the Bulldogs on October 27th, he scored 3 points including the overtime game winning goal in a 3-2 win over the Rochester Americans.
Before being moved to the Hamilton Bulldogs, Leblanc played for the Montreal Juniors in the Quebec Major Junior Hockey League (QMJHL) for the 2010-11 season where he recorded 58 points from 26 goals and 32 assists in 51 games. Even under increased pressure, he was still able to excel. He was an obvious target of jealous adversaries because of signing with the Montreal Canadiens, taking more hits and having to fight more which resulted in an accumulation 100 penalty minutes for the season. The Montreal Juniors won the first round of playoffs sweeping the Halifax Moosehead 4-0 before being eliminated in the second round to the Lewiston Maineiacs 4-2.
Leblanc is a bigger player, standing at a tall 6'1. He is a fast player considering his size and he is very offensively aggressive. He has been praised by coaches and scouts for his speed and his natural scoring ability and at only 20 years old, he is very young and has a lot of potential to bring to a team that desperately needs it this season.
Since joining the Montreal Canadiens on November 28th for their three game road trip, Leblanc has already accumulated one assist.  In his first NHL game on November 30th against the Anaheim Ducks he played only 7:52. His playing time almost doubled in his second and third games, playing 14:25 in the game against the San Jose Sharks and playing 11:11 minutes in his third game against the Los Angeles Kings. He finished his third game with plus 1 +/- as a result of the goal by Andrei Kostitsyn which he assisted.
Originally called up from Hamilton to replace suspended Pacioretty, who was to sit out three games after a head hit to Kris Letang in the November 26th game against the Pittsburgh Penguins, it was unsure how much attention Leblanc would receive. After an impressive initial performance, he is getting another chance with the Canadiens before it is decided whether he will stay with the Canadiens who are in need of a refreshing youthful change, or return to the AHL to fine tune his talent and skills before settling in with the team.