In less than ten days, two Toronto Maple Leafs have been fined. Joe Thornton got tagged with a $3,017.24 by the NHL for interfering with Winnipeg Jets forward Mathieu Perreault. Thornton caught Perreault with a shoulder to the mouth in the third period of Thursday's 5-3 win over the Winnipeg Jets. Zach Hyman was fined $5,000 last week for a high sticking infraction against Winnipeg Jets defenceman Neal Pionk. Hyman took issue with Pionk's repeated slashes; he turned and chopped his stick down but caught the defenceman in the face. Both infractions were against Winnipeg; Jets' head coach, Paul Maurice, was asked if the Leafs are a dirty team. Here is his answer.
Maurice said, "I don't think so, I don't – I don't feel that. The League is said they are not, so we will abide by the League's rulings." Maurice paused then added, "but they are a poor team, right they've had some fines probable they'd be looking at some part-time jobs now 'cause that's gotta hurt." It's interesting wording by the Jets coach. Going with the NHL direction, but pointing out that Toronto has been getting fines lately, which may lead one to believe that they are dirty.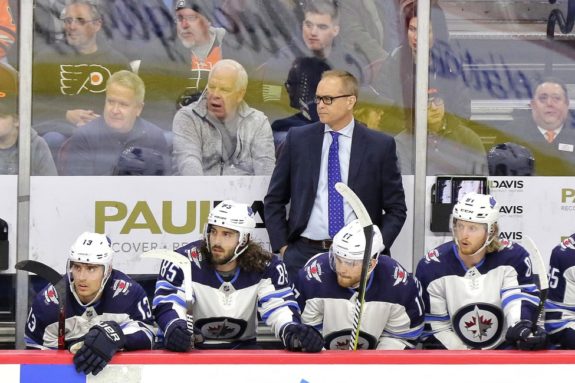 If you were following any Jets fans and commentators during Thursday's game, you would think Toronto has turned into a goon-squad. After Alex Galchenyuk's high hit on Adam Lowry, people were furious. Others called out Nick Foligno's hitting from behind against Josh Morrissey. Two infractions that were not called. Those same Jets' fans didn't seem to notice when Pierre-Luc Dubois cross-checked Foligno from behind directly into the boards. We know how it goes. We see the calls through the eyes of our team.
Several Infractions even to Big Names
There have been several fines and suspensions handed out recently and even more called for on social media. The Vancouver Canucks, Alex Edler, was suspended for two games after a knee-on-knee collision with Hyman. Michael McCarron of the Nashville Predators was also suspended for two games for a headshot against the Tampa Bay Lightning's Yanni Gourde. Montreal Canadiens fans have been calling for fines and suspensions against the Edmonton Oilers Connor McDavid. He did receive a $5,000 fine for an elbow last month. Another league superstar, Nathan McKinnon of the Colorado Avalanche, received a $5,000 penalty this season for unsportsmanlike conduct.