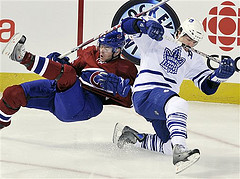 Christopher Ralph, staff columnist for the Toronto Maple Leafs, The Hockey Writers
Last night in Toronto's 3-1 loss to Buffalo, Brad May reached the 1000th NHL game played plateau, becoming only the 21st player donning a Leafs jersey to do so.
The native of Stouffville, Ontario was actually drafted by the Sabres 14th overall in 19990.
As Craig Simpson in his blog at CBC reported:
"How fitting it is that on a night when he becomes the 21st player to play his 1,000th NHL game in a Maple Leafs jersey that his opponent will be the Buffalo Sabres, the team it all started with. In a classy move, the Leafs will leave May out of the lineup against the New Jersey Devils Tuesday in order to make the Sabres the opponent on his historic night."
Brad May is probably most famous for his series-clinching goal against the Bruins' Andy Moog in 1993 and the concurrent call by the Sabres game announcer Rick Jeanneret – a very entertaining announcer indeed. The "May Day, May Day, May Day…!!!" call still rings in the ears of Sabres, Bruins and hockey fans alike.
https://www.youtube.com/watch?v=Z0xxSsEqjIk
I couldn't put it better myself as Simpson goes on to state:
"At times the phrase, 'one of the true good guys in the game' can be overused when describing players, but not in May's case. Congratulations Brad on 1,000 NHL games. Most of those nights were spent doing things the hard way, like digging in the corners, finishing checks, battling for loose pucks, driving to the net and dropping the gloves to defend a teammate."
The Pension Plan Puppets (a blog on the Leafs) had an interesting post debating whether or not the Leafs should resign May, and in-so-doing give up a 6th round draft pick to the Ducks, as per the trade agreement.
Luke Schenn had this to say on what Brad May told him about reaching the milestone:
"He told me that one day he's going to build a house and (wallpaper) it with all the X-rays he's had in his career!."
I'd like to close out with a video highlighting the "Top 10 Rick Jeanneret Calls", since when else am I going to fit this in a column! Wind up Jeanneret and let him go!
https://www.youtube.com/watch?v=JEfbyrKnKc0&feature=related
Chris is THW's senior draft/prospect analyst and a Managing Editor. Watch for "The Next Ones" Prospect Profile series, exclusive rankings, mock drafts, as well as the annual THW NHL Entry Draft Guide. Follow @ChrisRalphYQ on Twitter as he infiltrates, dissects and analyzes all happenings of hockey prospects and the NHL entry draft. Email: cralph[at]thehockeywriters[dot]com