Sportsnet's Elliotte Friedman set the hockey world aflame a couple of weeks ago with his rumour about a "mystery forward" that the Toronto Maple Leafs were potentially in on, revealing in his latest edition of 31 Thoughts that the player he had in mind was Nashville Predators forward Mikael Granlund. While Granlund may not be the sexiest name on the market, the 28-year-old winger brings a unique combination of skill and smarts that would complement the Maple Leafs' already stacked top-six.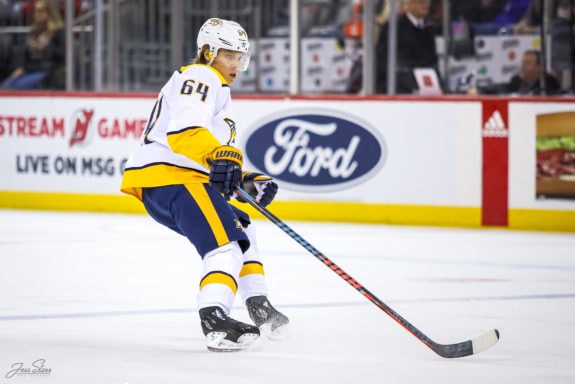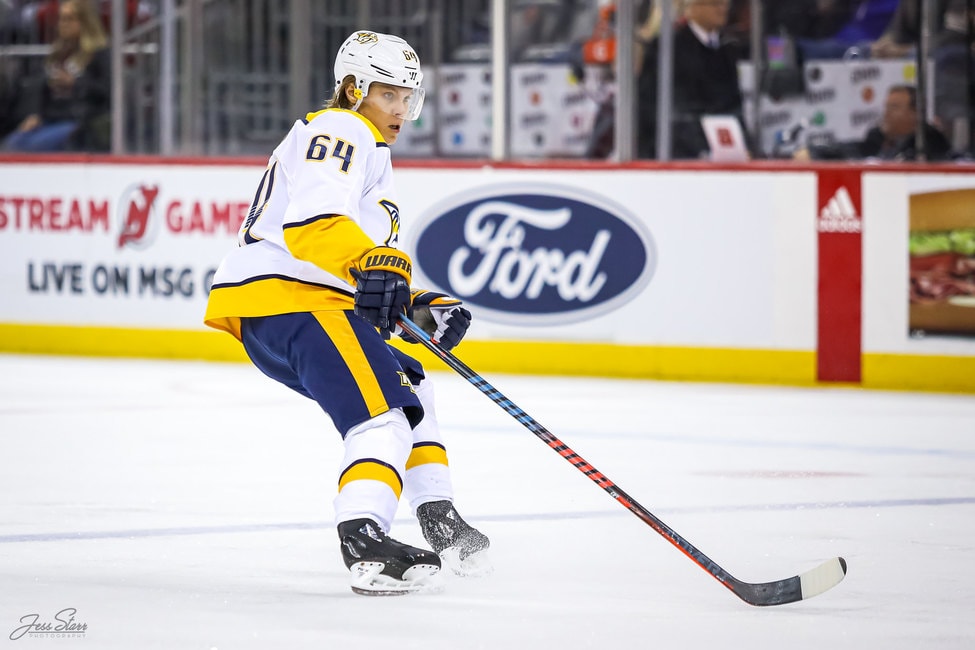 Here's a look at why the Maple Leafs are reportedly looking to bolster their offence, and why Granlund's name has been thrown around as a potential target.
The Maple Leafs Need Their Second Line to Get Going
With a sterling record of 14-3-2 and a commanding lead in the North Division, it's hard to complain about the Maple Leafs right now: the Auston Matthews-Mitch Marner duo is lighting it up, the new and improved defence looks better than ever, and goaltender Frederik Andersen has found his rhythm of late. However, there is one issue that's hard to ignore for even the most optimistic fan, and that's the sputtering second line.
Related: Maple Leafs Marner & Matthews In Meteoric Rise Up NHL Leader Board
Although their point totals look respectable on paper, John Tavares (6-11-17) and William Nylander (5-9-14) haven't been at their best this season, especially at five-on-five. In over 200 five-on-five minutes together, the pair have combined for just seven goals for despite relatively cushy usage, including just two goals between them in the last eight games. Compare that to Matthews and Marner, who have outscored the opposition 22-7 while generally taking on tougher matchups, and you can see why there's a potential problem here.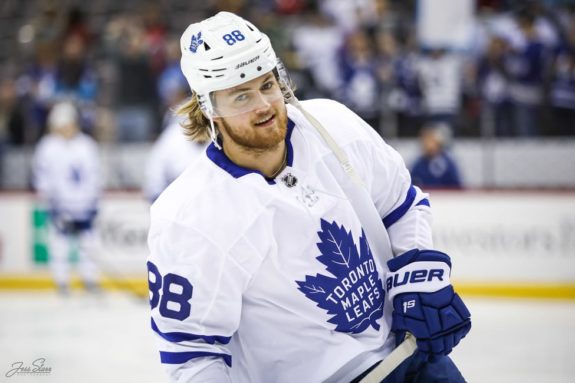 There is a silver lining, though. Despite their scoring struggles, Nylander and Tavares are still dominating together, posting a solid 56 percent expected goals for (xGF%) while controlling over 53 percent of shot attempts (CF%). Those numbers are just slightly worse than what we've seen from the Matthews-Marner duo (59% xGF, 55% CF), which suggests that the goals may come for Toronto's second line.
It's also worth mentioning that the line looked particularly strong last week when Alexander Kerfoot took a turn on the wing, and we know based on last season's results that the combination can work. The issue, of course, is that when you remove Kerfoot from the third line centre role, the Maple Leafs' depth suddenly looks a lot worse with Pierre Engvall asked to carry that burden. He's not a long-term solution. And while we can argue about Kerfoot's effectiveness as the Leafs' 3C (I think he's been fine), he's a more trustworthy option than the 6-foot-5 Swede.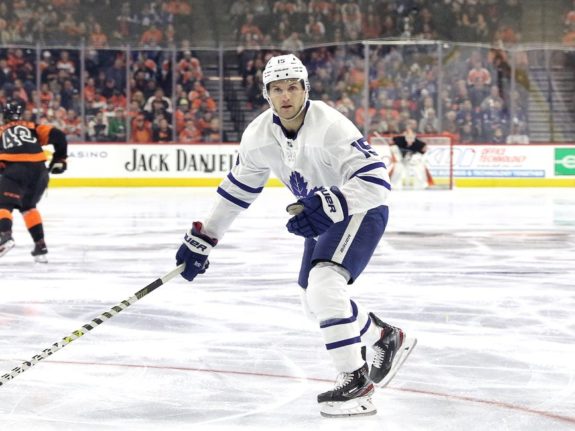 All of this is to say that while Kerfoot may be able to help the struggling second line, he's probably not the player you want there down the stretch, especially into the playoffs. If Kerfoot stays put on the third line, that leaves the team with either Joe Thornton (he seems to be glued to the top line, at least for now), Zach Hyman (head coach Sheldon Keefe seems to prefer him in a third-line shutdown role), or a new option, which is where Granlund comes in.
Granlund's Skillset Would Complement the Leafs' Stars
Granlund is interesting in that he doesn't have any standout skills that will blow you away; he's not the fastest or biggest player on the ice, nor does he have the best hands or the hardest shot. Rather, he's a jack of all trades type of player, which allows him to adapt to whatever role he's placed in.
Related: Maple Leafs Have to Answer the Nylander Issue
During his best years with the Minnesota Wild, the Finn played primarily alongside Jason Zucker and either Eric Staal or Mikko Koivu in a top-six role, collecting 185 points in 221 games from 2016-17 to 2018-19. While he hasn't shown that same level of production since being traded to the Predators, Granlund still carries the reputation of a player who can elevate his game alongside stars while also being excellent in his own zone.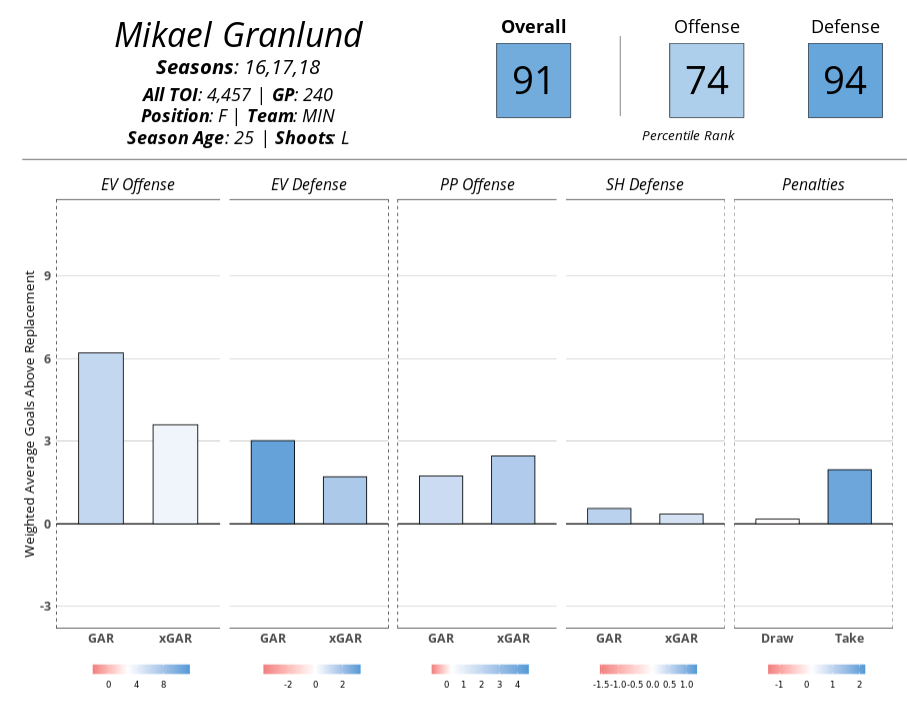 Although his offence has trailed off since joining Nashville (where he's scoring at a 37-point pace), he was an elite two-way force during his prime with the Wild. While the Maple Leafs may not be getting the absolute best version of Granlund, who turns 29 this week, there is an argument to be made that he could regain his scoring touch next to stars like Tavares and Nylander, who would probably be the best linemates he's ever had. Couple that with his defensive prowess, and Toronto would have a pretty sturdy second line.
Granlund Could Be Had for Cheap
With the recent news that Nashville is open for business, they'll be looking to sell off spare parts before the trade deadline on April 12. Given his lack of success in Music City, you've got to think that Granlund's stock is at an all-time low. That's not to say that he'll be given away for a bag of pucks, but the Predators won't be able to demand a king's ransom for a struggling forward on an expiring deal.
Related: Maple Leafs Finnish Prospects Leading 2020 Draft Class
Speaking of his contract, Granlund is making $3.75 million this season, which seems like a bit of a bargain. However, with just over $44,000 in available cap space, the Maple Leafs would have to pull some strings to make it work. They would have to send a couple of bodies the other way and would likely ask Nashville to retain some money as well. Would an offer of Jimmy Vesey, a B-level prospect (Filip Hallander?), and a second-round pick do the job? Maybe not, but a lot will depend on how desperate Nashville is to recoup some value on expiring contracts before the deadline.
Based on the way this season is shaping up, the Maple Leafs should have their best shot at the Cup in recent memory. It's time to go all-in, and Granlund may be the first chip to fall.
Stats from naturalstattrick.com
---
---