As one of the more storied franchises in the National Hockey League, there are often questions, comments and (always) opinions floating around social media regarding the Toronto Maple Leafs.
Often, these will lead to bigger discussions and debates about the direction of the franchise and the current state of the team. Here at The Hockey Writers, we'll attempt to answer or mediate the conversation – inserting our thoughts on the questions and concerns raised by our readers.
With that said, you can get your questions in for our weekly mailbag by sending your thoughts to @AndrewGForbes on Twitter or email them to andrew@thehockeywriters.com.
This Week in the Mailbag
This week, we got a number of questions regarding the Maple Leafs. Some were interested in the long-term future of the franchise, while others were questioning the state of the Leafs heading into the home stretch of the season. That being said, here's what we had delivered to the office this week.
If you could add any player in the league to the Leafs roster to make them a contender, who would it be (not just short-term)? (Tom via Facebook)
There's really no easy answer to this question. At this point, there are two or three holes that the Leafs have to fill before we can even talk about them being overly competitive come playoff time. However, it's fair to say that the Leafs are in need of a top-end defenceman before they attempt to fill in the other holes (a back-up goaltender, another top-nine forward and possibly another three-four defenceman).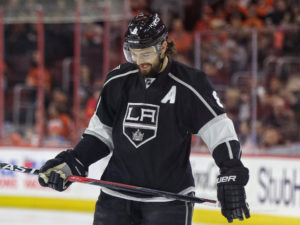 With that in mind, I have three candidates that would be helpful to the current Leafs lineup (none of which will don the blue and white anytime soon) – Jacob Trouba, Aaron Ekblad and Drew Doughty.
For starters, Trouba is just 23 years old. Sure, he's not the most experienced NHLer, but he plays an all-around game that would benefit the Leafs defensive core. While a lot of bad press surrounded the young rearguard following his short holdout to begin the season, he has an extremely high ceiling with a lot of hockey ahead of him.
Ekblad's influence on the Leafs roster would be incredible. The discouraging aspect of his potential is the two head injuries that he's dealt with in the past two seasons. That being said, the 21-year-old has 37 goals and 96 points in just 226 regular season games over his short NHL career so far. Even with a struggling Panthers team to start the year, Ekblad may have been one of the bright spots defensively speaking.
His Corsi For Percentage (CF%) is 51.8 this season, with it a little higher since coming into the league at 52.2, according to Stats.HockeyAnalysis.com. While Ekblad hasn't reached his highest potential at the NHL level yet, he's a physical body that can play in both ends of the ice.
Finally, there's Doughty. Aside from having won at basically every level, Doughty brings an intensity to the ice with his game. In 673 regular season games, he has 88 goals and 355 points  – including 19 game-winning goals. Add that to his 51 points in 81 playoff games with the Kings and it's pretty clear how successful he's been over his career.
If that's not enough, he has a 57.2 CF% over the past three years and brings a lot of character to his team as well – something that can be useful with such a young franchise.
Now, even though these three would be major assets for the Leafs, let's get something straight. You'll likely never see any of the three in blue and white. But it's a player of this magnitude on the backend that the Leafs would find useful in their growth and development as a franchise.
Do you think Laich, Michalek, Greening and Lupul's NHL careers are done? Do you see any call up potential, or do you think they might catch on with another team down the road? (Jesse via Facebook)
Speaking about those four specifically, if anyone might catch on somewhere it'll be Brooks Laich and Colin Greening.
Laich and Greening are both unrestricted free agents (UFA) at the end of this season. Laich is 33 years old and likely on the decline of his career, while Greening is still just 31 and could add some depth to a team looking for a fourth-line type of player.
Laich's had a fairly successful individual career with 331 points in 764 career regular season games, but there's not arguing that his best days are behind him. He hasn't passed the 20-point plateau since 2011-12 when he notched 41 with the Washington Capitals.
Greening hasn't played more than 30 games in one seasons since 2013-14 with the Ottawa Senators. That year, he had just 17 points. That being said, he racked up 15 points in 30 games with the Leafs in 2015-16 and could bring something to another team – possibly.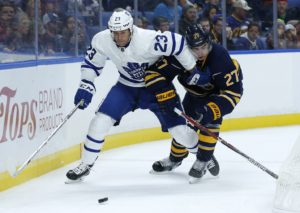 The other two mentioned in the question are less likely to catch on somewhere. Joffrey Lupul is 33 years old and to say he's injury prone is an understatement. He still has one year left on his current contract with the Leafs at $5.25 million and it's unlikely he'll find a place in the Leafs lineup when he does return.
Michalek could add some depth to another club, but at 32 he's seen a significant decline in his offensive numbers as well. On top of that, he's dealt with a few injuries over the last couple of seasons. Like Greening and Laich, Michalek is a UFA at the end of this season so there is a chance that another team could sign him to a one-year deal for some depth in their lineup. If that happens though, it will only be in a minor role.
While we're on the topic, you might as well add Nathan Horton and Stephane Robidas to the mix. Robidas' contract is up at the end of this season and the Leafs won't be bringing him back, while Horton's injury trouble is going to continue to keep him out long-term.
The fact is, a lot of teams are looking more towards younger and faster players in a game that is constantly changing. These four players just don't fit into the standard anymore.
We'll be opening more Maple Leafs mail next week, so be sure to get your questions, comments or anything else related to the Toronto franchise into me on Twitter at @AndrewGForbes or via email.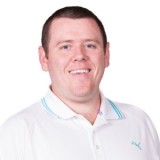 Andrew is in his 8th year reporting for The Hockey Writers covering the Toronto Maple Leafs. He began his broadcasting with CBC's Hockey Night in Canada team as well as being part of their coverage of the 2014 Winter Olympic Games in Sochi. He's the former play-by-play voice of the London Jr. Knights for Rogers TV and currently hosts the Sticks in the 6ix podcast. You can follow him on Twitter at @AndrewGForbes.