The Toronto Maple Leafs recently completed their swing of hockey on the California coast. They played a masterful game and shut out the Anaheim Ducks before losing a close one against the Los Angeles Kings the following night. The trip ended with a clash against the San Jose Sharks who put a beating on the Blue and White and skated away with a 7-0 victory.
As with any NHL franchise, the Maple Leafs generate a ton of headlines. In last week's edition of Maple Leafs News, the topics ranged from James Reimer to the World Juniors. You can read that edition here. This week's article will focus on "Uncle" Leo Komarov, the Toronto Marlies, and the unfortunate injury sustained by James van Riemsdyk.
All-Star Komarov
Last week, the NHL announced their full rosters for the All-Star game taking place in Nashville. There are some incredibly deserving players taking part and there is also one in particular that makes me sigh in disappointment. Toronto will be represented by fan favourite, Leo Komarov, who is in the midst of having a career season for the Blue and White.
Affectionally known as "Uncle" Leo, Komarov has earned the full trust of both Mike Babcock and his teammates on the ice. He gives it his all on every shift and continually pesters his opponents. He will hit anything that moves and finds the most effective ways of making the opposing player irate. Just ask Drew Doughty about his most recent encounter with Komarov.
Komarov is seen as much more than a pest for the Maple Leafs. He's an excellent penalty killer and is currently the second leading scorer on the team after James van Riemsdyk. Komarov has already set a career high in goals with 15 and is on pace to set a new record for points. He had 34 while playing for Moscow Dynamo in the KHL. He currently has 28 in 40 games which leaves him half the season to shatter that feat.
In a season of uncertainty and pain, Komarov has been a breath of fresh air.
JVR Out 6-8 Weeks
It was reported on Monday morning that James van Riemsdyk, the Maple Leafs leading scorer, will be put on the shelf for the next little while due to an injury. He has a non-displaced fracture in his left foot, which may have been sustained in the Leafs most recent loss to the Sharks.
Babcock said van Riemsdyk "got hit in the foot" in San Jose. "There's a real good opportunity for someone," he says with van Riemsdyk out.

— Jonas Siegel (@jonassiegel) January 11, 2016
For those wondering, a non-displaced fracture is defined as when the bone cracks either part or all of the way through, but maintains its proper alignment. Losing a player of van Riemsdyk's calibre will hurt the Leafs, who have put in a call to the Marlies and scooped up Josh Leivo, who is having a fantatsic season in the AHL.
Marlies Getting Chances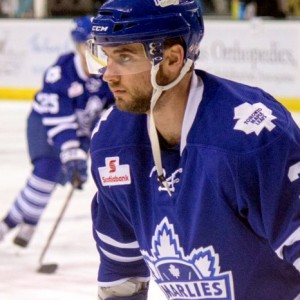 The Toronto Marlies are one of the hottest teams in the American Hockey League. Under head coach Sheddon Keefe, the team sports a spectacular record of 29-7-2 which amounts to 60 points. The next closest team in their conference only has 48 points. They have received contributions from almost everyone on the roster, with many standing out.
William Nylander has been spectacular in his time with the Marlies, but will now have to pass the leagues concussion protocol before being cleared to play again. Defenseman, TJ Brennan, has been outstanding and has recorded 34 points in 37 games. The aforementioned, Josh Levio, was also doing very well and was rewarded with a call by the Leafs.
The Marlies have also been impressed with the play of Nikita Soshnikov, who is enjoying his first season in North America. It may still be early, but this is a team with championship aspirations. The Leafs' players of the future are in good hands and should slowly become a threat as they continue their development.
My name is Anthony Fusco. Through school, I completed a joint degree involving an Honours B.A. in Journalism from Wilfrid Laurier University and a Videography and Broadcasting degree through Conestoga College.
I currently work for the University of Toronto as a Varsity Sports Announcer and for the Toronto Maple Leafs as part of their game presentation squad.
I'm also the play by play voice of the Kelowna Falcons, a baseball team located in British Columbia.
My goal is to one day be a hockey broadcaster.