In this edition of Toronto Maple Leafs' News & Rumors, with the team having a short break until Saturday's game against the Edmonton Oilers, I'll share some updates on what's happening with some of the players on the team.
---
---
I'll look specifically at Rasmus Sandin's hot start with his new team. I'll also share some information about the two newcomers from the Chicago Blackhawks – Sam Lafferty and Jake McCabe.
Item One: Rasmus Sandin Has Started Well in Washington
For those Maple Leafs fans who continue to follow former team members after they are traded, Rasmus Sandin made his Washington Capitals debut on Saturday against San Jose. Because the Capitals were dealing with injuries to defensemen, Sandin had a chance to play significant minutes with his new team. 
Related: Maple Leafs' Rasmus Sandin Has Little Choice But to Become a Star
---
Latest News & Highlights
---
It was an impressive debut. Sandin registered three assists in an 8-3 Capitals' win. He jumped right into quarterbacking the power play and led all Capitals' defensemen with 2:55 on the man advantage. 
Sandin didn't stop there. He also had an impressive second game with his new team, scoring a goal and adding an assist. In total, he tallied five points in his first two games with Washington.
Given his fast start combined with a significant injury to long-time defenseman John Carlson, Sandin should continue to play a prominent role on the Capitals' defense. Good luck to him with his new team.
Item Two: Conor Timmins' and Timothy Liljegren's Playing Time Down
In his recent "32 Thoughts" post, Elliotte Friedman noted that Ryan O'Reilly's injury timeline is four weeks. That's good news for the Maple Leafs and puts O'Reilly on track to return at the start of the playoffs. Friedman also noted that, despite not playing because of his injury, O'Reilly has already had a positive impact on the team's dressing room and on team camaraderie.
Related: 3 Reasons Maple Leafs' Conor Timmins Offense Is Sustainable
Friedman also spoke about the team's conversation with recently-extended defender Conor Timmins. He noted that the Maple Leafs have been transparent with Timmins about how adding more defenders would impact his ice time. However, the organization assured him that he was a big part of the team's plans.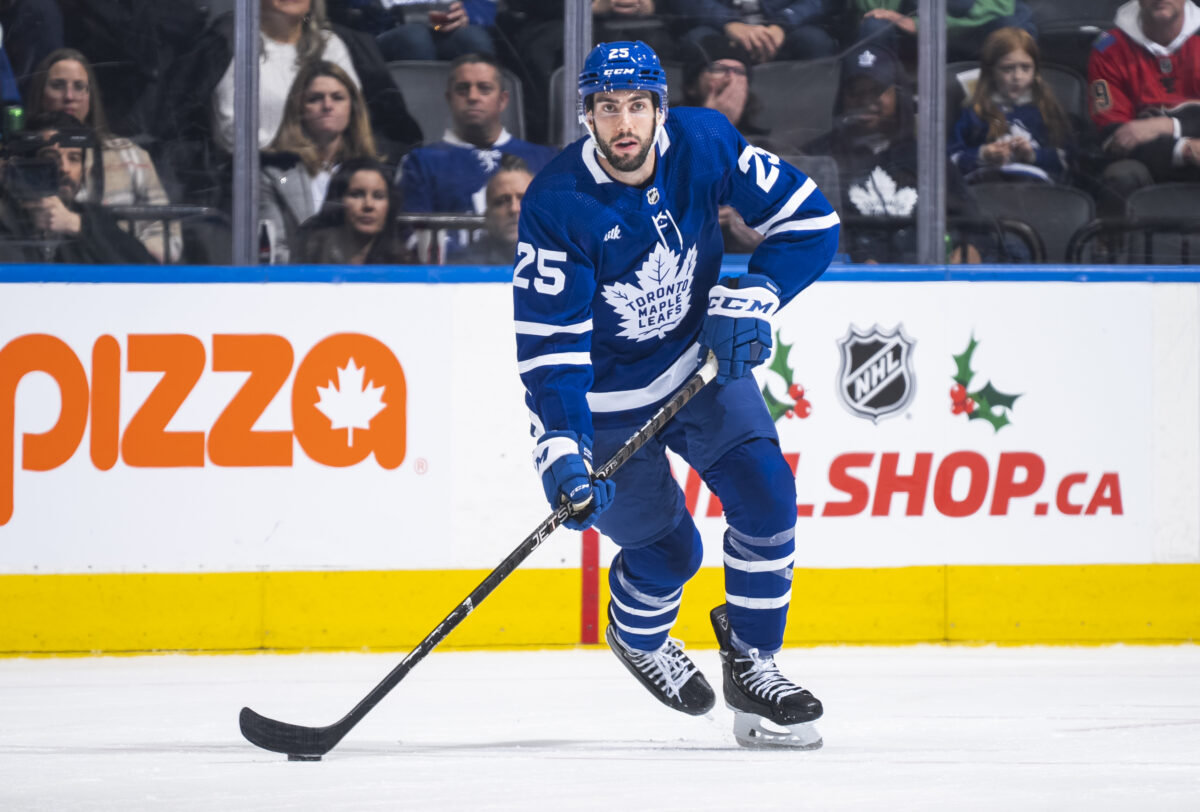 Friedman noted that the situation was more delicate with Timothy Liljegren, who recently returned to the lineup against the New Jersey Devils after missing two games.
Item Three: Sam Lafferty Is Fitting in Well
Jake McCabe and Sam Lafferty were acquired by the Maple Leafs from the Chicago Blackhawks and joined the team during a long road trip. As a result, they haven't had the chance to settle into Toronto yet. 
Lafferty has already started to show signs of his potential on the ice. In his last game against the Devils, with John Tavares out, Lafferty was inserted into the second-line center spot. He registered his first point in Blue and White.
Related: Top 10 Weirdest Goalies in NHL History
It was Lafferty's fourth game with the team. Head coach Sheldon Keefe lauded Lafferty's speed and ability to put the other team on their heels with his skating. That speed was particularly obvious during the second period when he flew through the neutral zone and put the Devils' defense on its heels. 
I'm not sure if this is a pattern or just a coincidence, but general manager Kyle Dubas seems to have a taste for intelligent players. And Lafferty is just that. He played hockey for four years at Brown University, which is an Ivy League school in Providence, Rhode Island.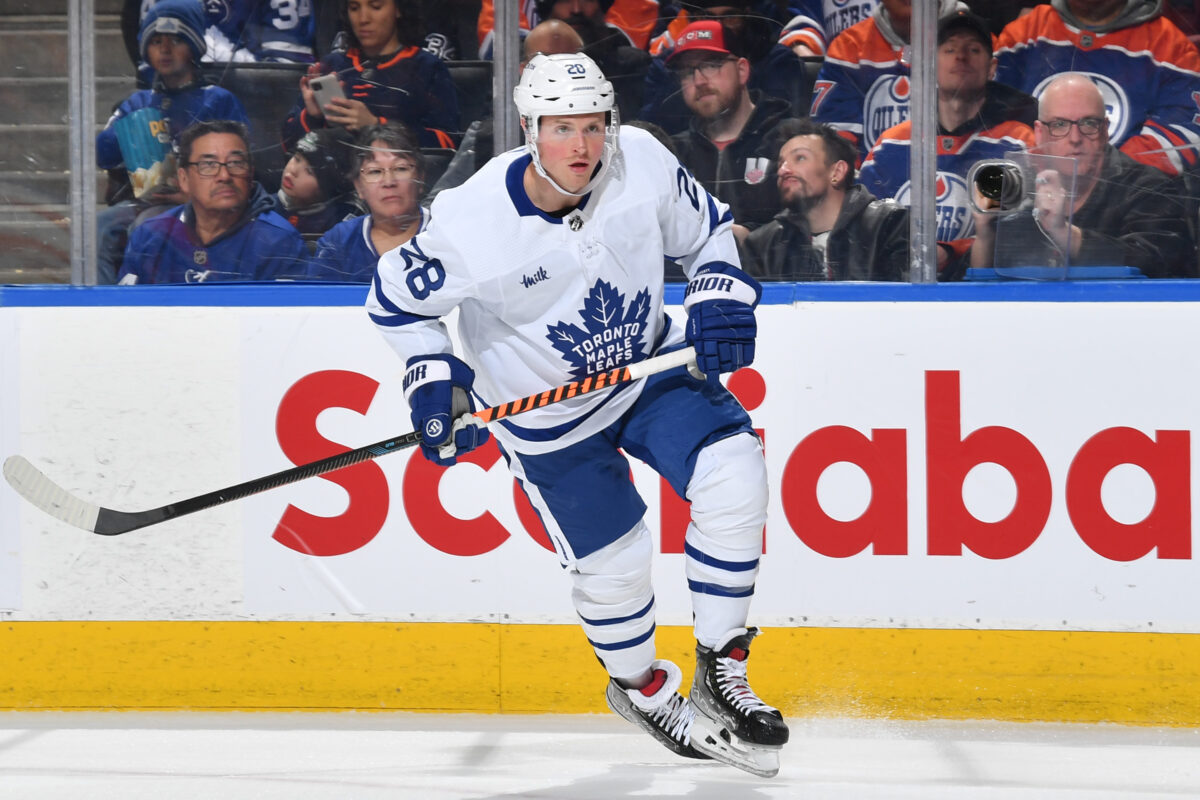 Lafferty also spent time honing his game in the American Hockey League before moving up to the Blackhawks. While he's 28 years of age, he isn't really grounded yet as an NHL player. This season is his best offensive season so far with 10 goals and 12 assists. There's a chance he'll become a solid player for the Maple Leafs in the future.
Item Four: Jake McCabe Has Never Played a Postseason Game
Jake McCabe has already shown that he's a physical player. He brings a tough, aggressive edge to the team's defense. Similar to O'Reilly, he's known for how hard he hits. However, he also manages not to rack up too many penalty minutes. 
You may also like:
McCabe's playing style of play is similar to another Jake – Muzzin. It would seem that the team hopes he'll take on a role similar to Muzzin's on the team. (from "Maple Leafs newcomers Sam Lafferty, Jake McCabe are making themselves at home," Kevin McGran, Toronto Star, 08/03/2023)
Related: Maple Leafs' Forgotten Ones: Travis Green
McCabe noted that he was eager to finally get a chance to play in the playoffs after 10 years as a pro without any postseason action. His closest thing to "meaningful" postseason hockey was when his Team USA team won a gold medal at the world juniors. He's been looking forward to playing in the NHL playoffs his entire career. 
McCabe plays his first home game this coming Saturday against the Edmonton Oilers. He shared his excitement about playing in front of Toronto fans. He's working to get his family settled during the few days off before then. 
What's Next for the Maple Leafs?
In a number of player moves this week, late yesterday, the Maple Leafs reassigned both Pontus Holmberg and Alex Steeves to the Toronto Marlies.
Holmberg has registered 13 points in 37 NHL games this season. Steeves has played three NHL games this season without recording a point. It isn't clear if this is just a paper transaction or if both players will remain in the AHL for a longer period.