Today is American Thanksgiving, and the Toronto Maple Leafs Nick Robertson is an American. However, the 19-year-old and his family are sacrificing important time together as Robertson chases his singular dream of making the Maple Leafs roster.
Related: Maple Leafs' Nick Robertson Must Play Regularly This Season
I know the jury is out still about Robertson's ability to make the Maple Leafs lineup. Personally, I believe (a) he's capable – as in he has the skill and will to not only be part of the line-up but to make a valuable contribution to the team; (b) because he's obviously so talented he's created a "good" little problem for the Maple Leafs organization because age restrictions prevent him from playing with the AHL Toronto Marlies and he's much too good to play with Peterborough again; and, (c) he has the potential to be a good fit for the team because his skills complement others who would play on one of the team's top three lines.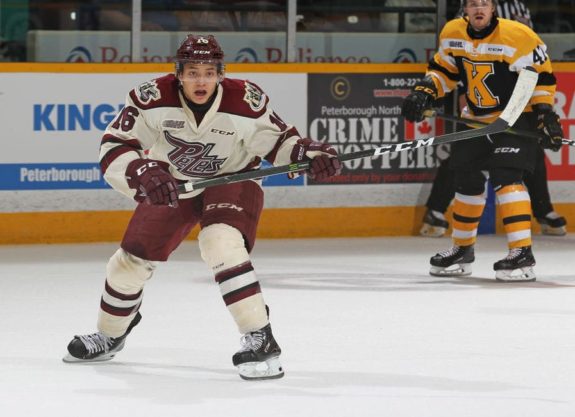 Whenever I write a post that discusses Robertson's future, there are a variety of comments from readers. Some fans believe he's the best prospect in the system and should be given a chance; on the other hand, others believe he should return to junior again to develop his skills. I suppose there are alternatives in Europe and being 19 years old in Europe – whenever this COVID-19 pandemic is under control – can't be all bad.
Still, what to do if you're the Maple Leafs organization?
Sportsnet's Chris Johnston's Great Article About Nick Robertson
Today when I read Sportsnet's Chris Johnston's great article I was reminded just how young Robertson is and how much he's missing because he wants so badly to become a part of the Maple Leafs' roster. Robertson's still a teenager, and he's been "stuck" in Canada since May. He hasn't seen his family in more than half a year.
He's an American kid and, as he notes, today is Thanksgiving. It's, as I'll share later, his family's favorite day to gather in masse to celebrate.
As Robertson told Johnston, "If I would have a choice, it would be with my whole family back home in Michigan with the snow. We'd just have maybe like there's Honey Baked ham … that we like. Just being around family, friends, girlfriends, all that stuff; bring them over and just kind of enjoy ourselves."
Robertson added, "That would be my fantasy Thanksgiving."
Instead of Being With His Family, Robertson Is Living Alone in Toronto
Instead of being with his family on Thanksgiving, Robertson is living alone in a rented Airbnb because, after the Maple Leafs were eliminated from the postseason in August, he believed staying in Canada gave him the best chance to prepare for the coming season. He wants to make the Maple Leafs roster; and, he'll do what it takes to do so.
Related: Top 5 Goaltenders of the 1970s
When asked if it's been tough, Robertson responded: "Yeah I think that's an understatement. It's been pretty hard, especially for my parents."
In his article, Johnston quoted Hugh Robertson – Nick's dad. Last year, dad Hugh told the Toronto Star that Thanksgiving is "the most important day of the year for us. We have a whole new take on Thanksgiving. He (Nick) survived."
Here's what Nick's dad meant by that statement. For Maple Leafs fans who don't know Robertson's story, Nick is the family's miracle baby. He was born on Sept. 11, 2001, three months premature. He would have died at birth except for a "do-or-die shot" that injected oxygen into his brain and lungs. He wasn't able to leave the hospital for more than two months, and he came home on Thanksgiving Day.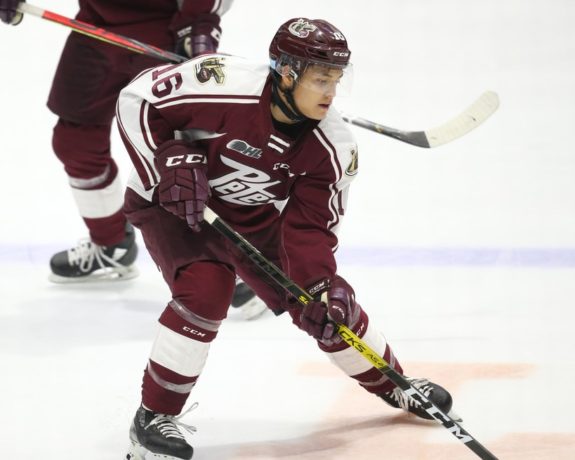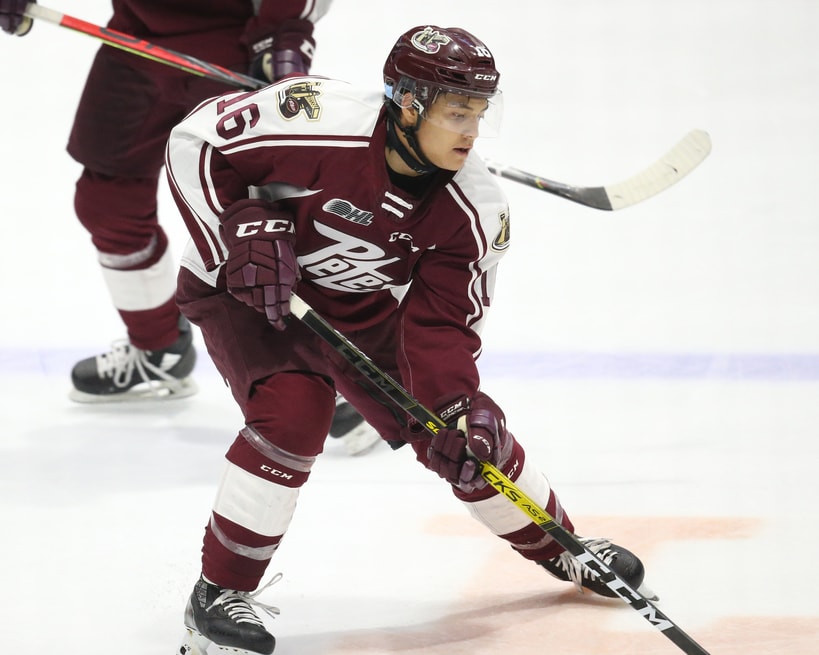 Another part of the context was that the day Robertson was born – Sept. 11, 2001 – is now widely known a "9-11." It was the day terrorists orchestrated a number of deadly attacks on Americans. Terrorists flew planes into and destroyed New York City's World Trade Towers, thousands of people lost their lives, and that single day changed all of our lives – especially if you lived in the United States. And, the Robertson family is from California and now lives in Michigan.
Robertson Misses His Family But Is Building a New Family
Although he now resides in Canada and hasn't seen his family since May, Robertson still has much to be thankful for. His Maple Leafs teammates have welcomed him to their lives and are taking care of him. He spent time with Jack Campbell at Campbell's home; he lived with Jake Muzzin's family for a while; he's a regular video-game player with Zach Hyman.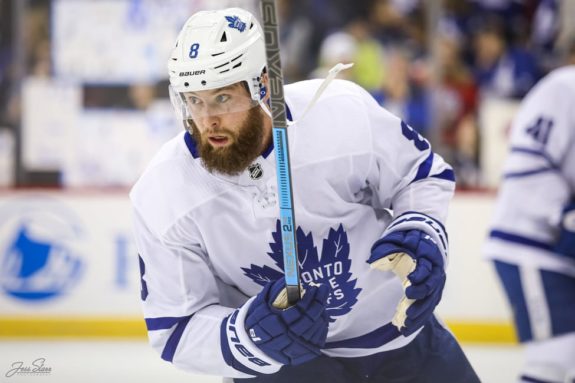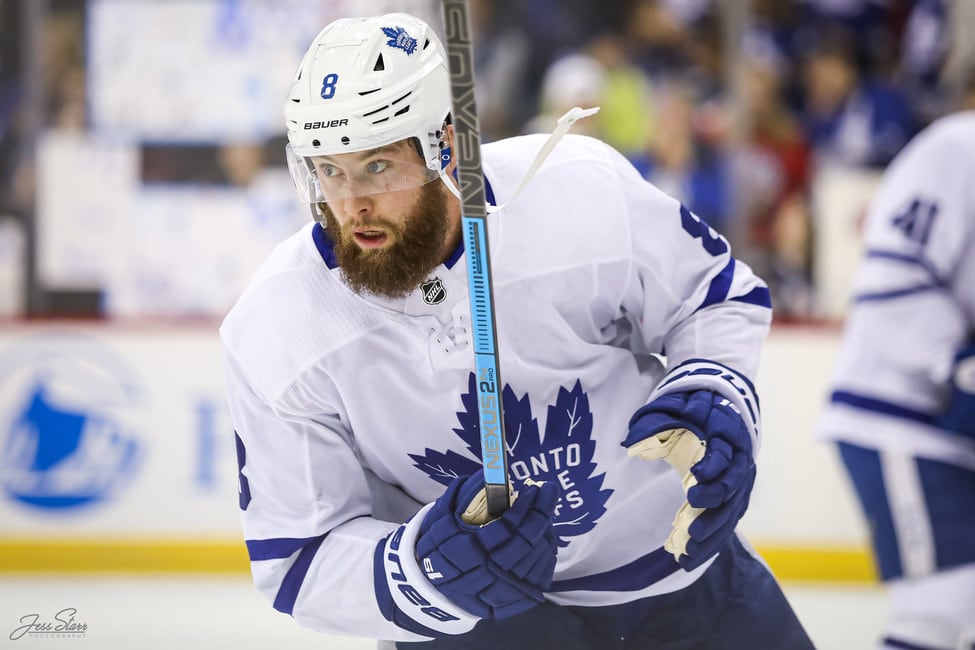 In short, thanks to his teammates, he no longer feels like the new kid on the block. He's finding and building a second home.
Related: Hitting in Women's Hockey: Why Not?
In fact, Robertson noted "Muzzin opened his house and his family with [wife] Courtney and [daughter] Luna. I think that was one of the good times I've had so far is staying with him. I stayed there for about two weeks and just kind of got to know him and [understand] the NHL lifestyle and asked him questions and everything."
What Does the Future Hold for Robertson?
In my post today, I've focused on the point that Robertson is doing all this and he's still a teenager. But, there's a kind of maturity in his actions that belie his youth. He's driven and willing to pay the price to achieve his goals. He doesn't fret but turns problem into possibility. He's optimistic and chooses the positive path. Above all, he's a worker.
Related: What Happens if the Toronto Maple Leafs' Nick Robertson Is Really Good?
He might or might not be loaned to Team USA next month, where he starred last year at the World Junior Championships. He might or might not make the Maple Leafs roster when training camp begins. He might or might not have made the right choice in not being able to be with his family this Thanksgiving, which as noted is the family's most important day of the year.
Still, in all that, Robertson's grateful to be exactly where he is right now. As he says, "I know it's hard being away from home, but it's kind of a blessing in disguise because this is an experience that not many 19-year-olds can have before they step in the league."
---
---