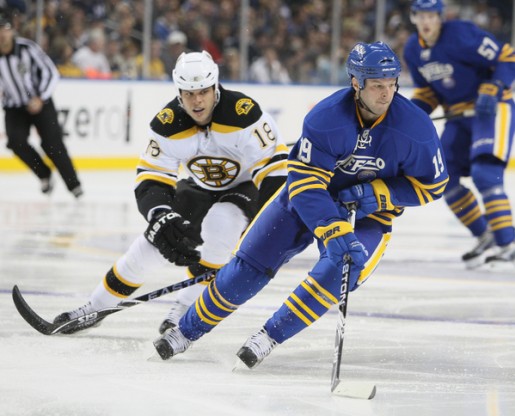 Maple Leafs Panel is a weekly feature that is published every Monday here on The Hockey Writers. It is a feature where THW Toronto Maple Leafs correspondents Lukas Hardonk, Mark Ascione and Alex Mamalis answer three questions that concern the Maple Leafs each week. To catch up on previous editions, click here.
Question: Everyone has their own opinions on what the Leafs need and who the team should be willing to give up to fill those needs. From Rick Nash to Jeff Carter to James van Riemsdyk, plenty of names have been thrown around. Who on the Leafs' current roster is most expendable to either fill one of the team's needs or to upgrade at the same spot?
Lukas Hardonk: There is a big difference between being expendable and being a player that the team doesn't want to give up but might have to in order to acquire what they want or need. That appears to be the exact position that Clarke MacArthur finds himself in, which is somewhat unfortunate considering how much he contributes to the Maple Leafs.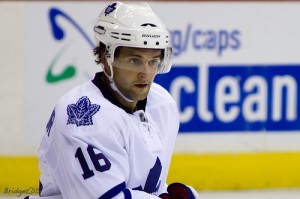 As for who I would consider to actually be expendable, Tim Connolly is a player that I look at as one that has really slipped this season and is no longer a major contributor to this team. At 30 years of age and a proven play maker, there is no doubt that he would be valuable to a team looking to go deep in the playoffs. Then again, that would be considered selling.
Mark Ascione: I think Komisarek, Connolly, Lombardi and Armstrong are completely expendable, though difficult to move and get a big return back. For me, Aulie, Kulemin, Kadri and one of Gustavsson or Reimer are players I would consider moving. I'm certain the upside to these guys is visible to other teams, despite what may be considered off-years by some.
There's a group that includes MacArthur, Grabovski, Schenn and Gunnarsson. They would be good trade pieces and would result in nice assets coming back, but I think they're guys who if you traded them, ultimately you would wonder if they couldn't have been more valuable to Toronto than what you got back. See: Alex Steen, who is now a very decent top-six guy in St. Louis, but while in Toronto people wondered why he was here.
Alex Mamalis: For the sake of this question, I'll just pinpoint one: Tim Connolly, with a catch. In fairness to Connolly, he hasn't been placed in a situation where he's been setup to succeed for most of the season. He found limited success with the first line and he diverted down to third line duty playing with largely incompetent linemates according to this style.
Due to various factors, it's logical to assume Connolly is more than expendable despite signing off on his contract this past summer. This is a classic situation of "it's me, not you" as Ron Wilson has nowhere to put the play making pivot. The catch: If Burke is unable to retain Grabovski then it's logical to assume Grabovski takes Connolly's mantle as the expendable centre, as it's more than likely Burke would like to pull some value out of Mikhail before he leaves for good.
Question: The Maple Leafs have yet to make the playoffs since Brian Burke joined the team as president and general manager. If the team fails to qualify yet again, should Burke and his job be placed on the hot seat?
Lukas Hardonk: Brian Burke is one of the smartest men in hockey. He has shown this by winning a Stanley Cup with the Anaheim Ducks and various other successes during his time in the NHL. Moves such as drafting the Sedin twins and Bobby Ryan, acquiring Dion Phaneuf from that Flames and trading for Joffrey Lupul and Jake Gardiner really sum up his career.
When he came to Toronto, people expected big things from one of the most well-known general managers. He made an immediate impact, but not a great one. However, the Maple Leafs finally appear to be improving and are only a move or two away from the next level. Why give up on the guy who has gotten you here? No, he shouldn't be placed on the hot seat no matter what happens this season.
Mark Ascione: Absolutely. Burke has done a decent job of remaking the roster and getting some good young prospects, but he's made missteps also. Among the points some people argue: He's stuck with this coach too long, he put faith in an uncertain goaltending tandem, he's signed some bad contracts, he's made questionable trades and he had trouble handling some players.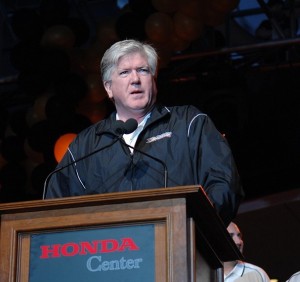 It takes time to rebuild a franchise, but Burke made a lot of noise about building a winner and changing the culture in Toronto. If the Leafs miss the playoffs, it will be the fourth time since Burke came in. Near misses just aren't good enough. No one picked the Leafs as any type of contender, but they need to make that first step. If they can't accomplish that this season, Burke has to be a candidate for firing.
Alex Mamalis: This is a proposition no one has really put some thought to because Burke has been thought of as the long-term guy in Toronto. He was signed to a very lucrative contract and he's made significant progress in establishing the Leafs as a playoff contender moving forward. Nonetheless, no matter what or who you bring in, the end result is what matters the most and Burke has missed the playoffs for two seasons now.
To his defence, this was the season where he said he expected the club to make the post-season, but the team isn't playing it's best hockey and looks to be in a playoff-missing downward spiral. If Toronto does miss, I think the re-evaluation of Burke's contract will be at the very least considered, especially with new owners. Answering the question, though, I wouldn't expect Burke to be canned.
Question: It's obvious that Nikolai Kulemin has struggled this season; his goal on Saturday night against the Canucks was just his sixth of the season. As proven by his 30 goals last season, though, he is capable of being a major goal scorer. Should the Maple Leafs trade him now or hold on to him and risk his trade value dropping?
Lukas Hardonk: Nikolai Kulemin is a very strong player with a tremendous shot and isn't all that bad defensively either. One statistic that doesn't get looked at enough with Kulemin is his plus/minus rating of plus-three. That surprises a lot of people given his lack of offensive production this season, but it shows of what he is capable of even when he's not scoring.
With that, one would have to think that Kulemin's trade value can be very low at this point. One of the reasons for that is a lot of people still think Kulemin can find his groove again and regain his 30-goal touch. It would be a massive risk to hold on to him for next season only to find out that he can't and wind up with a problem on the second line.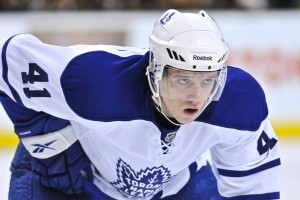 Mark Ascione: Kulemin is a hard worker and I think he's a good two-way forward. Of course, this season-long slump makes him a target and his value has dropped. I listed him as expendable above because he has value as a young player who plays good defence and has shown offensive ability. That's not easy to find, but I think Toronto has two forwards in Kadri and Frattin who could fill the role Kulemin plays now.
It's obvious that Kulemin's value isn't as high as it was, but if you can use him to sweeten a trade I think Toronto has to consider moving him. Going back to the first question, if you can upgrade, Kulemin is the type of value player you may need to send the other way. There's no point in trading him for draft picks or prospects.
Alex Mamalis: This question really is a two-way street. Elaborating on that, Kulemin's value right now is as low as it's ever been. Six goals through two third of the season is very, very worrisome. He isn't having a bad season, he's having an offensively horrific season. This is not to diminish from his defensive value, which is still quite representable.
For this, it's plausible to think someone would be enticed by Kulemin's third line checking ability with the potential of his offensive prowess for next season. For me, though, the return Kulemin would garner would be of almost no value as the Leafs would more likely than not receive better value just keeping him and seeing how he pans out.
Follow the panel on Twitter: Lukas Hardonk, Mark Ascione and Alex Mamalis.
Lukas, a student at the University of Ottawa, covers the Toronto Maple Leafs on a part-time basis for The Hockey Writers. Contact Lukas at lukas.hardonk@gmail.com or follow him on Twitter, @LukasHardonk.