The offseason is upon us, which means news is starting to slow down a bit and rosters for the 2017-18 season are starting to take shape. While the Toronto Maple Leafs weren't the biggest shoppers through the first couple of days of free agency, they did sign three unrestricted free agents (UFAs) that could play significant roles with the team this coming season.
This week, I'm joined by Fusco, Slawson and Langridge to discuss the Leafs' signings of NHL veterans Patrick Marleau, Ron Hainsey and Dominic Moore in this week's edition of the Maple Leafs Round Table.
Three years and north of $6-million per year, what are your thoughts on the Marleau contract and signing?
Forbes: My first reaction was shock. The term and the money, it was a little more than I thought the Leafs would put forth for a veteran like Marleau. But it didn't take long for me to come around on the deal. See, Marleau will be a role player on this team (much like the other two signings the Leafs made).
He adds a veteran presence in the room and on the ice. He's a player that can share his experiences with the younger generation of Maple Leafs and those still coming through the system. He adds playoff experience and on top of all that, at nearly 38 years of age, Marleau adds an ironman streak of over eight seasons. In fact, he hasn't missed a game since April 9, 2009.
#Leafs Patrick Marleau has not missed a game since April 7, 2009. He has played 624 consecutive regular season games with #SJSharks.

— Sportsnet Stats (@SNstats) July 4, 2017
Marleau's scored 508 goals over his career and nearly 1,100 points. He's a player that can play at both ends of the ice and in all situations. While his contract will roll into the first year of a new deal for the Leafs' young trio, it shouldn't affect their overall cap during those years as the Leafs will have some newer players with cheap contracts rolling into the lineup. After all that, his $6.25-million cap hit might still seem to be a lot, but it isn't as overboard as it may have seemed right off the bat.
Fusco: I really like the signing of Marleau. I think he compliments the young Leafs really well. He's still an elite player, he's familiar with Mike Babcock and he has a winning pedigree. He's also an extremely durable player who continues to score at a first-line rate.
Having the veteran presence of Marleau can only benefit the young Leafs. He will teach the likes of Matthews, Marner and Nylander the keys to being successful NHL players.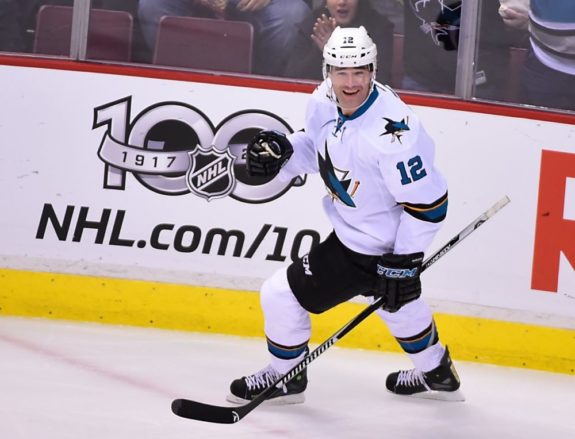 Slawson: While I like the addition of Marleau and the innate scoring abilities which he possesses, I am not a huge fan of the contract itself. Soon to be 38 years of age, Marleau will be the Leafs' highest paid player for the next few years – well, until Matthews, Marner and Nylander re-sign that is. With an AAV of $6.25 million for the next three seasons, I feel as though Toronto could have acquired a player of similar skill – whether it be in free agency or trade – for a far lesser price tag.
With continually decreasing point totals, I just don't see the Leafs getting enough bang for their buck with this deal and especially so in the later years when Marleau will be 41 years old.
Langridge: It's a great signing. The Leafs still have Joffrey Lupul and Nathan Horton as LTIR buffers so his cap hit isn't that much of an issue. The third year was initially surprising but if you look at the fact that the Leafs are set to have some more young players make the roster in about two or three seasons, his $6.25 million should not impact on the next contracts of the Leafs young trio of Matthews, Marner and Nylander.
This doesn't hurt the Leafs at all. Plus, if Joe Thornton wants to re-join his friend next July, the Leafs should have the money to do that too.
All of the Leafs' UFA signings were veteran ones up to this point. Aside from Marleau what do you think of the Hainsey and Moore additions?
Forbes: I like these signings – both of them. Hainsey brings a load of experience to a still relatively young defensive corps and can share his Stanley Cup experience with players who've yet to play for the coveted trophy. He's going to eat up some significant minutes and will help develop those coming through the system at both ends of the ice.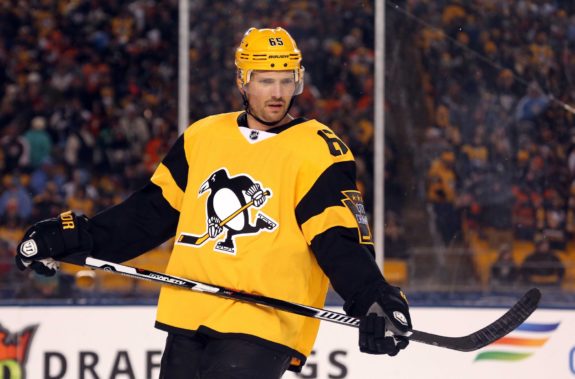 As for the returning Leaf – Moore – he's a good add-on piece with the departure of Boyle and will fill in on the fourth line valiantly. Like Marleau and Hainsey, Moore has a role and knows that. He doesn't mind playing a physical game and has a knack for being a defensive asset both at five-on-five and on the penalty kill.
In his first stint with the Leafs from 2007-2009, Moore racked up 55 points in 101 regular season games. Now, while that output shouldn't be expected again this time around from the 36-year-old, the Leafs could get some depth scoring from Moore who has 100 goals and 170 assists in 847 regular season games.
Fusco: I like the addition of both players. Hainsey is a quality defenceman who is coming off a Cup win with the Pittsburgh Penguins. He'll be able to shoulder some of the load that the Leafs top defenders had this past season.
Moore is a great addition. The center will man the fourth line and is a valuable piece now that Brian Boyle has moved on. He's serviceable and his greatest strength is taking draws. Both of these players will compliment the young Leafs as they look to take the next step.
Slawson: I believe that the additions of both Hainsey and Moore will be excellent additions to the Leafs' current roster.
In Hainsey, the Buds have nabbed a reliable and experienced defender whose play on the ice and leadership off of it will be crucial to the team's success moving forwards. Further, with a Stanley Cup Championship now under his belt, Hainsey knows exactly what it takes to succeed and win in the postseason.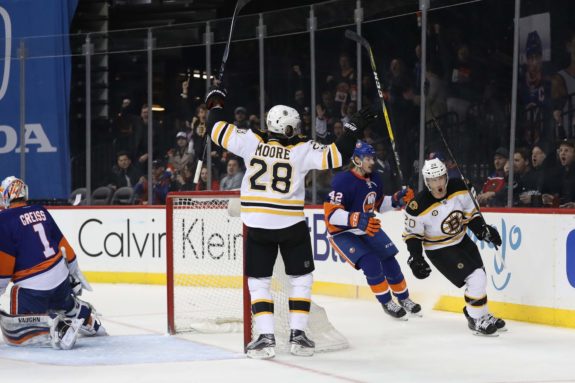 Secondly, the addition of Moore will do wonders for the Leafs both in the face-off circle as well as on the penalty kill. A fearless competitor who, like Hainsey, has a wealth of NHL experience, Moore will take a significant amount of pressure off of the team's young stars at center ice. His fearless play and excellent puck possession style should drastically improve the Buds' overall defensive play.
Langridge: Moore is a suitable replacement for Boyle. He's cheaper, but can still play that same role as a fourth-line center and penalty killer. He'll be great to have in the room as well.
Hainsey is a bit pricey at $3 million, but for only two seasons, it doesn't hurt that much. He can be a veteran leader for the Leafs' young defence. too much has been made of the fact that his first playoff appearance didn't come until last season.